Tired of cooking the same meals? Here are 40 Easy Fall Dinner Recipes to shake things up! Even better, most of these recipes can be make ahead or even frozen for later. Enjoy these cozy fall dinner recipes.
I cannot believe that it is fall already. In a blink of an eye, summer just up and left and its chilly out. Whenever fall rounds around, I love cooking recipes that satisfy that cozy craving without being super heavy.
While stereotypically, comfort food is carb heavy and meat heavy, you'll find that these easy fall dinners recipes also fall under low-carb, paleo, keto, gluten-free, and even Whole30 friendly. There's a recipe here for everyone!
These dinners are simple enough that you can whip them up real quick on a weeknight but many of these fall dinner recipes can double as an entree for when you have guests. For example, the stuffed acorns are so easy to make but look gorgeous and quite fancy! Many of these recipes can also be easily doubled or tripled to feed a crowd.
These healthy fall dinner ideas are going to quickly become family favourites. They're easy, flavourful, and veggie-packed. I hope you enjoy these fall recipes and if you make one of these recipes, please let me know how you liked it!
Can These Easy Fall Dinner Recipes Be Made Ahead?
Many of these recipes can be made ahead of time and even meal prepped. If you see a recipe you want to make ahead, click through to it and there should be instructions on how to do so. If you don't see the instructions, feel free to leave a comment and I'll get back to you!
What Are Some Good Side Dishes To Go With These Easy Fall Dinners?
While these recipes tend to have vegetables alongside them or as a part of the dish, you can never have enough vegetables! Here are a few of my favourite vegetable-packed side dishes: Garlic Parmesan Roasted Brussel Sprouts, Easy Coleslaw Recipe, Zucchini Cauliflower Rice, Broccoli Salad Recipe, and Quick Easy Red Cabbage Salad.
Desserts to Go Alongside Cozy Fall Dinners
Don't think I've forgotten about desserts! Here are some desserts and treats that I enjoy in the fall season: Keto Chocolate Bars Recipe, Healthy Peanut Butter Oatmeal Cookies, Low-carb Chocolate Muffins Recipe, Paleo Chocolate Chips Almond Flour Banana Bread, Almond Flour Cranberry Muffins, Cranberry Orange Scones, and Almond Flour Pumpkin Muffins.
---
Easy Fall Dinner Recipes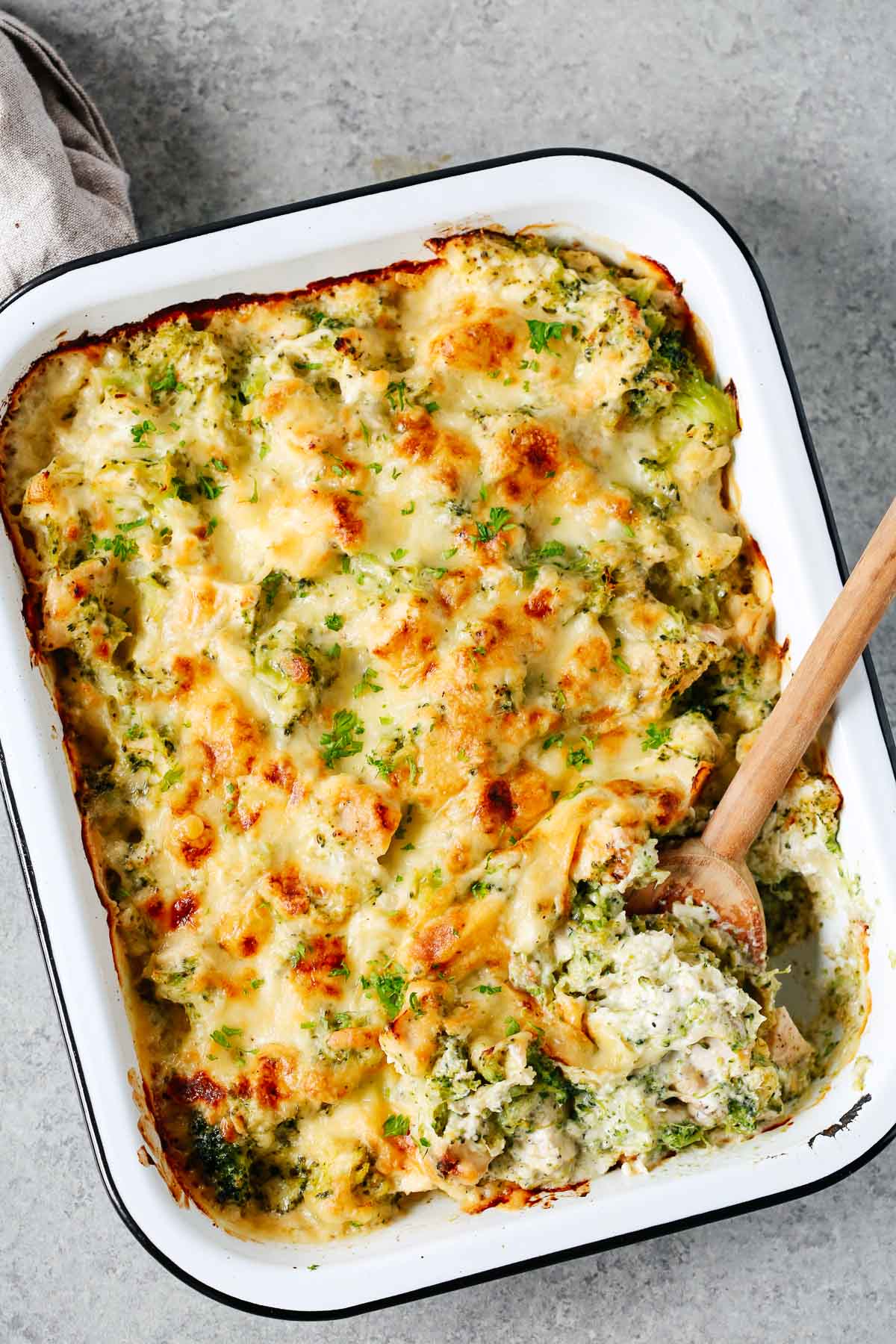 There's nothing boring about this flavour-packed Cauliflower Casserole Recipe! Only 9 ingredients, this vegetable packed casserole is a great side dish.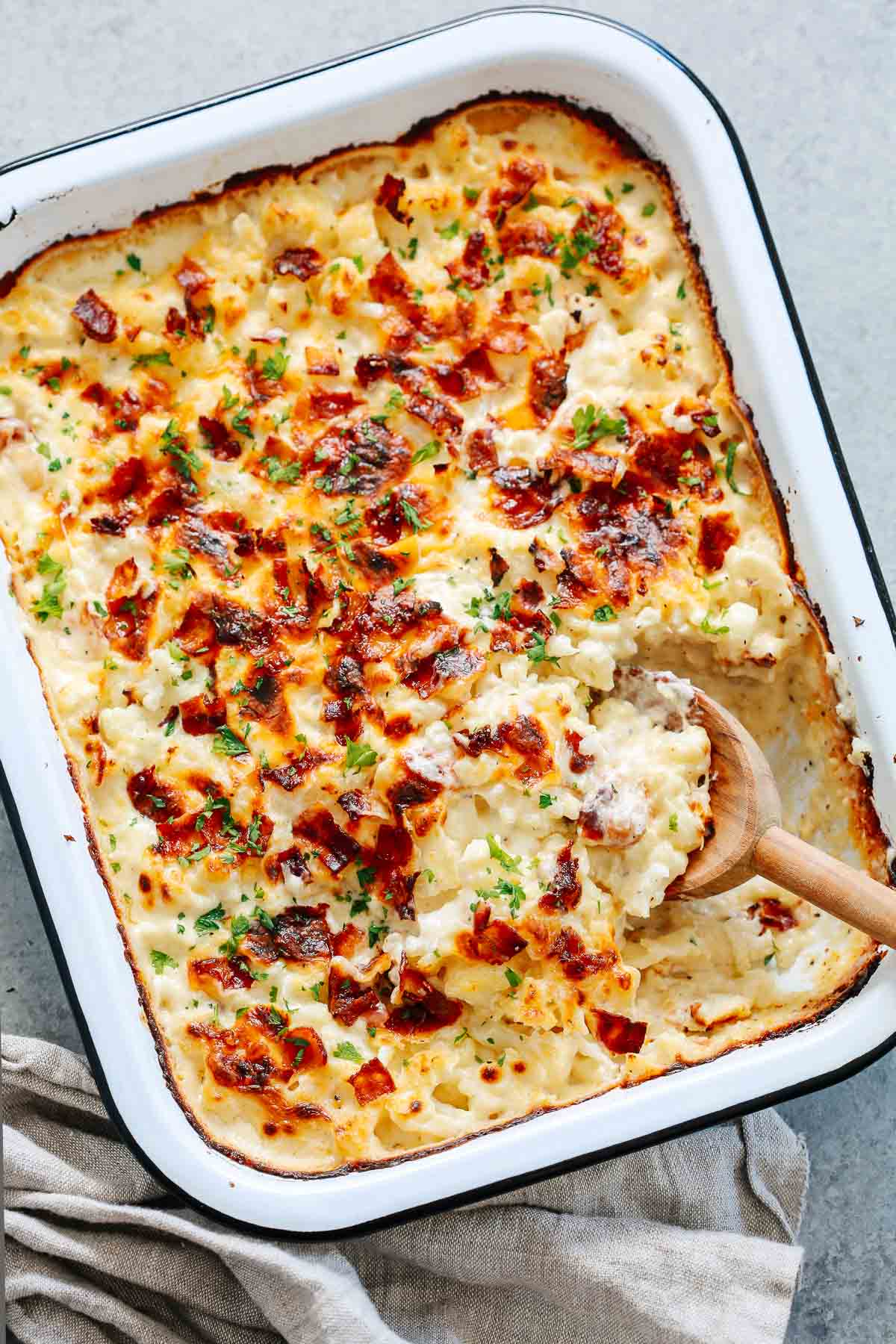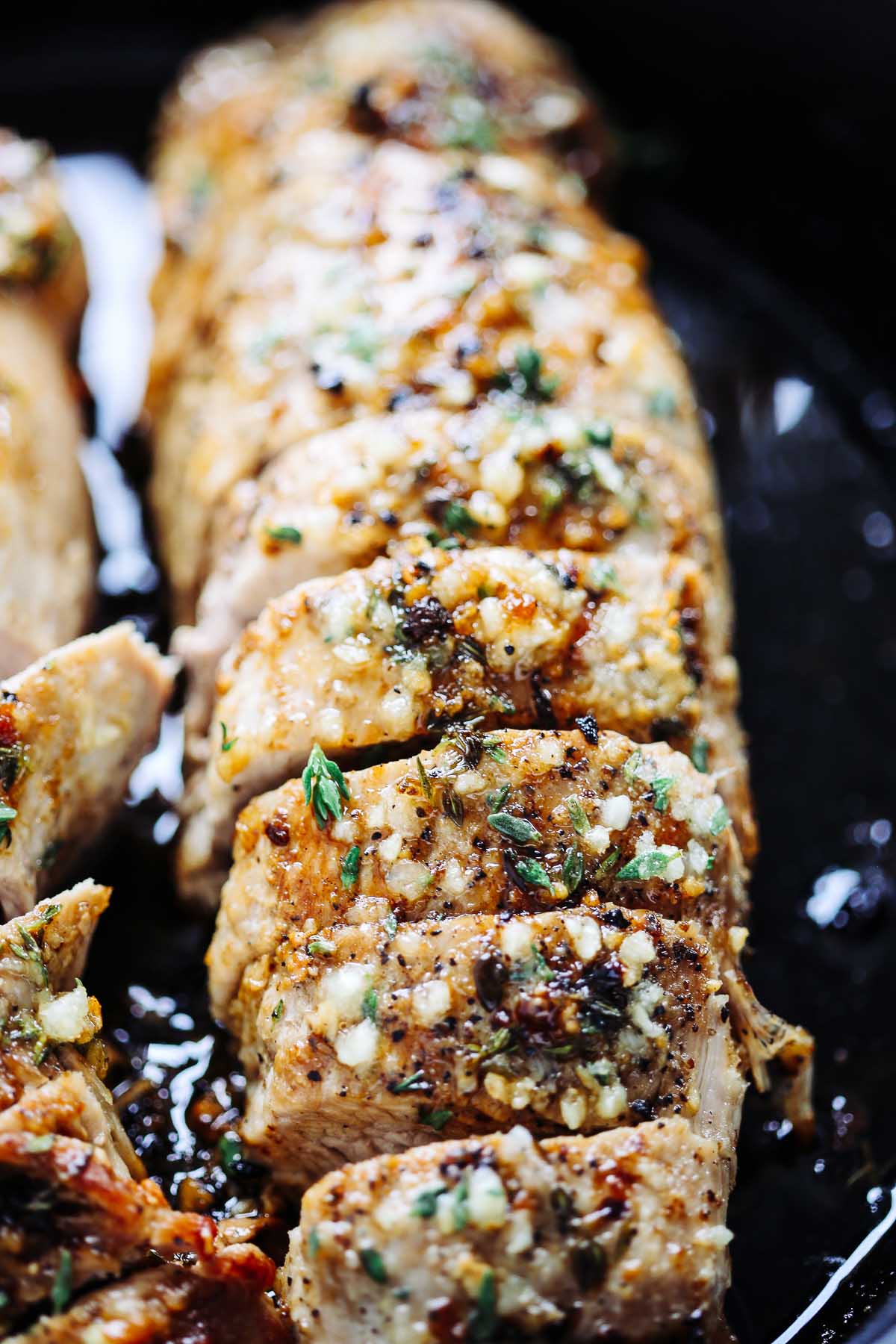 Cabbage and Sausage is a classic pairing that's enhanced with a simple spice blend. Make this recipe tonight for an easy dinner in under 30 minutes!
This Cabbage Steak recipe is quick, easy, and full of flavor. Make this low carb meal for dinner tonight – it only takes 30 minutes!
Pan Seared Steak with Mushrooms is an easy skillet recipe made with grass-fed butter and thyme and it's a recipe that is also gluten free, low carb, paleo, keto and Whoel30 friendly. Delicious steak in just 15 minutes!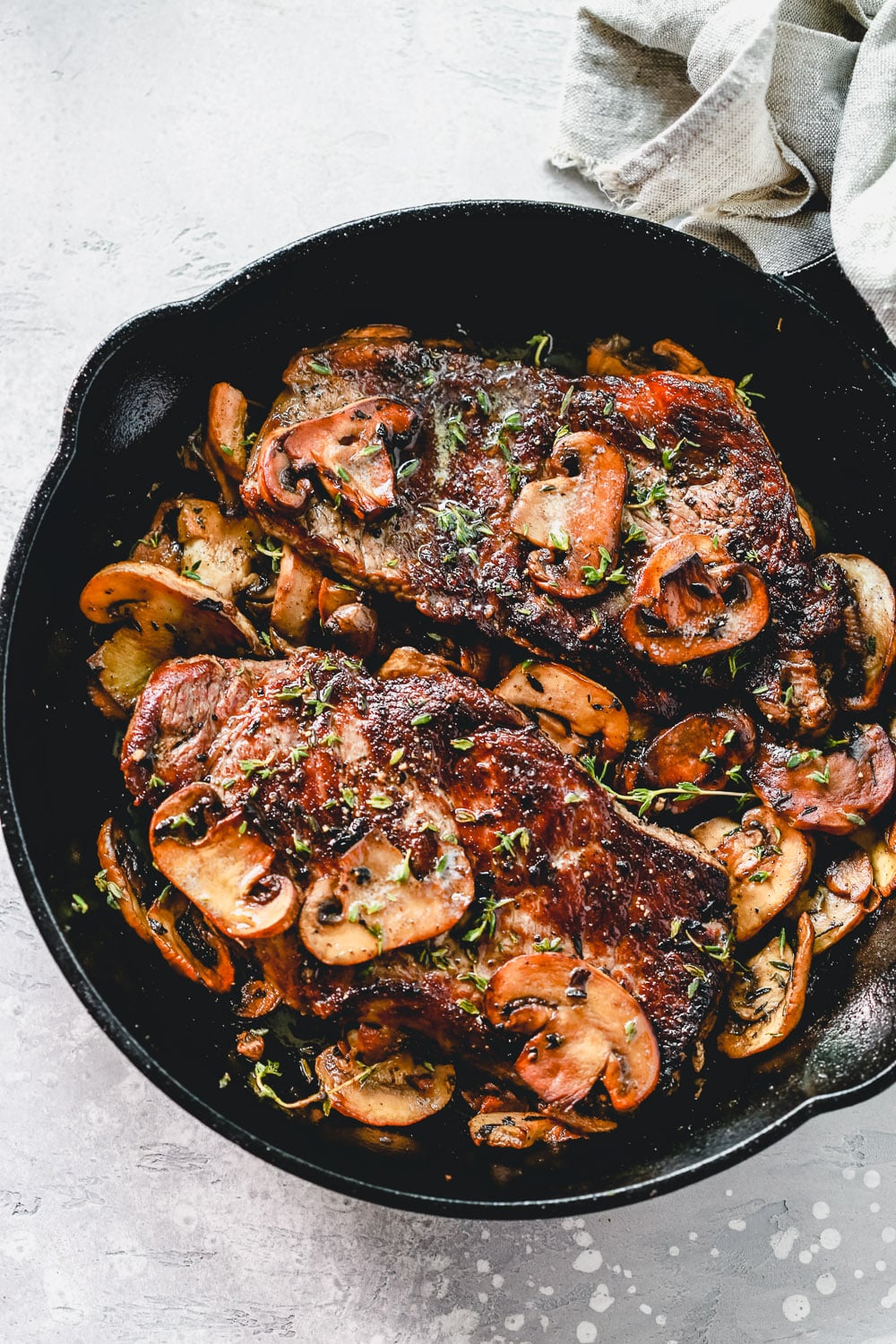 This Meatballs Soup is hearty, healthy, delicious, and easy to make. The perfect bowl for a cozy night in!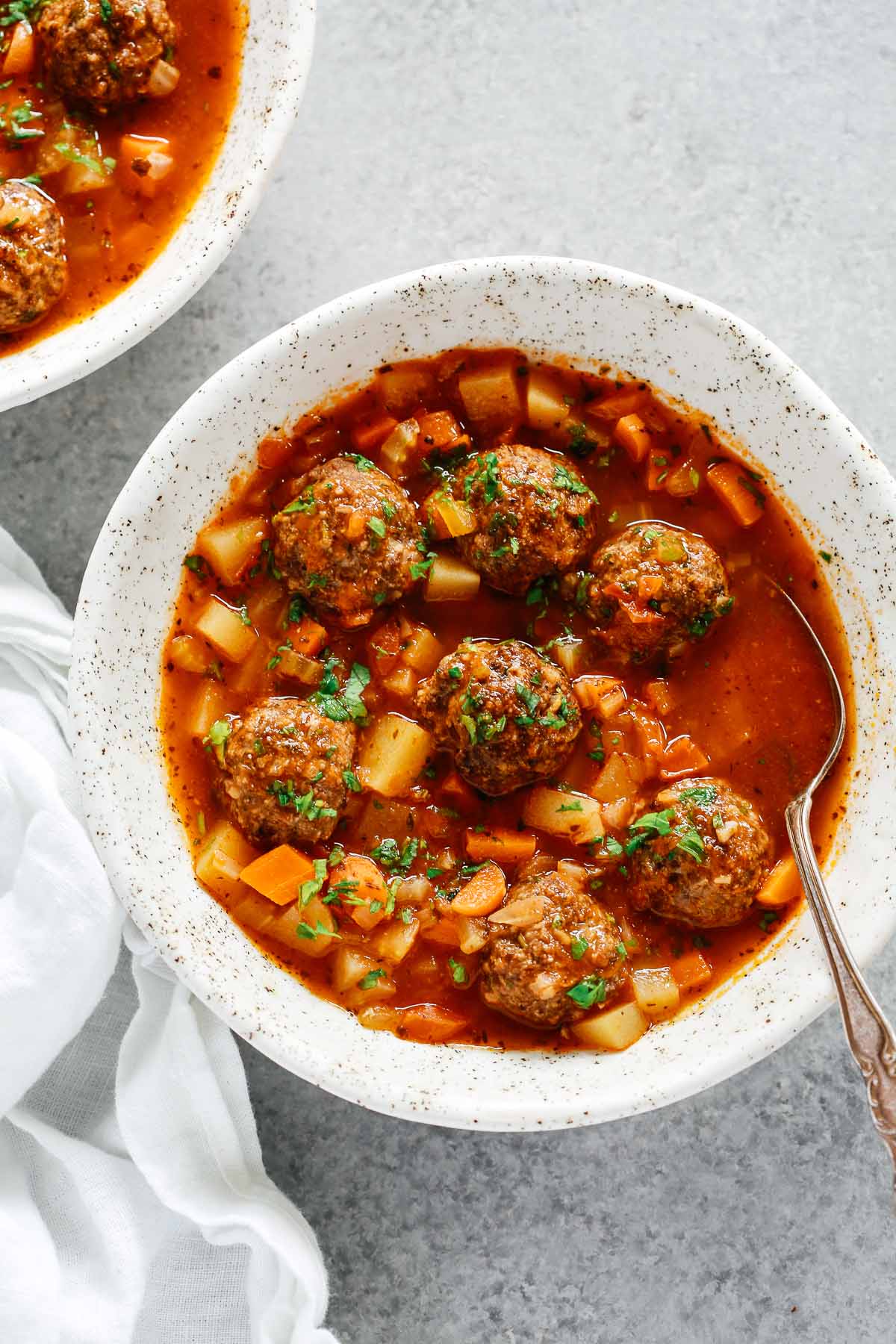 This Turkey Meatloaf recipe makes a healthy and hearty weeknight dinner. The low carb meatloaf freezes well so make it ahead – it will save time making dinner on busy nights!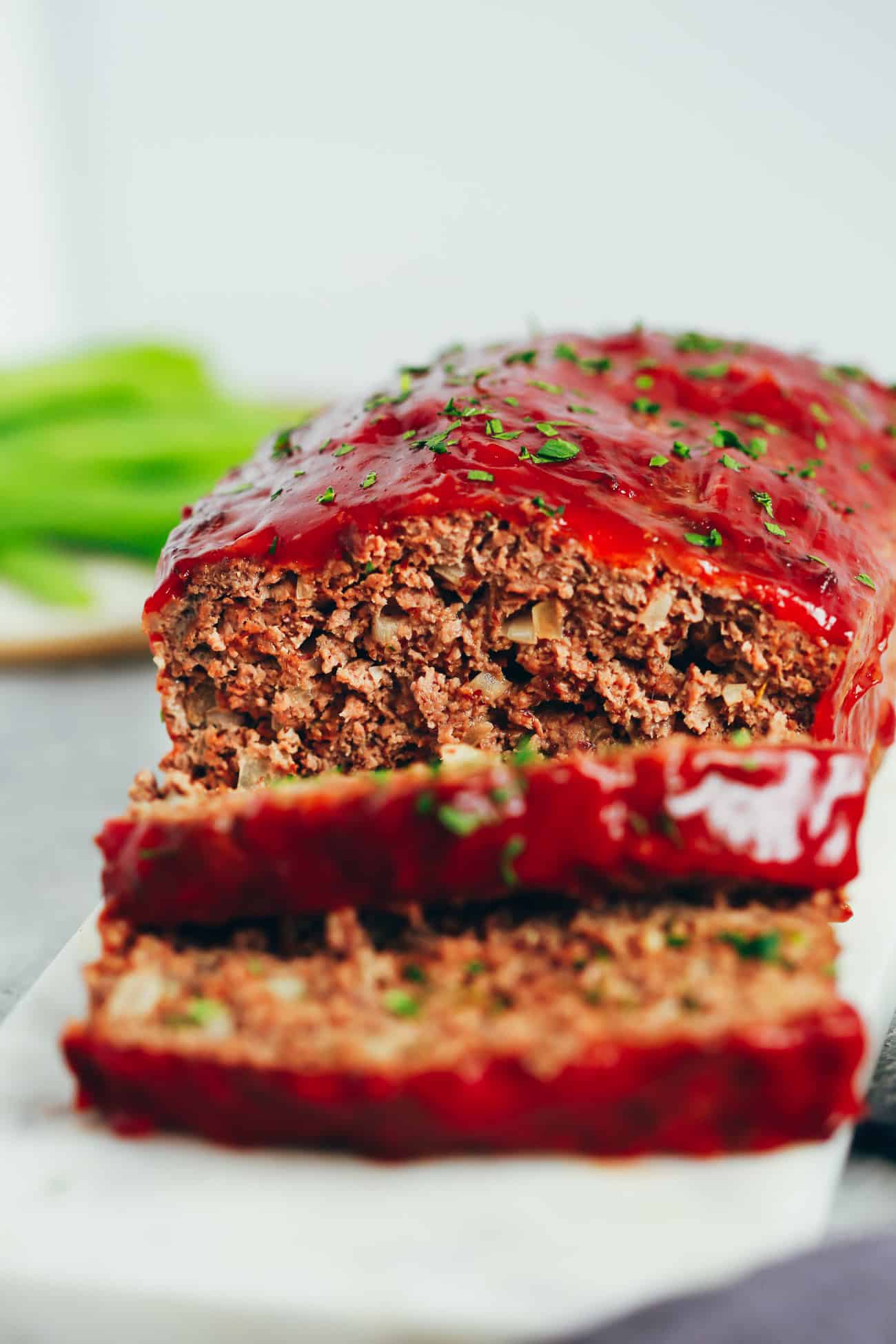 Stuffed Acorn Squash is a great way to appreciate the abundance of fall. This complete meal is stuffed with Italian sausage, kale and sweet apples.
This Instant Pot Chicken Stew recipe makes a rich, hearty chicken dinner. Make this healthy and delicious meal for dinner tonight in only 25 minutes!
Instant Pot Taco Soup is an easy way to enjoy the flavor of Mexican tacos, but without the hassle. Make this 30-minute, family friendly recipe for dinner tonight!
This Broiled Salmon recipe is healthy and full of flavor. Make this quick and healthy fish recipe for an easy dinner or meal prep for lunches.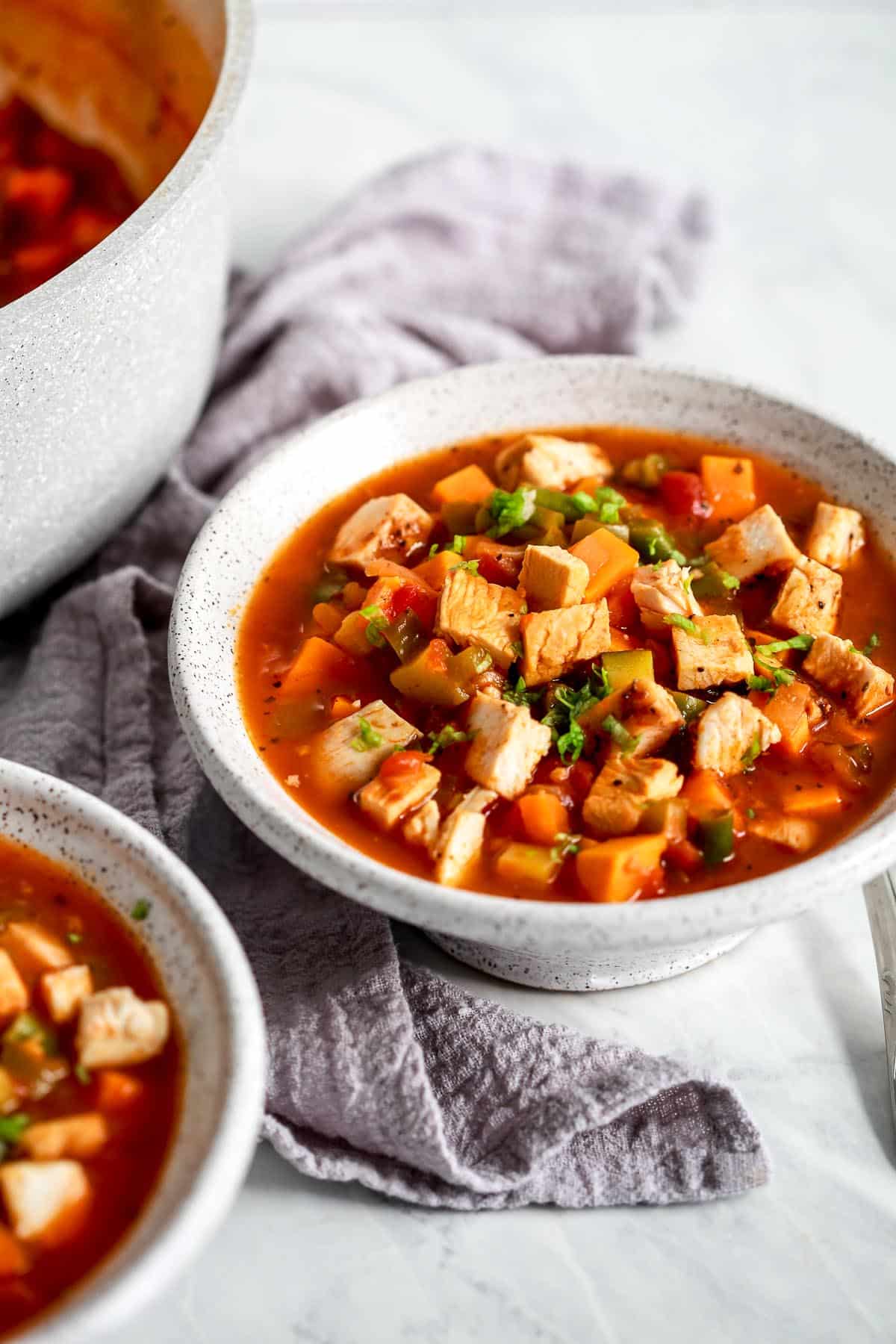 Slow Cooker Carnitas are tender, juicy, and can be used in so many ways. Make this delicious Mexican pork recipe in just a few steps!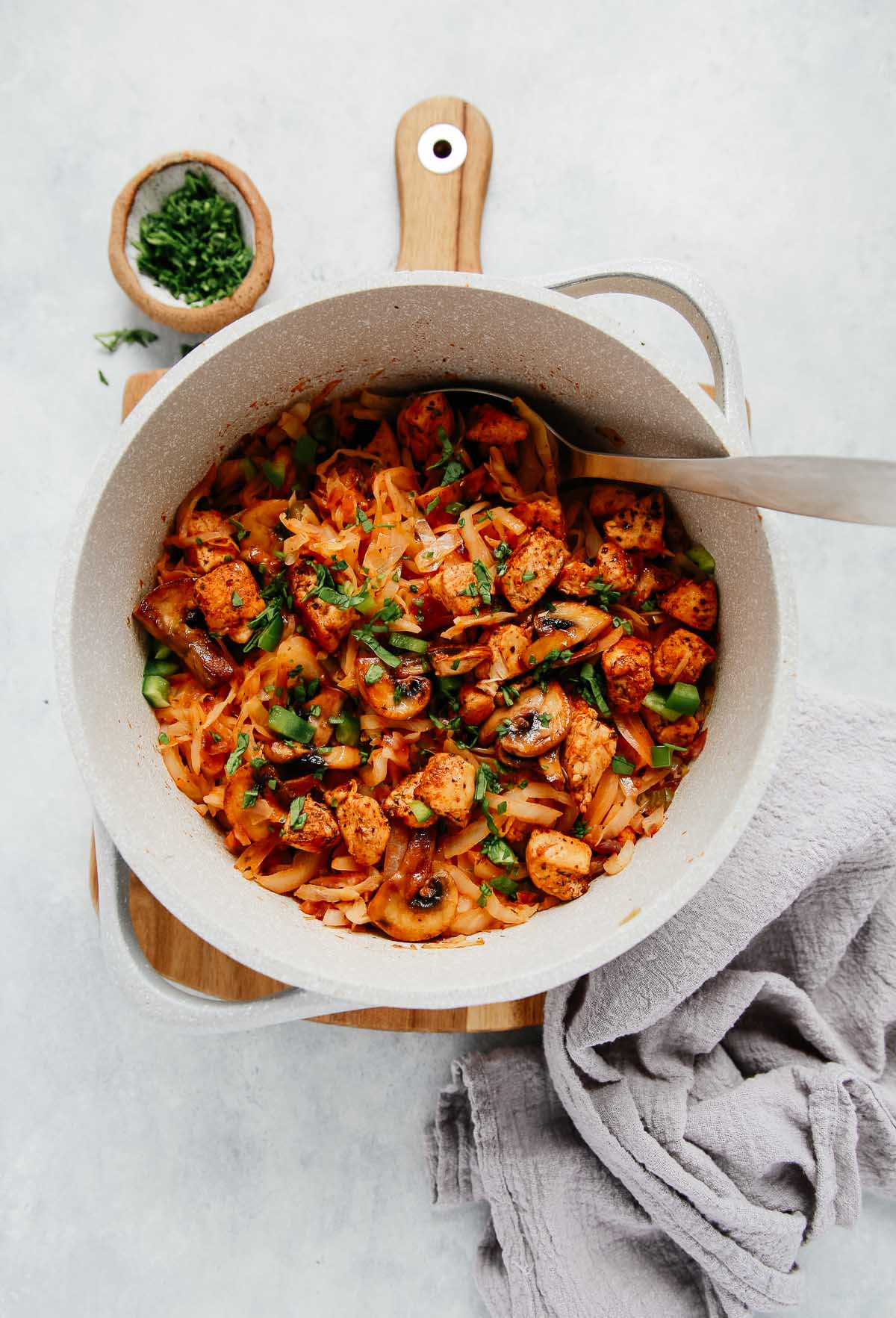 Keto chili has all the great flavors of traditional chili without the extra carbs. Enjoy this healthy recipe that gives you everything you crave on cold evenings.
Instant Pot Beef Soup is just what you are craving on a chilly evening. Hearty and filling with lots of nutritious veggies, this one pan meal is ready in about 30 minutes.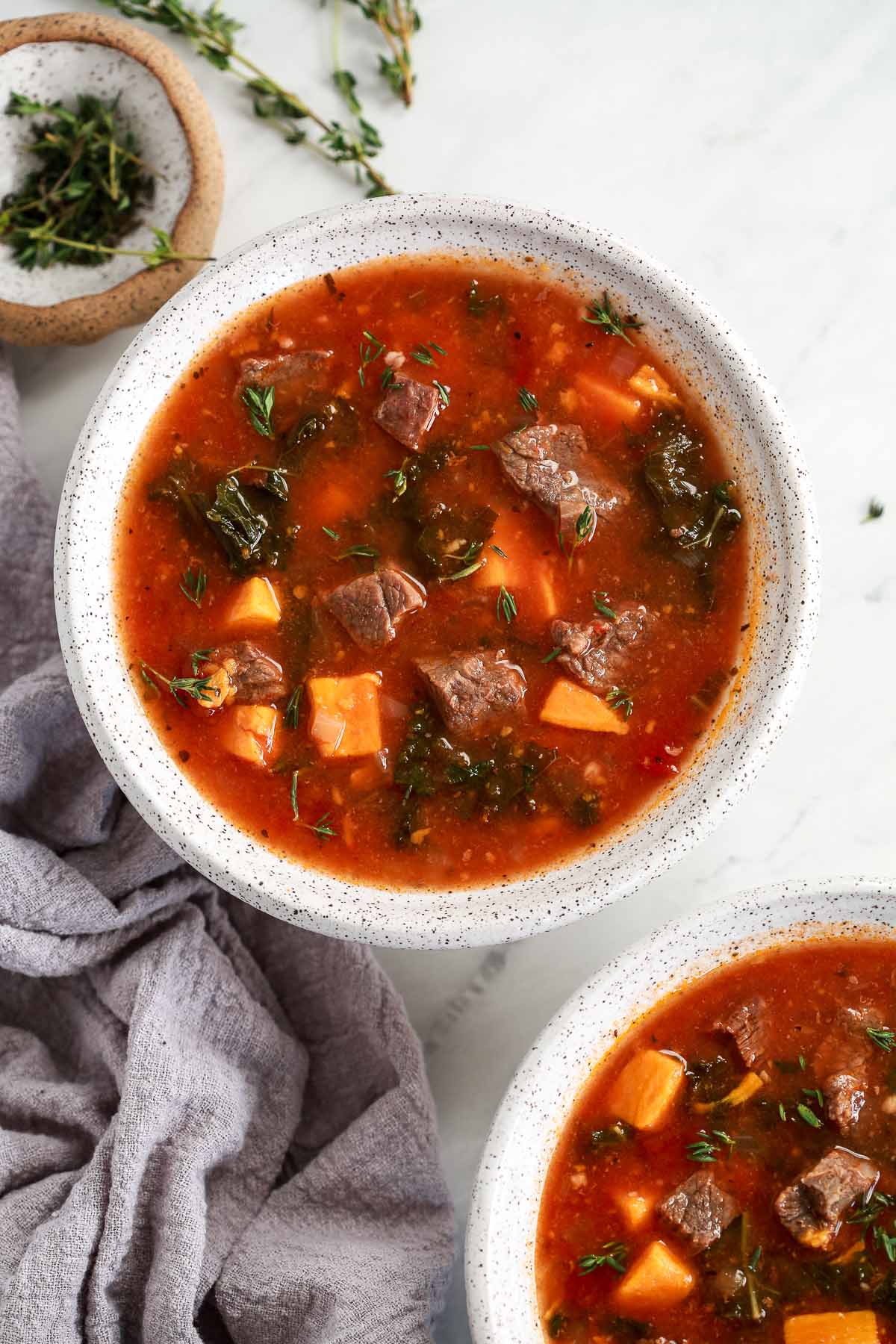 Making a Whole30 Pot Roast is perfect for a winter afternoon. Cooked low and slow in the oven, this meal is healthy and filling and the vegetables can cook in the same pot.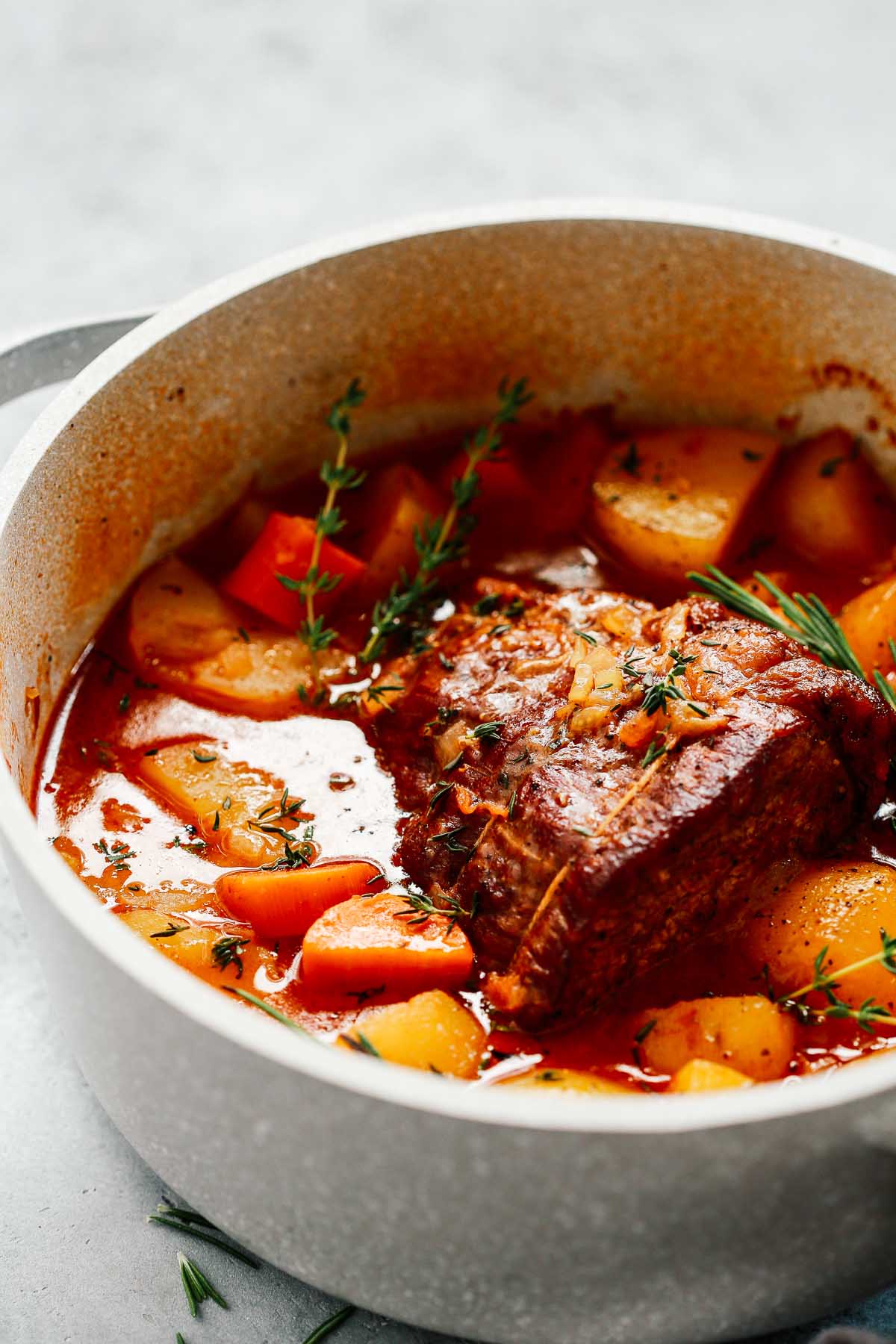 Beef and Zucchini makes a quick evening meal or a great meal prep solution. Full of flavour and healthy goodness, it is ready is about 30 minutes.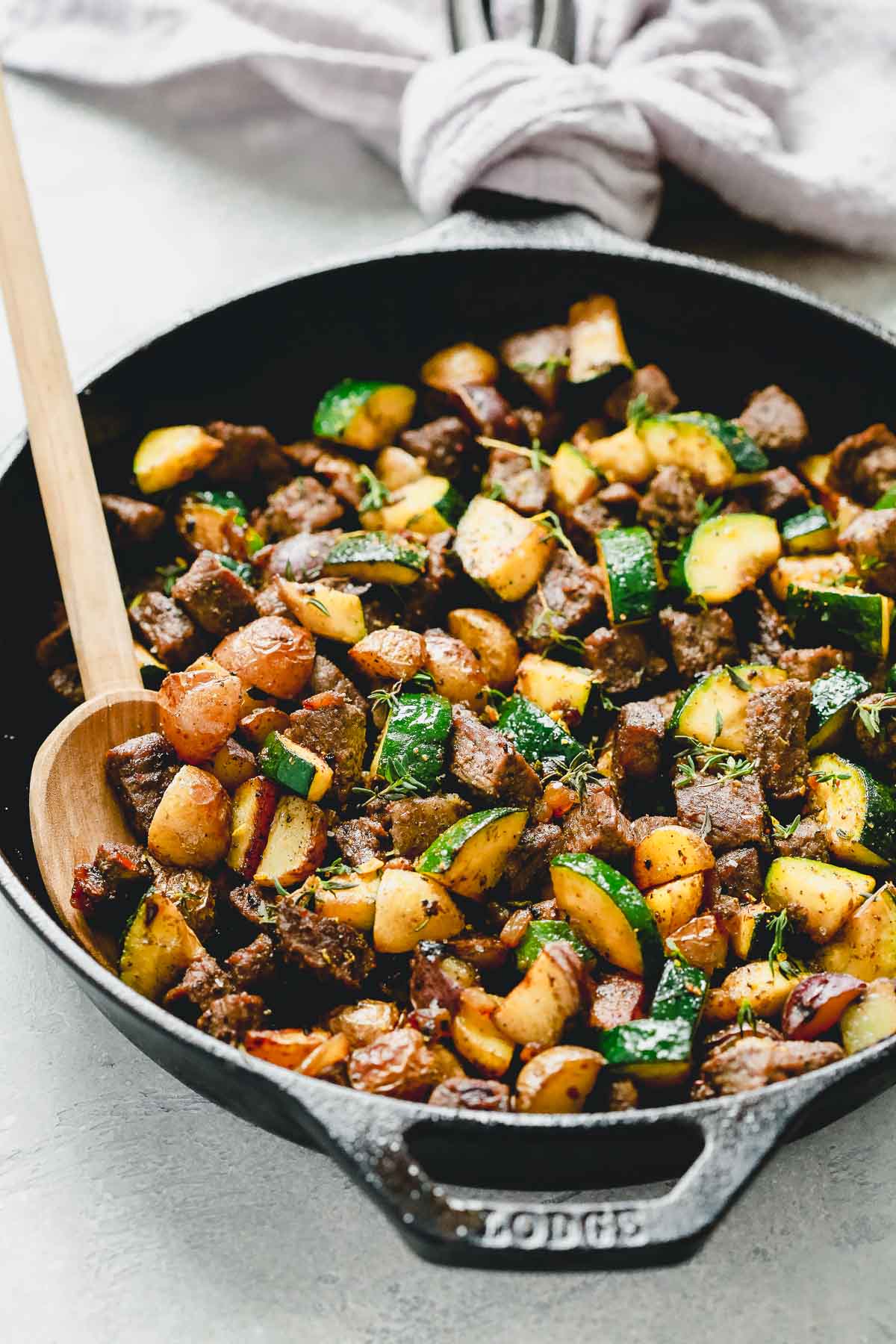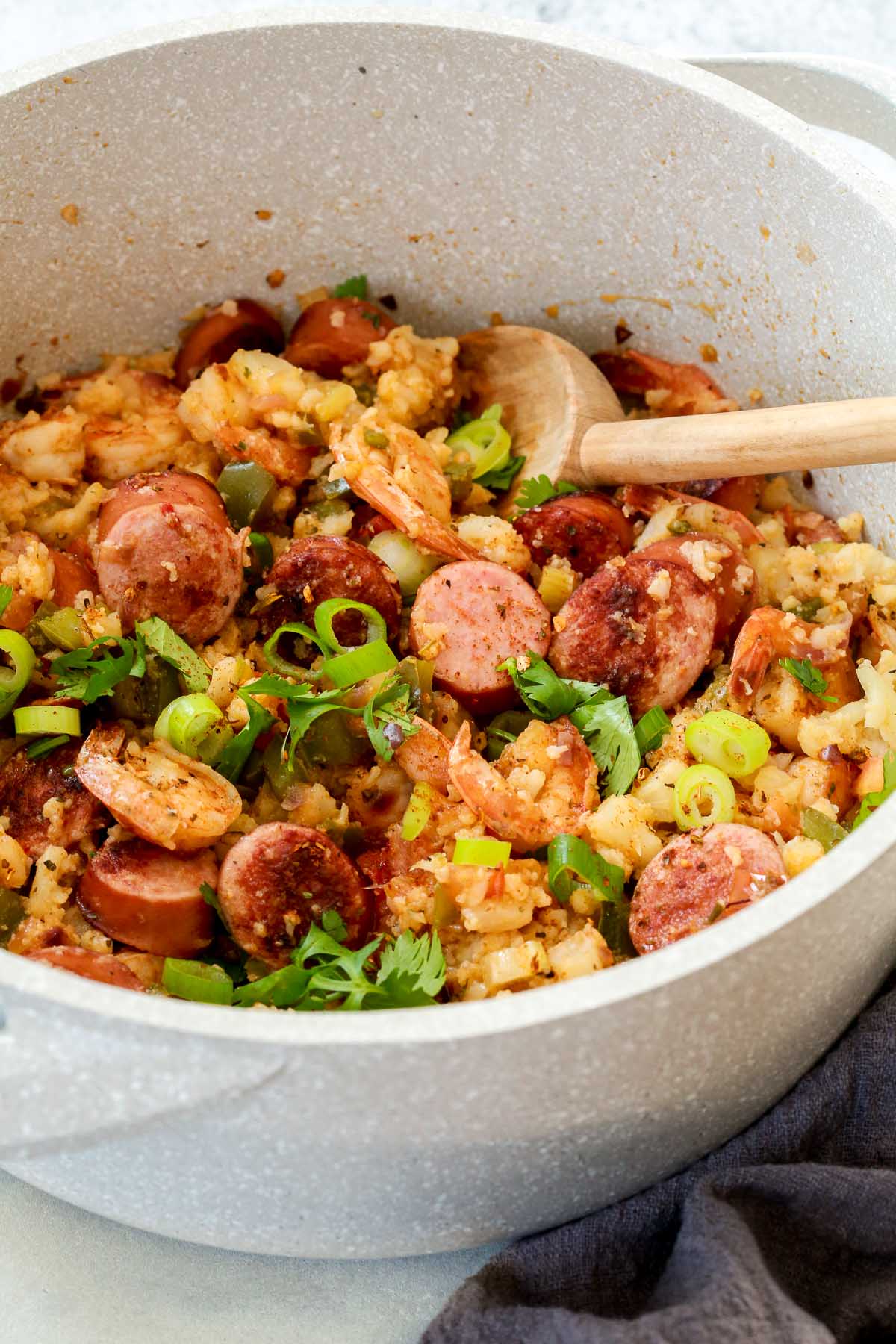 Pork Chops and Apples make the perfect celebration of fall flavors. This quick and easy meal is perfect for a weeknight dinner; it's satisfying and has a lot of protein.
This Meatloaf Meal-Prep recipe is healthy and Whole30 friendly. The meatloaf is loaded with flavour and is delicious served with roasted green beans and sweet potatoes!
This recipe is very easy to make, so don't let it intimidate you. Hearty and delicious, this Garlic Herb Lamb Chop is the perfect dinner to make this Autumn.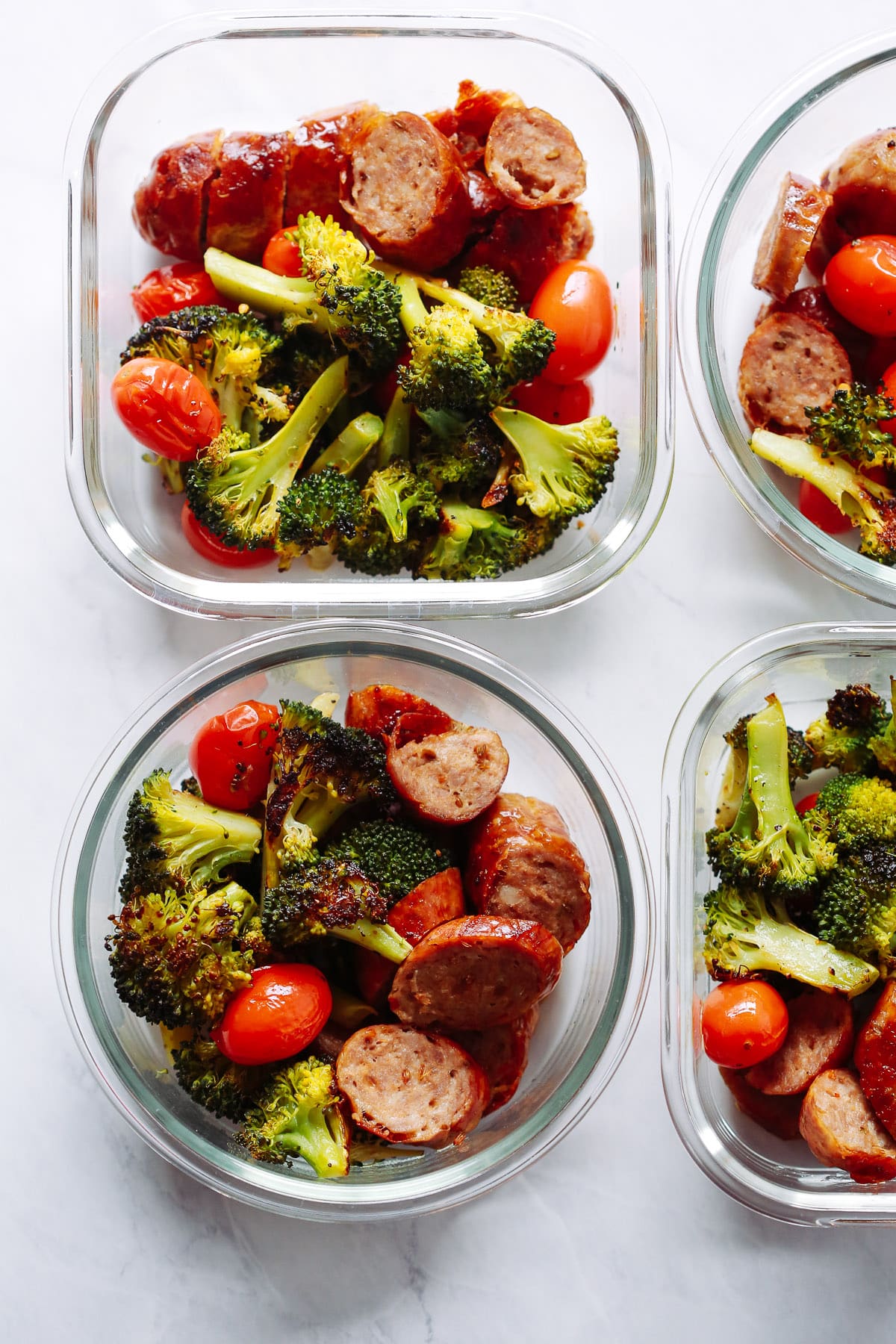 This Cabbage and Sausage Stew recipe is delicious, packed with nutritious ingredients and it's totally hearty and comforting.
This Spicy Salmon Sweet Potato Skillet recipe features perfectly seasoned and crispy salmon that is a great partner for the sweet potato and milted kale. It's a delicious and healthy lunch or dinner for you and your family!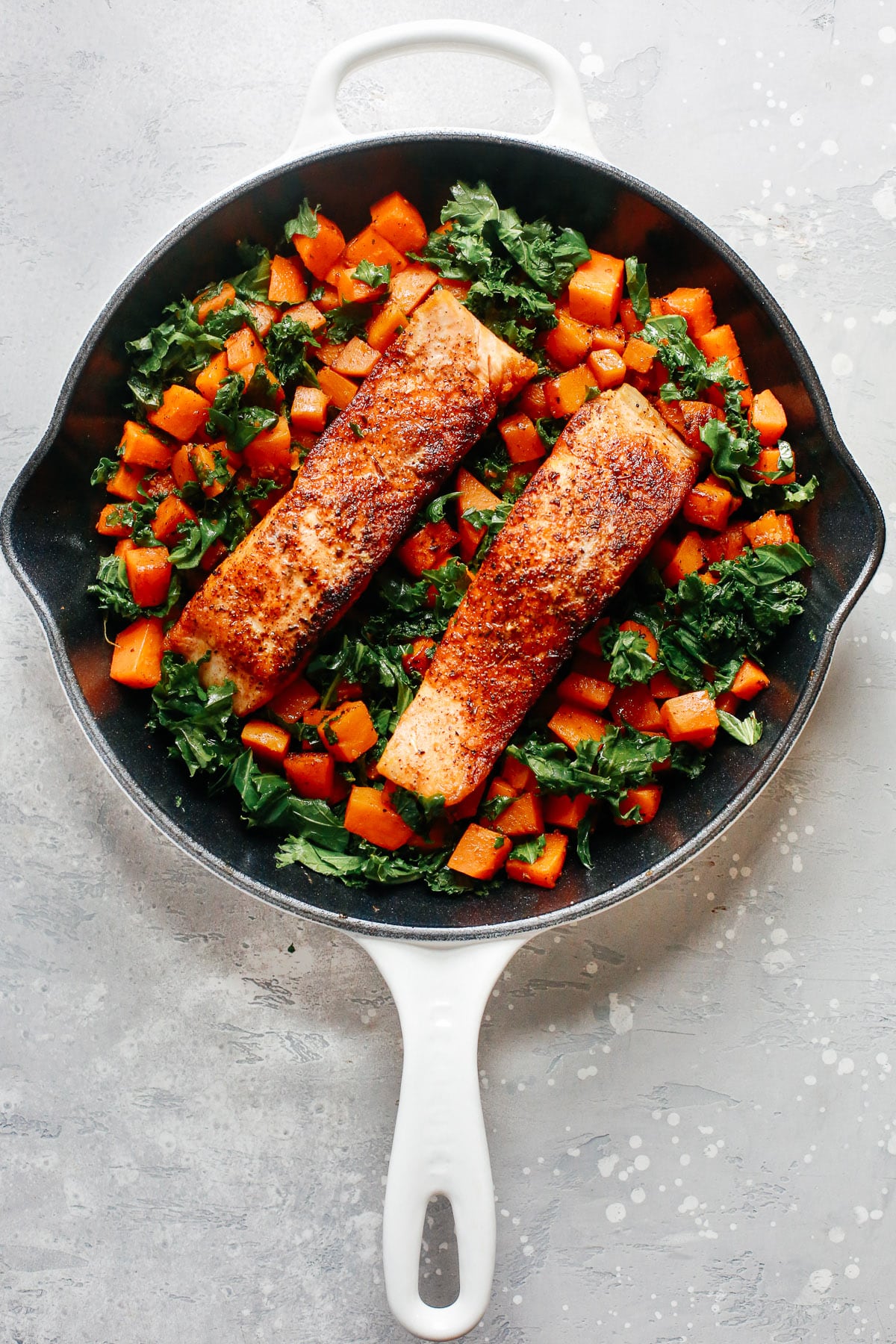 This Spicy Chicken with Cauliflower Rice recipe is low carb, gluten-free and whole30 one-pan meal that takes about 30 minutes to be ready! The Chicken is juicy and it's served over cauliflower rice.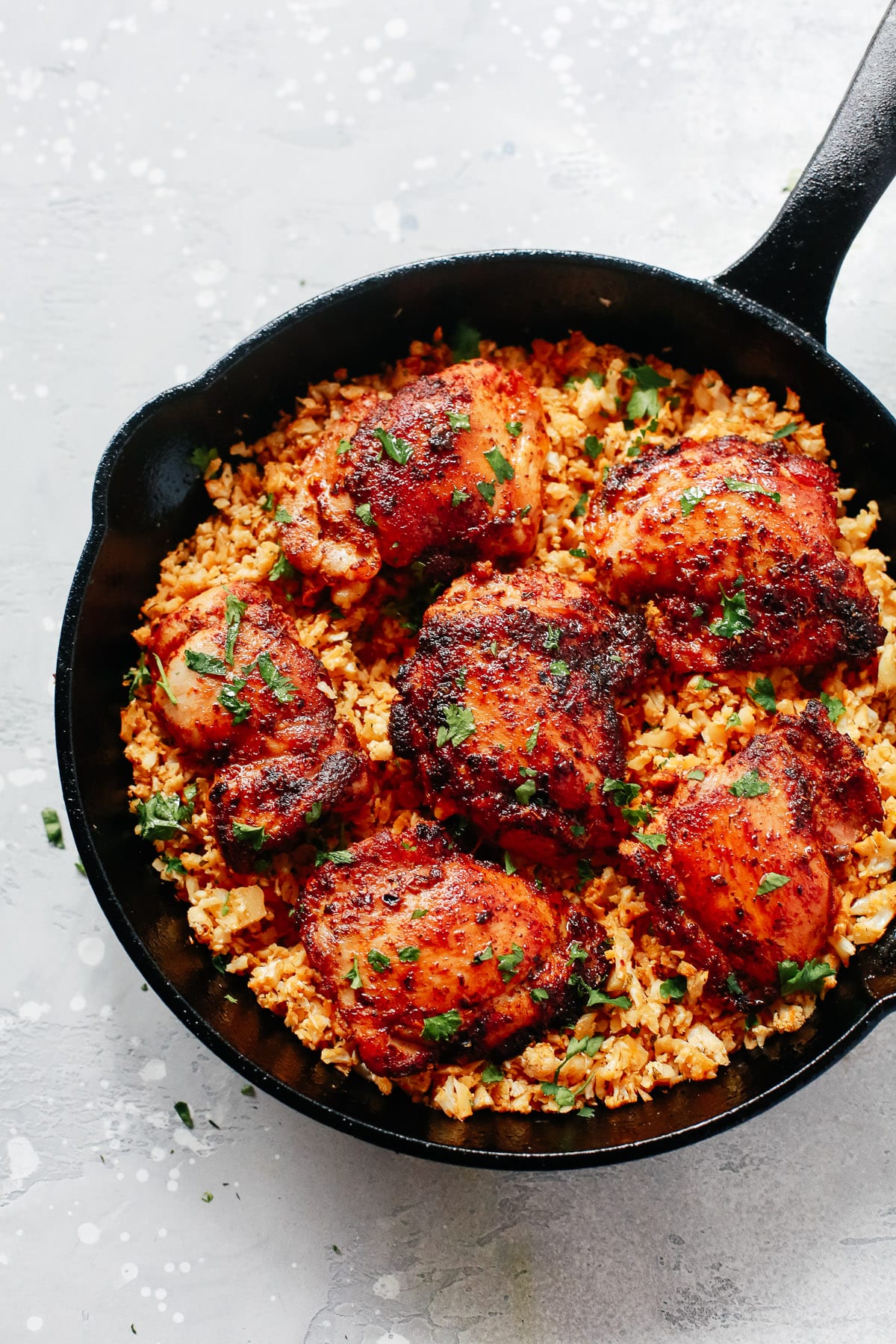 Italian Sausage, Onions and Peppers Skillet is a super-flavourful comfort food. It's an awesome meal for a busy weeknight dinner, weekend, or game-day party. This recipe is also low-carb, gluten-free, paleo, and whole30.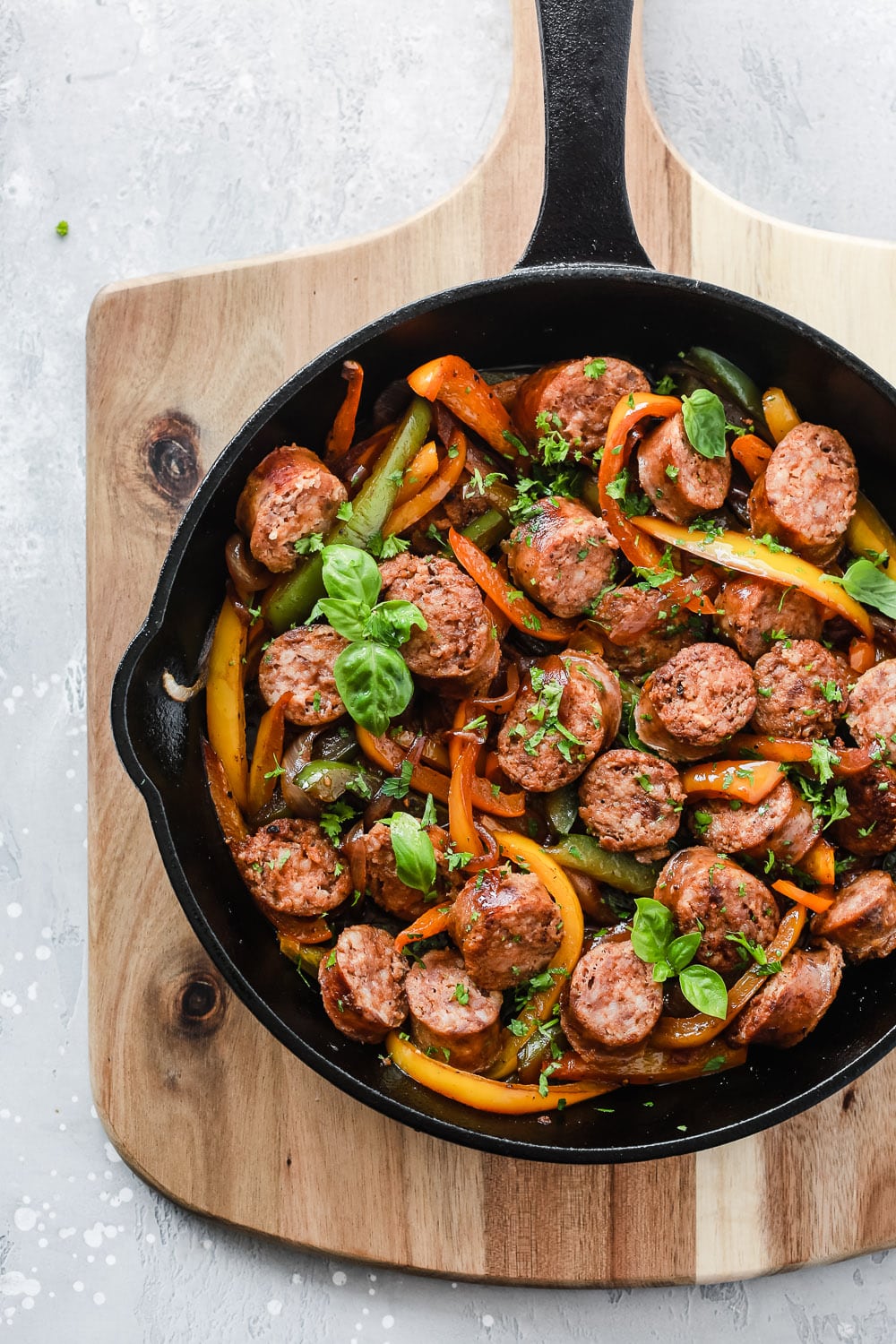 This Whole30 Sweet Potato Chili Recipe is a hearty, no bean chili recipe, which is super simple to prepare ahead. It's thick, rich, healthy and slightly sweet while spicy too. So good!
This Ground Turkey Sweet Potato Skillet will be ready to eat in less than 30 minutes, and you will be amazed by how flavourful it is. It's a perfect ONE-PAN meal for your family to enjoy!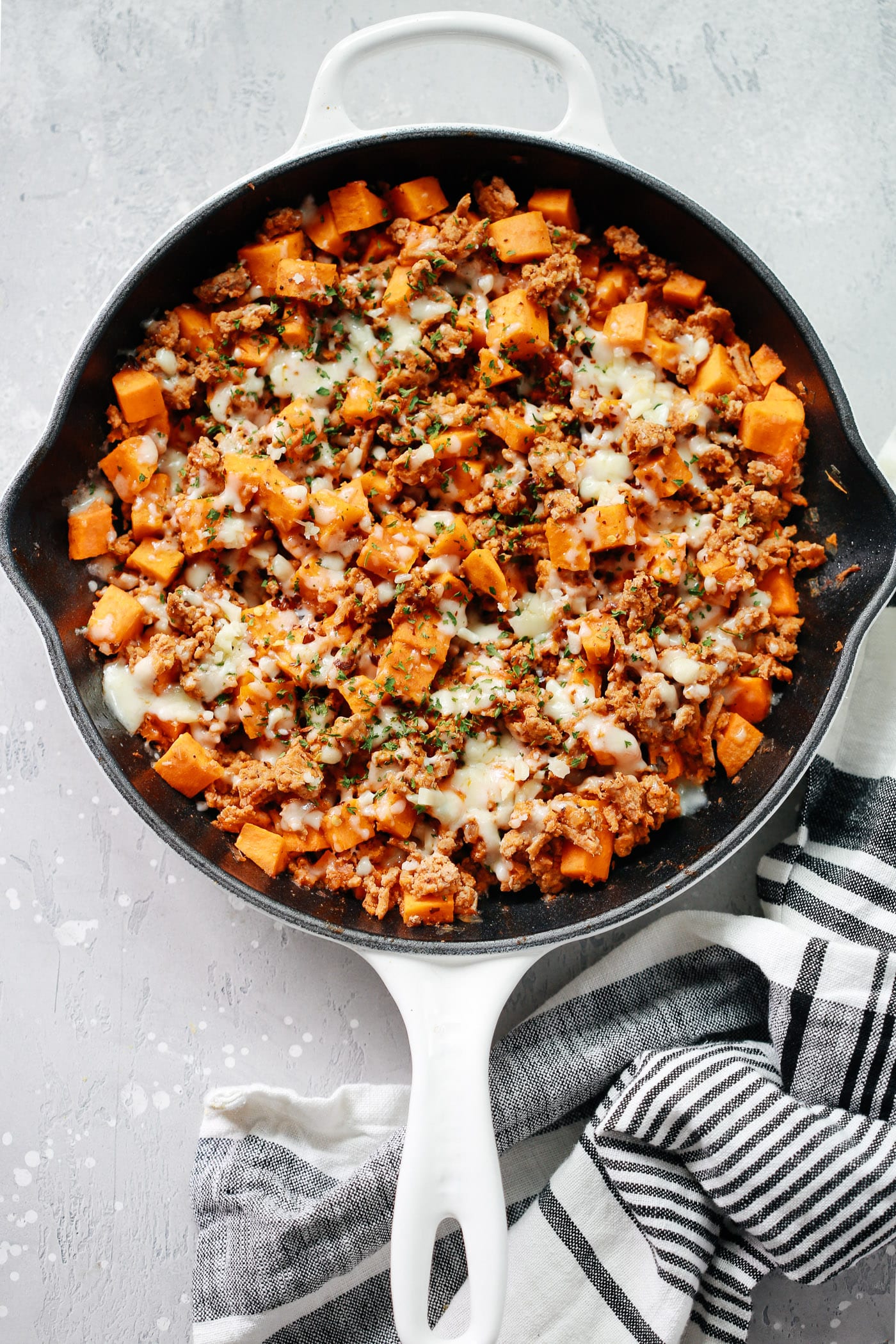 This One Sheet Chicken and Vegetables Recipe is simple and filling, perfect for lunch or dinner tonight. You can make this easy recipe in just a few simple steps!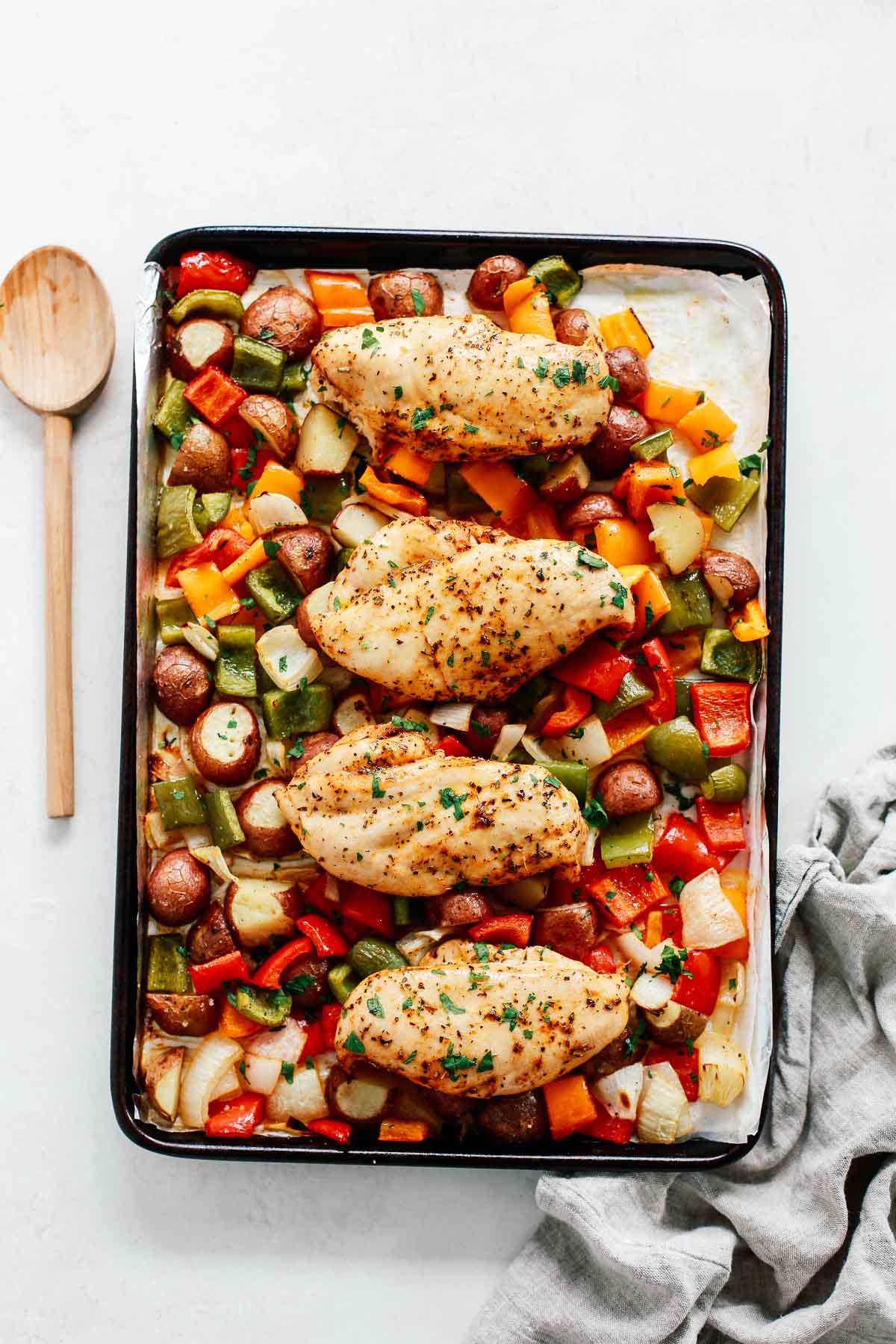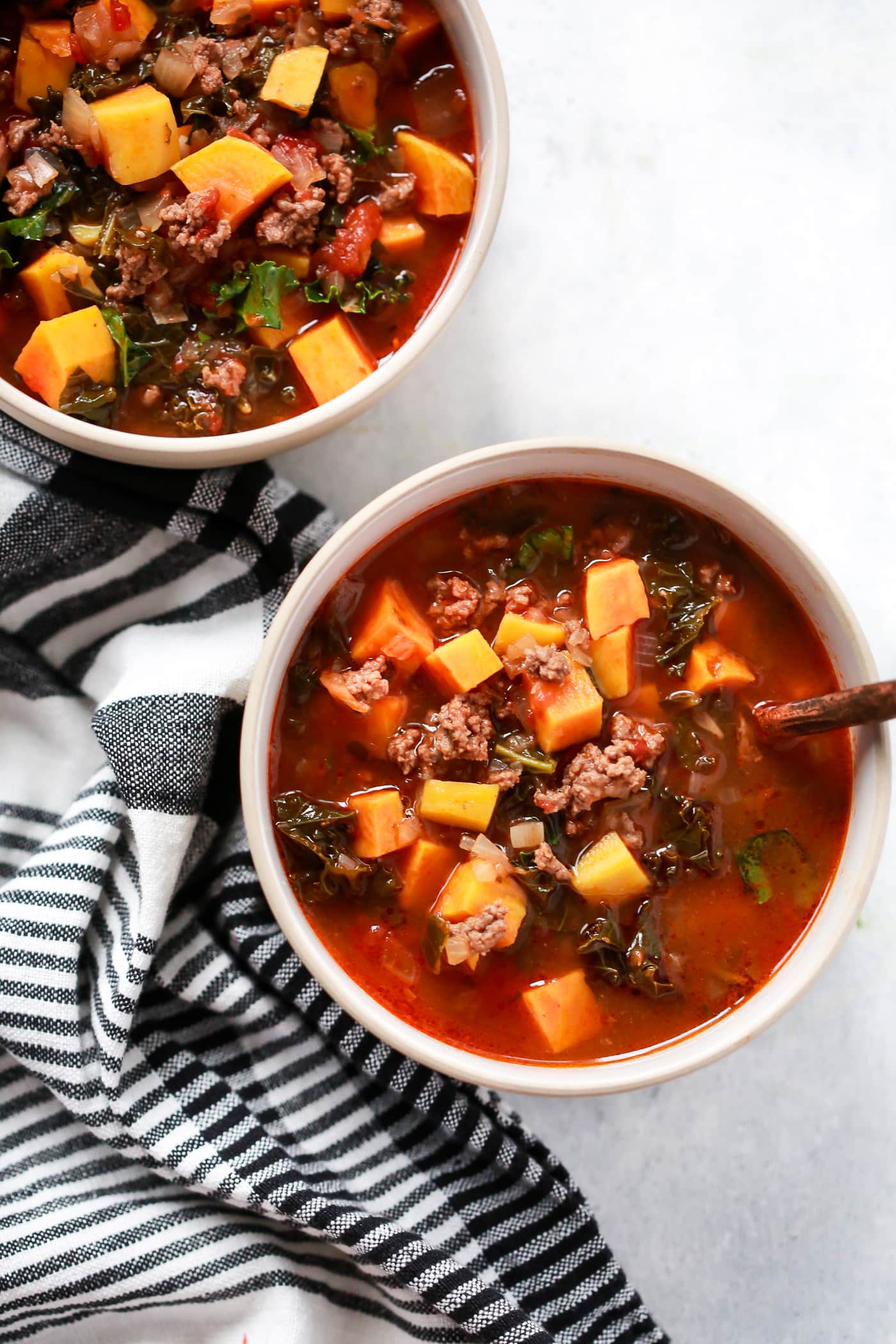 This Taco Stuffed Sweet Potatoes recipe is incredibly delicious, very satisfying, healthy, family-friendly, and an easy Whole30 Mexican dish!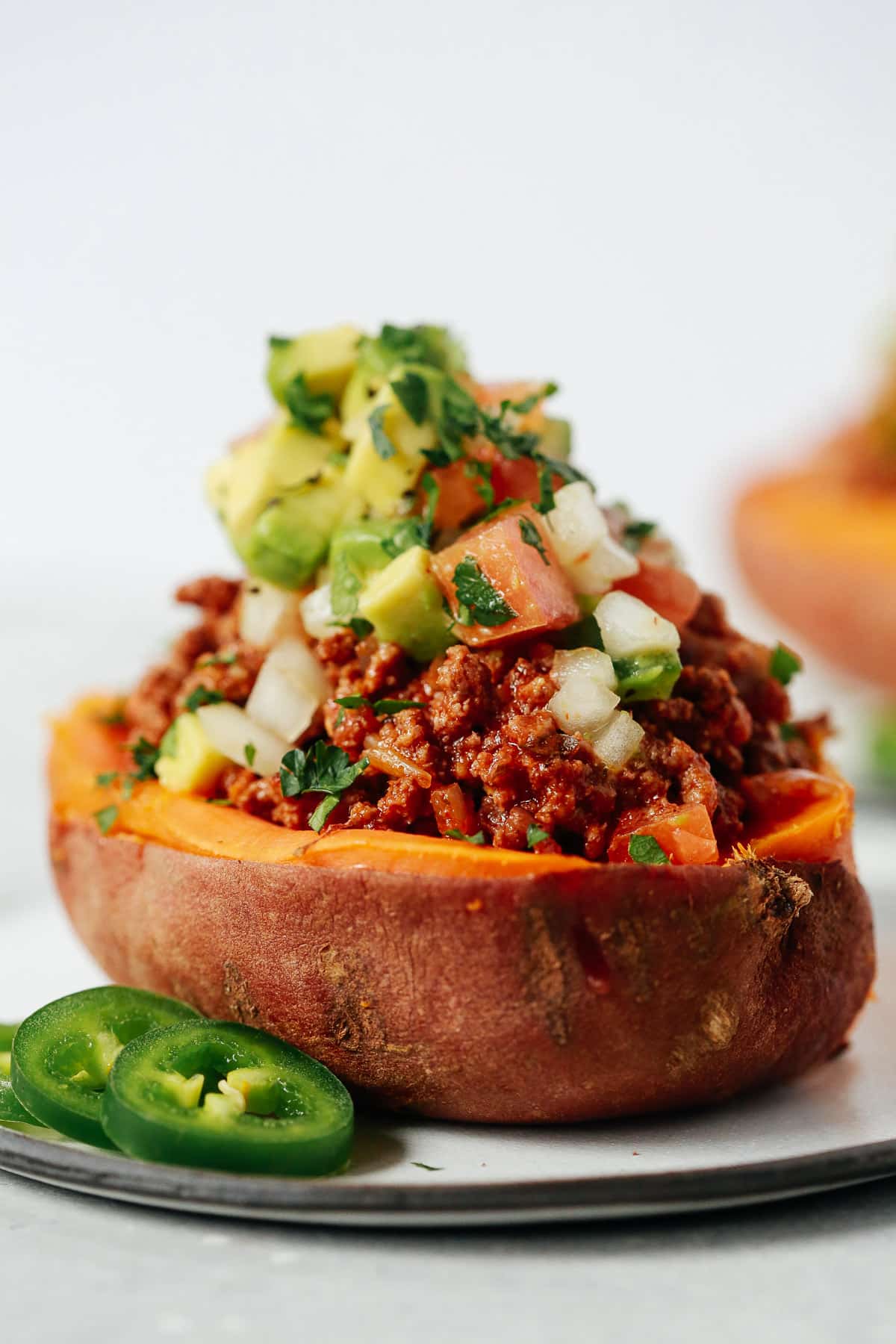 Packed with flavour, this Low-Carb Sheet Pan Sausage and Veggies makes for the perfect quick dinner this back to school season.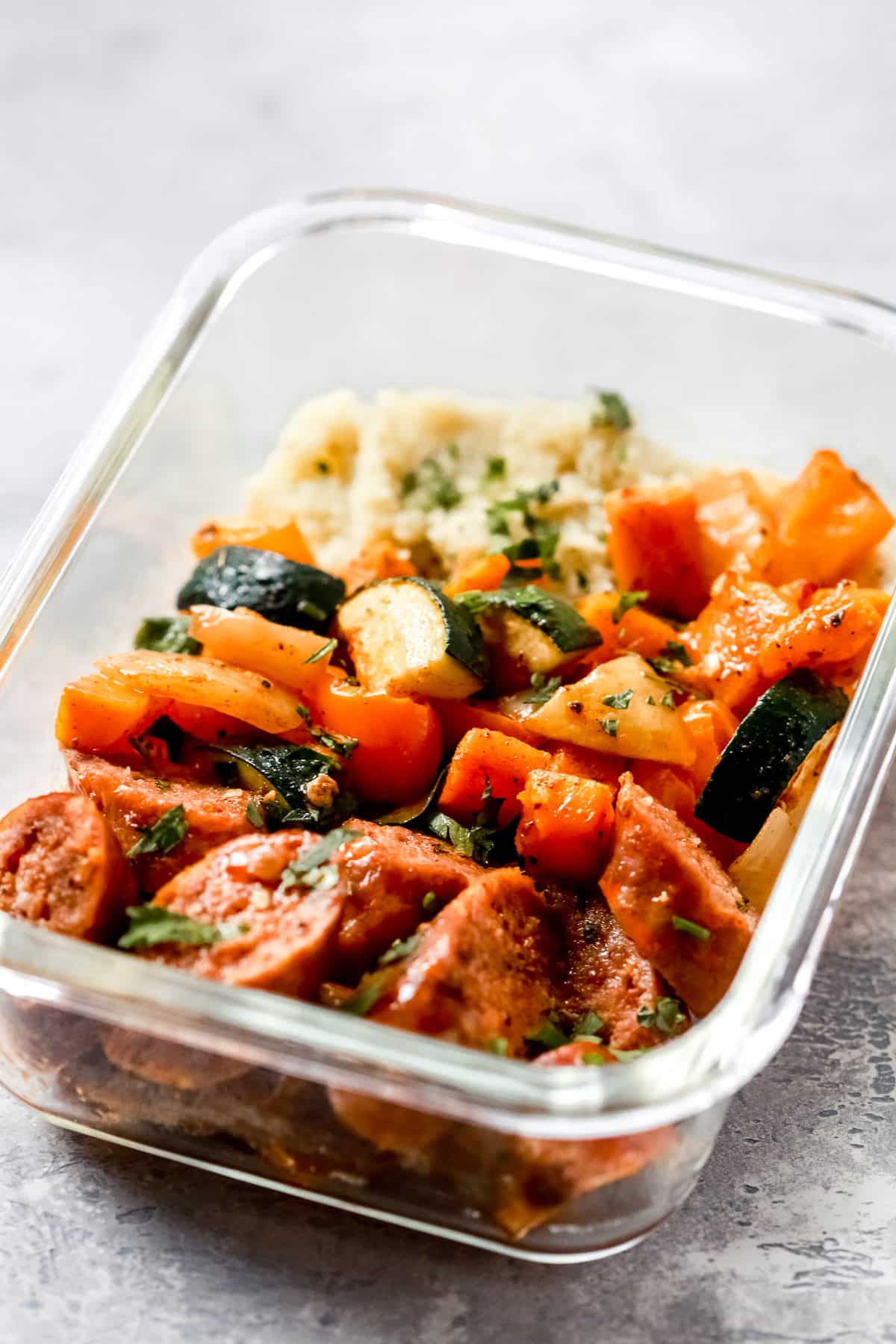 This Instant Pot Short Ribs recipe lets you enjoy the tender flavourful ribs without the hours of cooking time usually required. This set-it-and-forget it recipe makes it easy to cook the perfect meat.