Do you end up eating the same boring side dishes dinner after dinner? Here's Low-Carb Side Dish Recipes to change things up!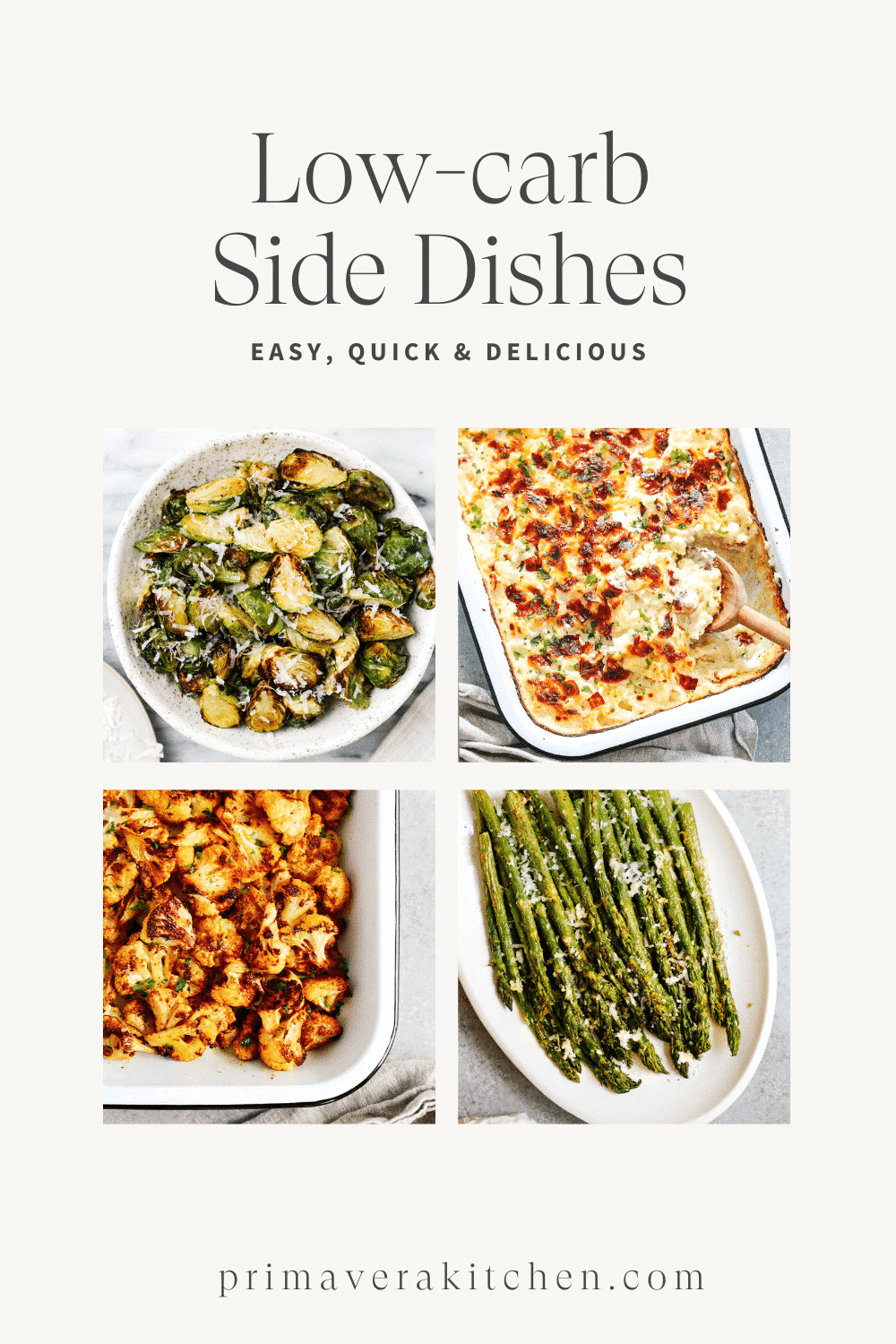 If you are trying to follow a low-carb diet, but you are not sure where to start I think this recipe round-up will be very helpful for you. I've selected my top low-carb side dishes that are full of good-for-you nutrients as they are all veggie-packed. You'll be so satisfied that you won't even realize that you're not eating any starches!
A lot of these recipes are also gluten-free and if you don't add cheese in some of the recipes you will have a paleo-friendly recipes too! They are all made with simple ingredients that you probably already have and these 50 low-carb side dishes are very easy and quick to make.
What Is Low Carb?
A low carb diet is one that contains a low amount of carbohydrates, such as sugar, pasta, beans, and bread. Instead, it is high in protein, fat and healthy vegetables. Some people eat less than 5% of carbs in their daily meals if they are on a low carb diet but you don't have to be on a diet to enjoy these low carb sides!
Is Low-Carb Good For You?
All of these recipes here are packed with vegetables! Since they're so vegetable heavy, I would say that they're good for you! Plus, if you have trouble getting more vegetables into your diet, these low-carb recipes are a perfect way for you to eat more veggies!
While I'm not saying carbs are bad for you, if we have a carb heavy main dish such as a pasta recipe for dinner, we always make a low-carb side to balance out the meal! It helps prevent us from feeling overstuffed.
Can These Side Dishes be Made Ahead of Time?
Yes! A lot of these low-carb side dishes can be made ahead of time or even frozen for later! If you click through to the recipes, there should be instructions on how to make it ahead of time. There is also instructions sharing how to store the leftovers as well.
Subscribe for new recipes & a free e-cookbook
Mains to Serve With These Low-Carb Side Dishes
If you're looking for some main dishes to serve with these delicious low-carb side dishes, try these ones:
---
Low-Carb Side Dish Recipes
Healthier Green Bean Casserole Recipe – This healthier version of a timeless, classic is low-carb and contains less processed ingredients. Green bean casserole is very versatile, so there's no need to wait for the holidays if you're having cravings. It will pair nicely with almost any main course.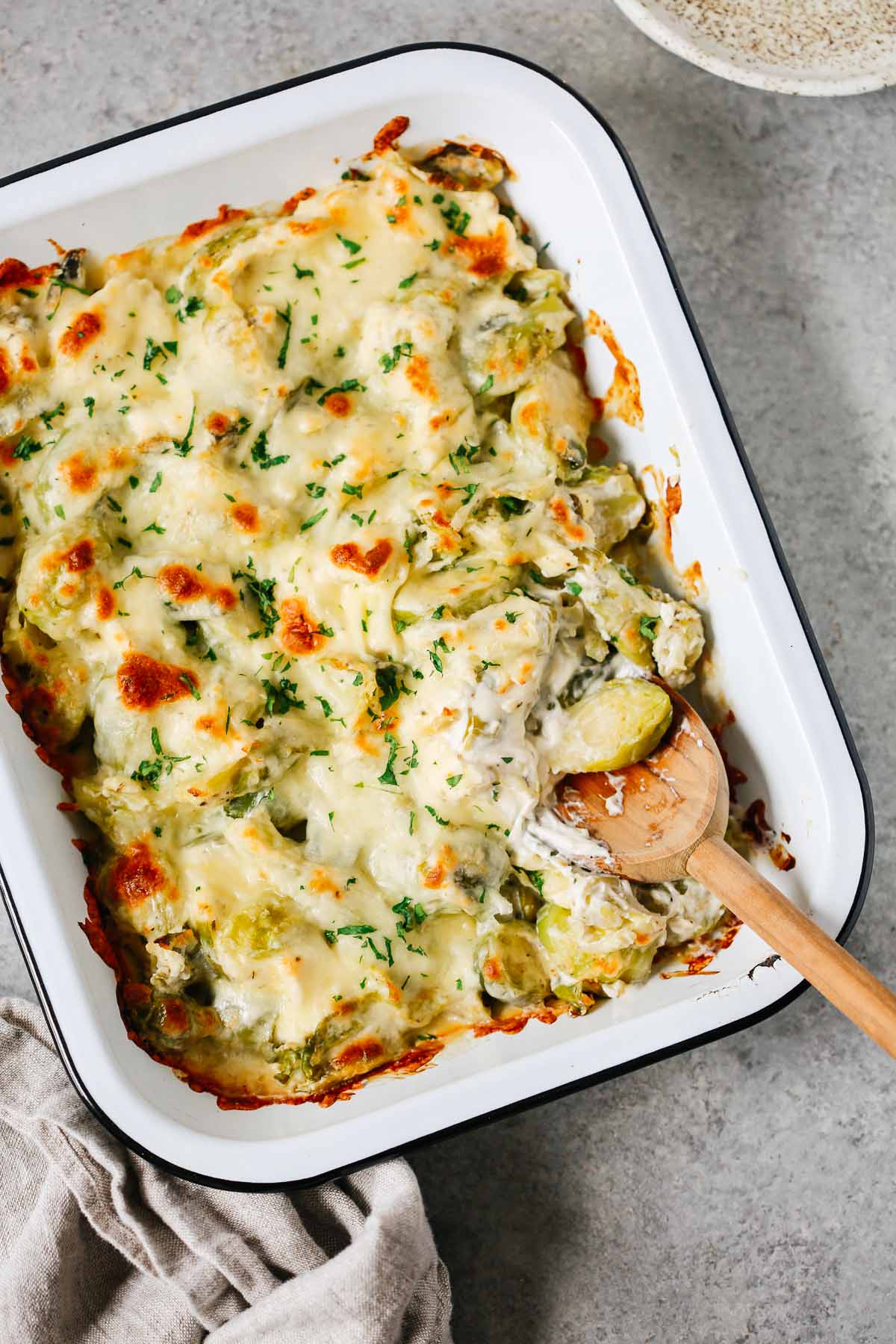 Brussels Sprouts Casserole Recipe – You can't go wrong with cheesy, creamy and perfectly seasoned brussels sprouts. Plus, this simple casserole is made with just 8 ingredients in only 30 minutes. So easy!
Parmesan Brussels Sprouts Salad – A minimalistic salad packed with bright, citrusy flavor! Whip it up in just 10 minutes and pair with pretty much anything.  
Easy Coleslaw Recipe – This recipe features lots of vegetables and a creamy, homemade salad dressing! I especially love serving coleslaw as a side for barbeque or bringing it to a summer potluck.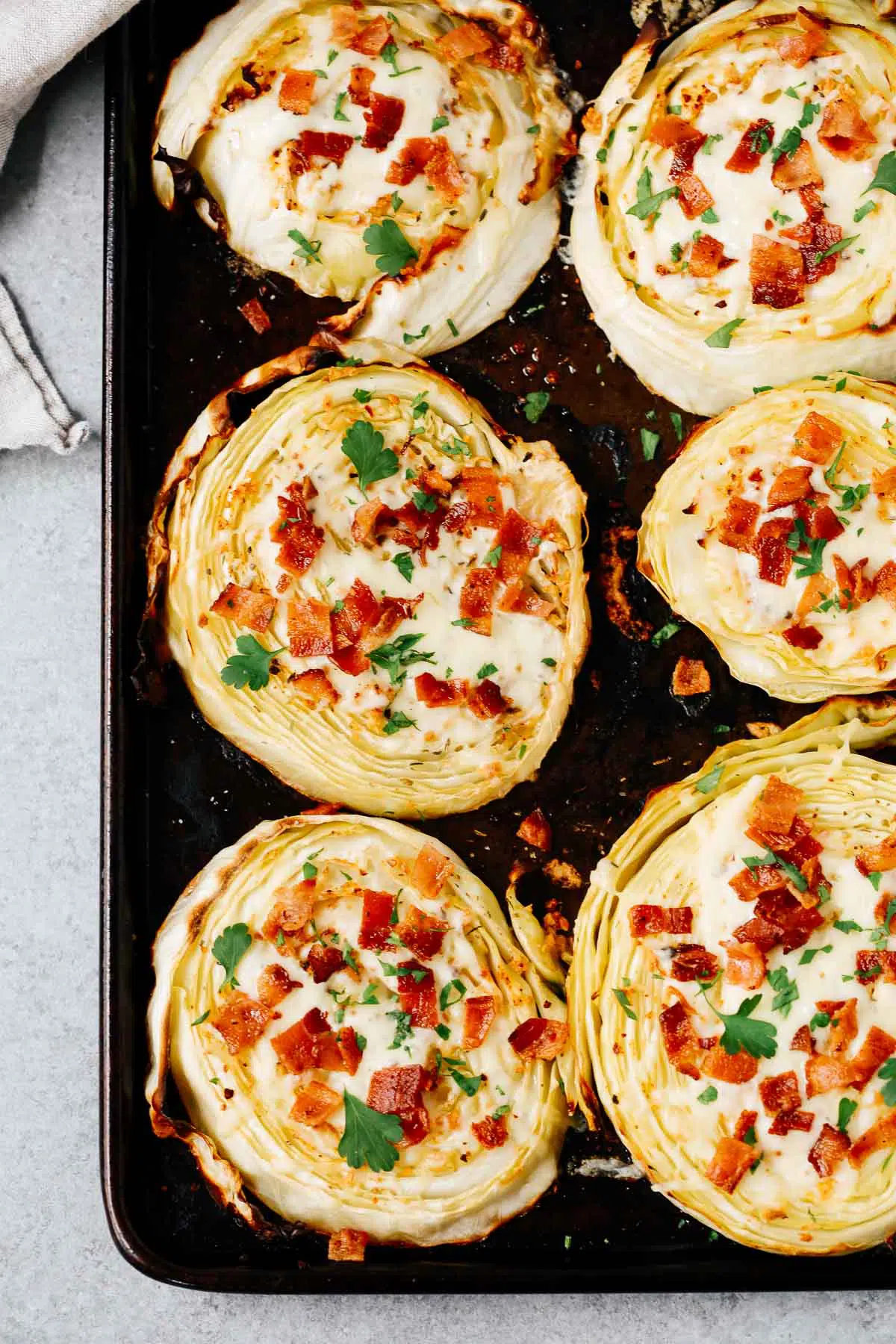 Cabbage Steak Recipe – Roasted, tender cabbage steaks are so fun and delicious. They make a fabulous accompaniment but can also be served as a main dish.
Cauliflower Potato Salad Recipe – If you're a potato salad lover and trying to cut back on carbs, try this cauliflower version of the classic! It's got the traditional flavors you're looking for with only 4 net carbs per serving!
Spicy Roasted Cauliflower Recipe – Flavor-packed cauliflower made with smoked paprika, turmeric, garlic, salt and pepper! Whip up this easy side dish in just 30 minutes.
Garlic Butter Sautéed Zucchini – Thinly sliced zucchini half-moons drenched in a buttery garlic sauce, what could be better than that? The perfect side dish for steak, chicken, shrimp, salmon or any other protein.
Garlic Butter Green Beans Recipe – This recipe makes it easy to eat more veggies. You'll definitely want more than one helping of these fabulous green beans, so be sure to make a lot!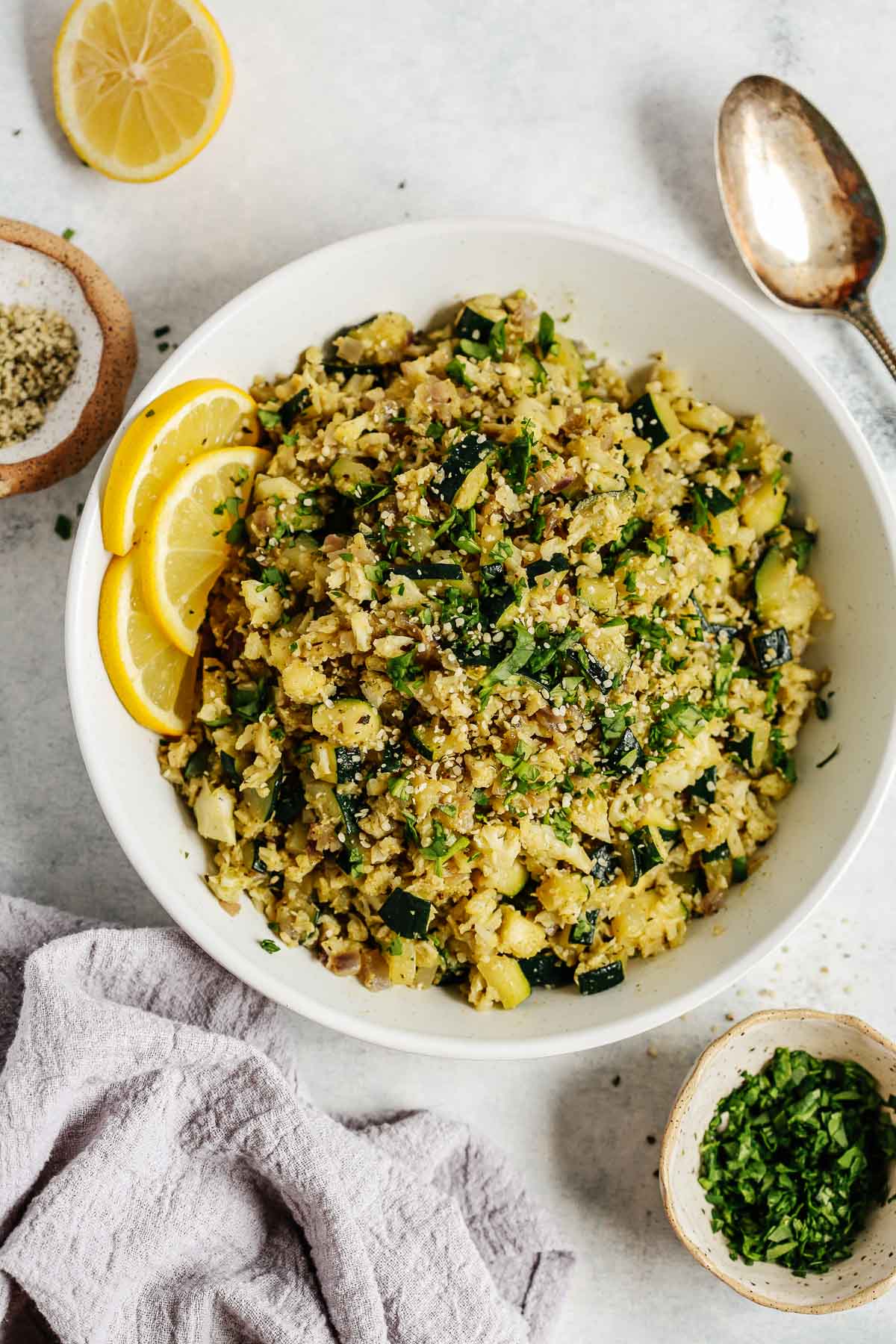 Easy Zucchini Cauliflower Rice – Rice is so delicious, but it's full of carbs. If you're trying to cut back, veggie rice is an excellent substitute. It's great any time of year, but its fancy appearance makes it great for special occasions.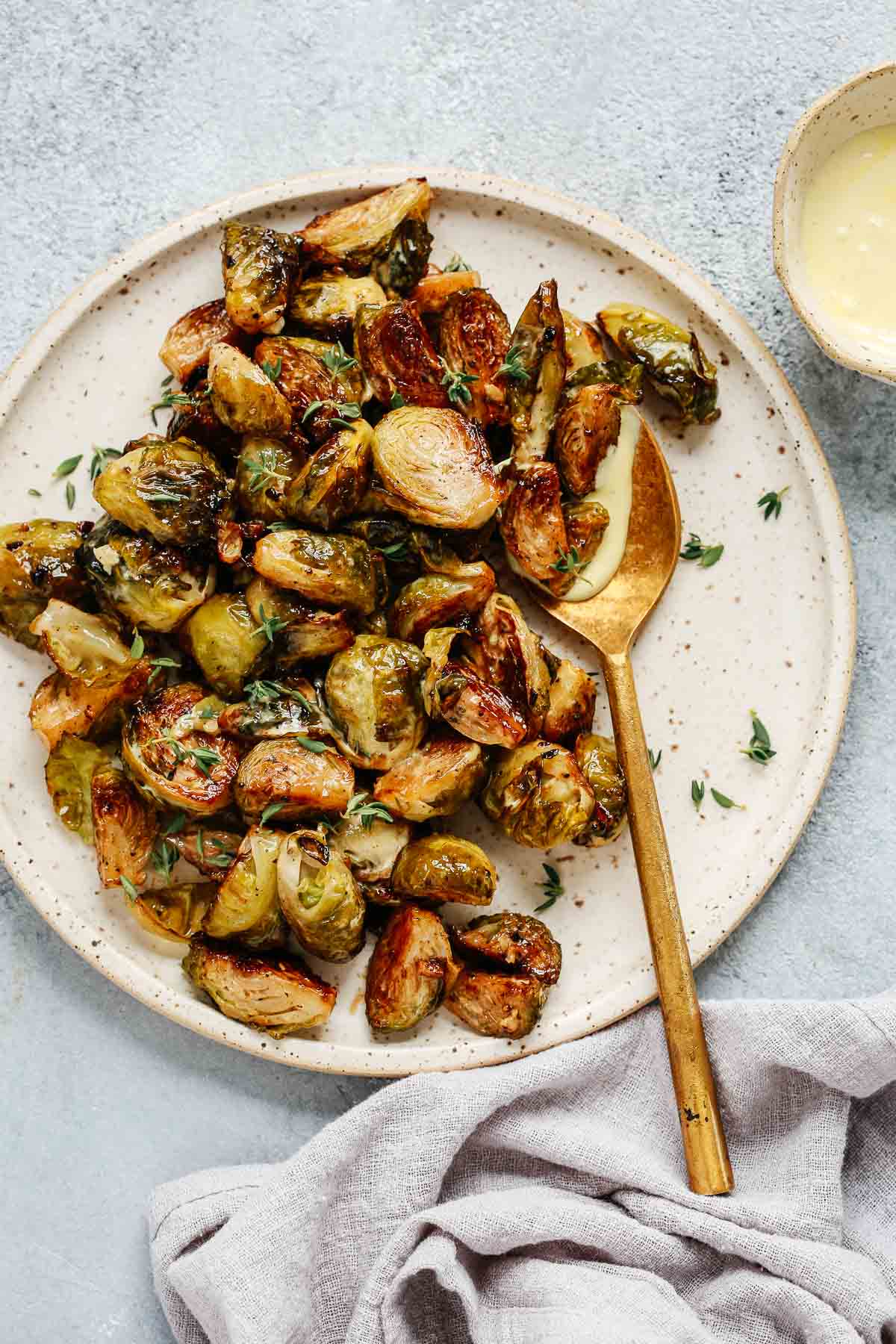 Roasted Brussels Sprouts with Mayo Mustard Dressing – This recipe features perfectly roasted brussels sprouts in simple, creamy, homemade dressing made with both mayonnaise and mustard.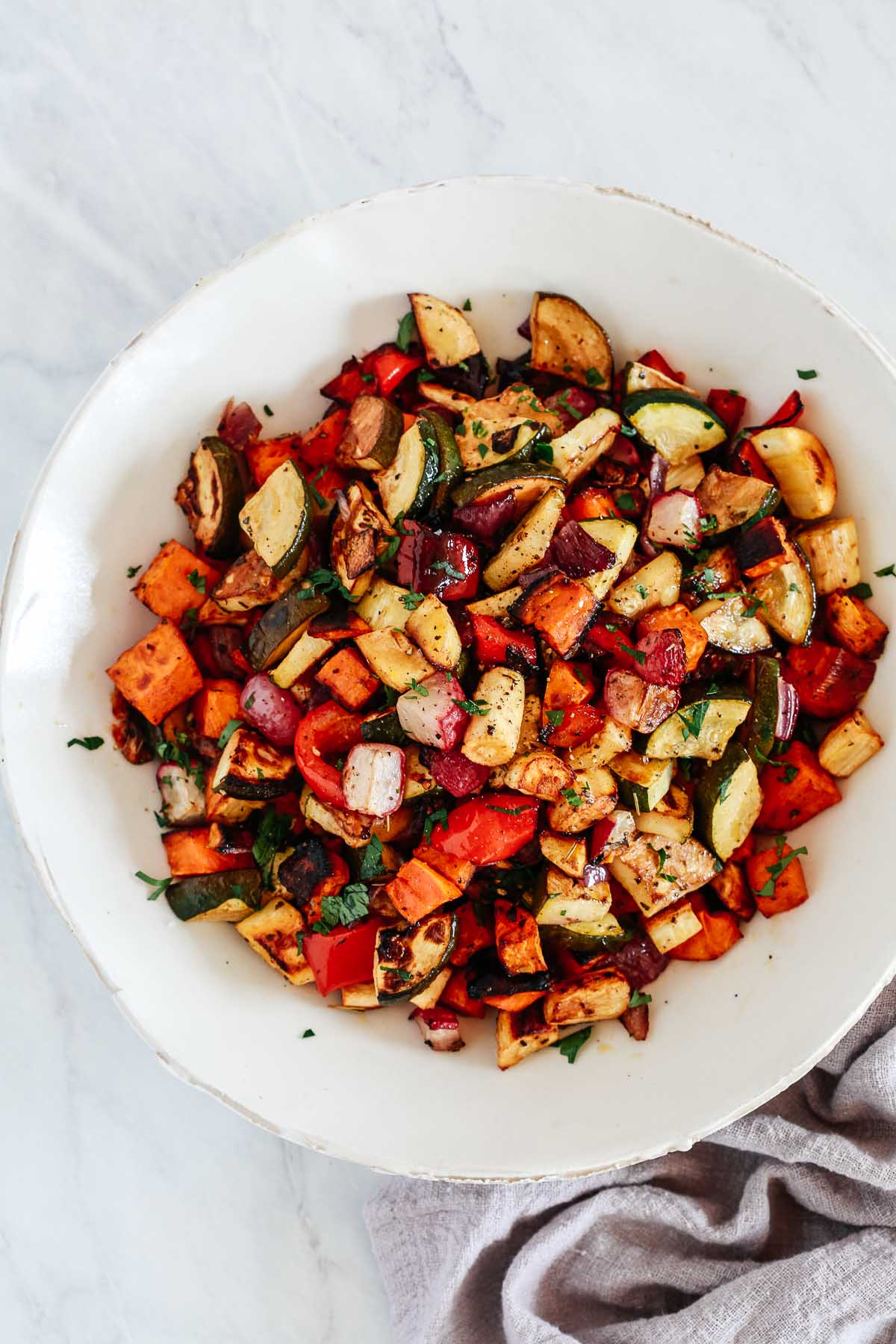 Balsamic Roasted Vegetables Recipe – Balsamic vinegar adds infinite flavor to this colorful medley of roasted vegetables. Use suggested veggies or swap to eat up the ones you've got on hand!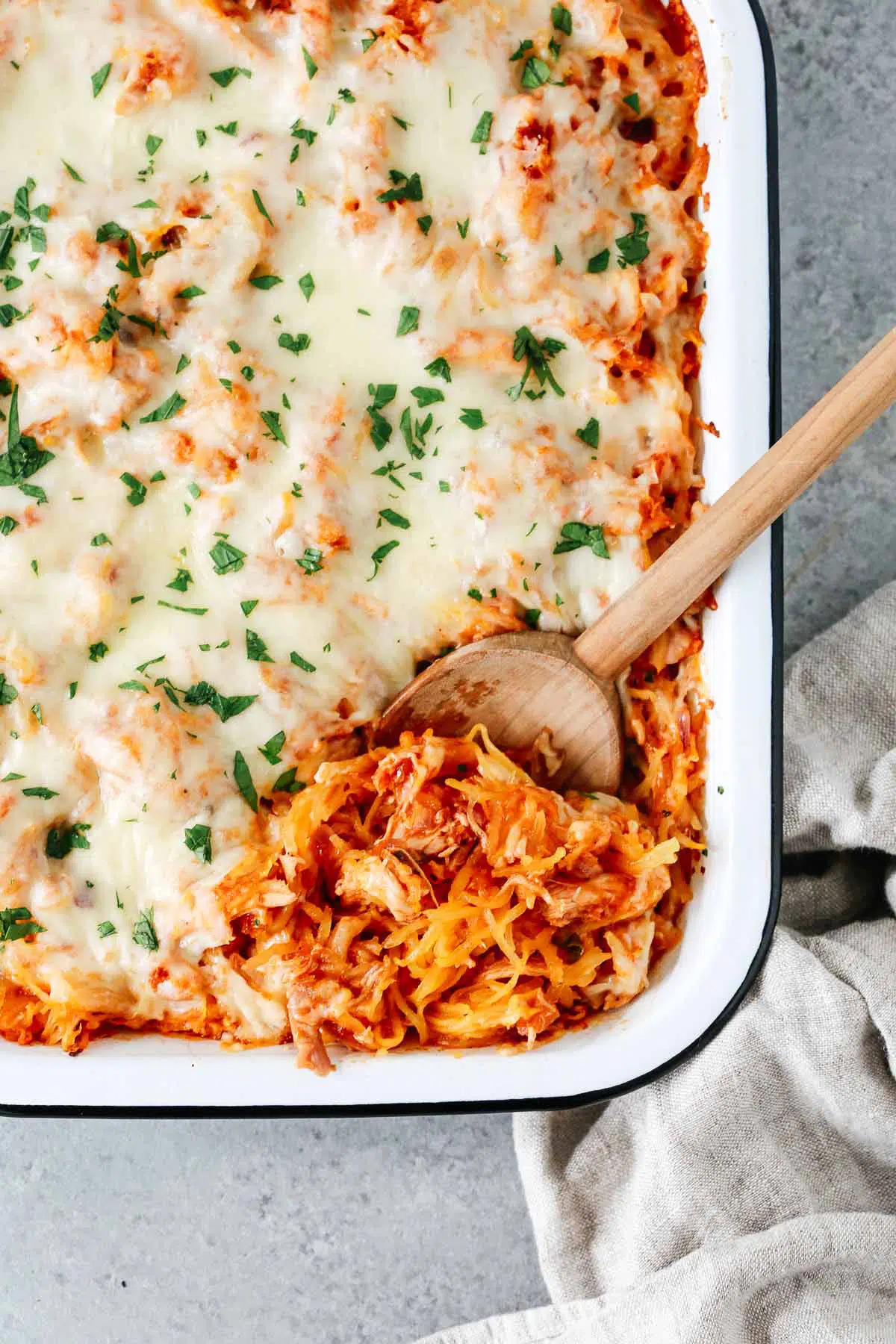 Spaghetti Squash Casserole Recipe – If you're avoiding carbs, and therefore traditional pasta, give this cozy spaghetti squash casserole a try! It's a great side dish but can also be served as a main course.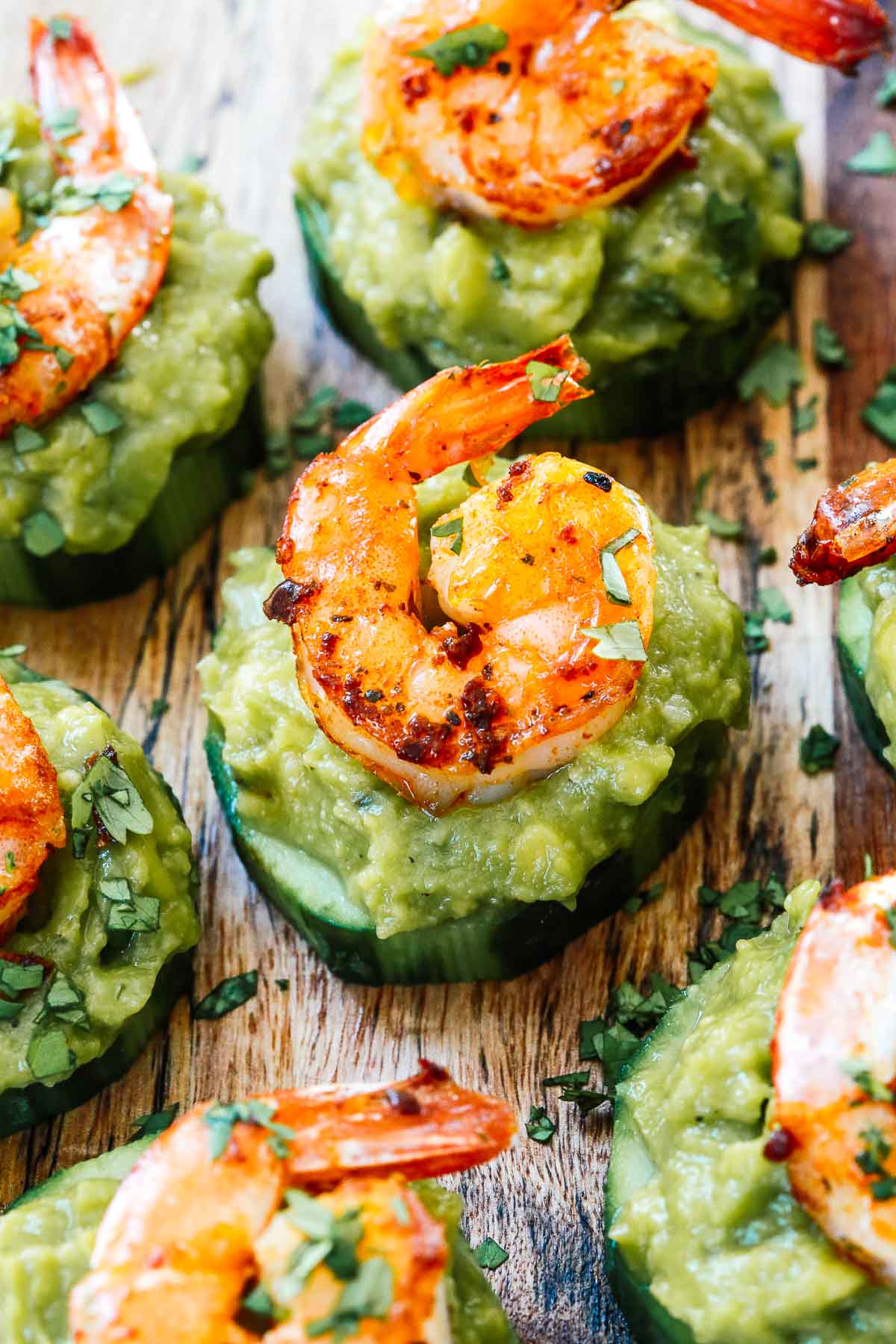 Easy Shrimp Guacamole Bites Recipe – Crunchy cucumber slices topped with creamy guacamole and perfectly seasoned shrimp! This mouthwatering side dish also fairs well as a party appetizer.
Easy Roasted Vegetables Recipe – Colorful food always tastes better for some reason! Eat the rainbow with this gorgeous assortment of low-carb vegetables topped with bacon bits for a protein boost.
Brussels Sprouts Bacon Salad – Shredded sprouts, kale and red onion covered in flavorful homemade dressing. Top everything with bacon bits to add delicious, crunchy texture.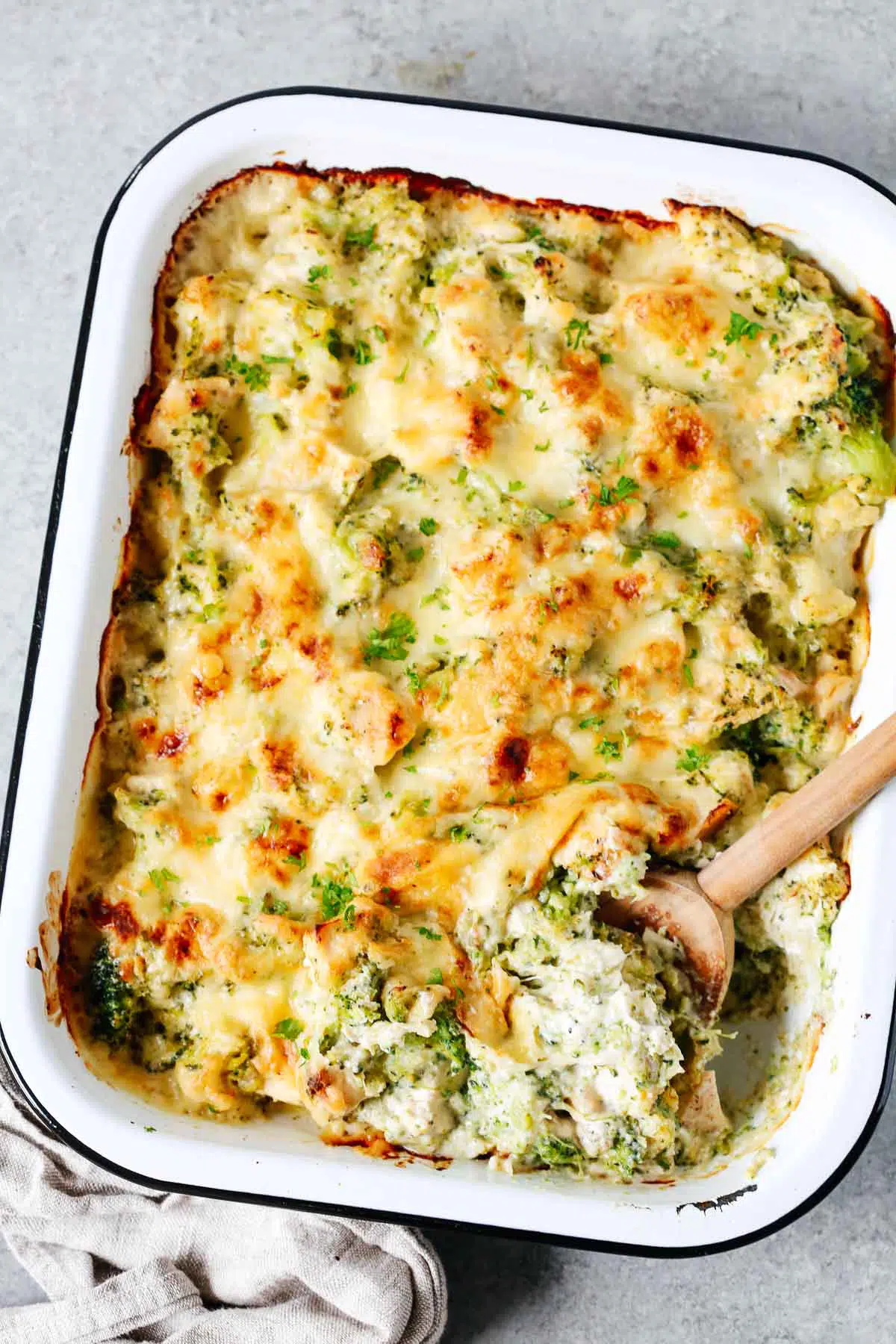 Broccoli and Cauliflower Casserole Recipe – You simply cannot go wrong with chopped cruciferous veggies and chicken baked in a creamy sauce and topped with cheese. Net carbs are super low at just 8 grams per serving.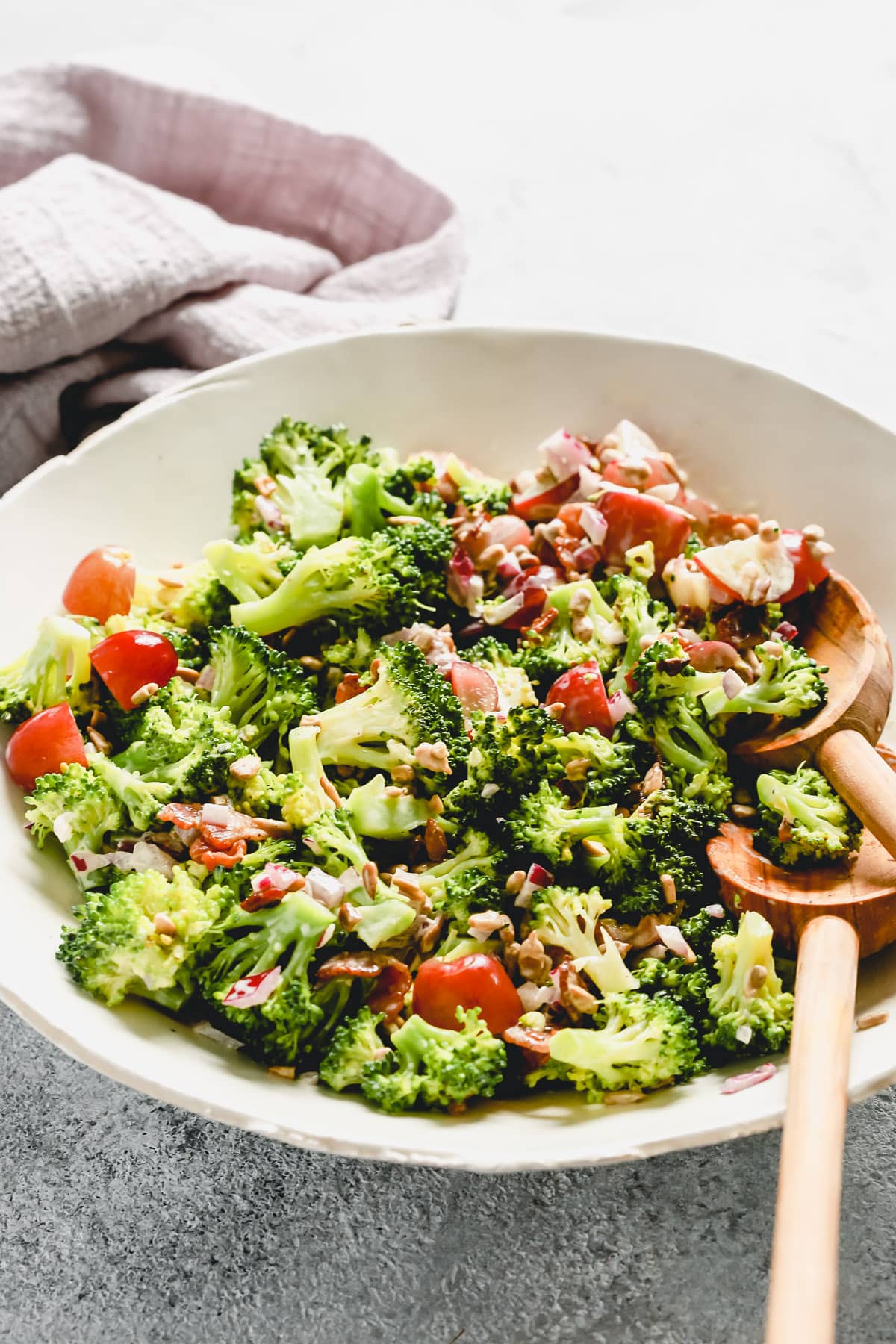 Easy Broccoli Salad Recipe – Broccoli, red onion, grape tomatoes, bacon and sunflower seeds for a little crunch. I love serving this salad as a dinner side, but it also makes for an easy and nutritious lunch.
Avocado Tomato Salad Recipe – Sweet, tangy cherry tomatoes perfectly complement creamy diced avocado in this simple, yet unbelievably delicious salad. Whip it up in 10 minutes with just a handful of ingredients!
Roasted Butternut Squash Recipe – Cubed butternut squash seasoned with salt, pepper and paprika! This easy roasted veggie side is really versatile, pair it with any of your favorite dinner recipes.
Avocado Egg Salad Recipe – Egg salad is traditionally made with mayonnaise, but you won't find any here. Instead, we're using creamy mashed avocado as a dressing for our dish. This salad goes nicely with many foods, but I love bringing it to a cookout to pair with grilled proteins.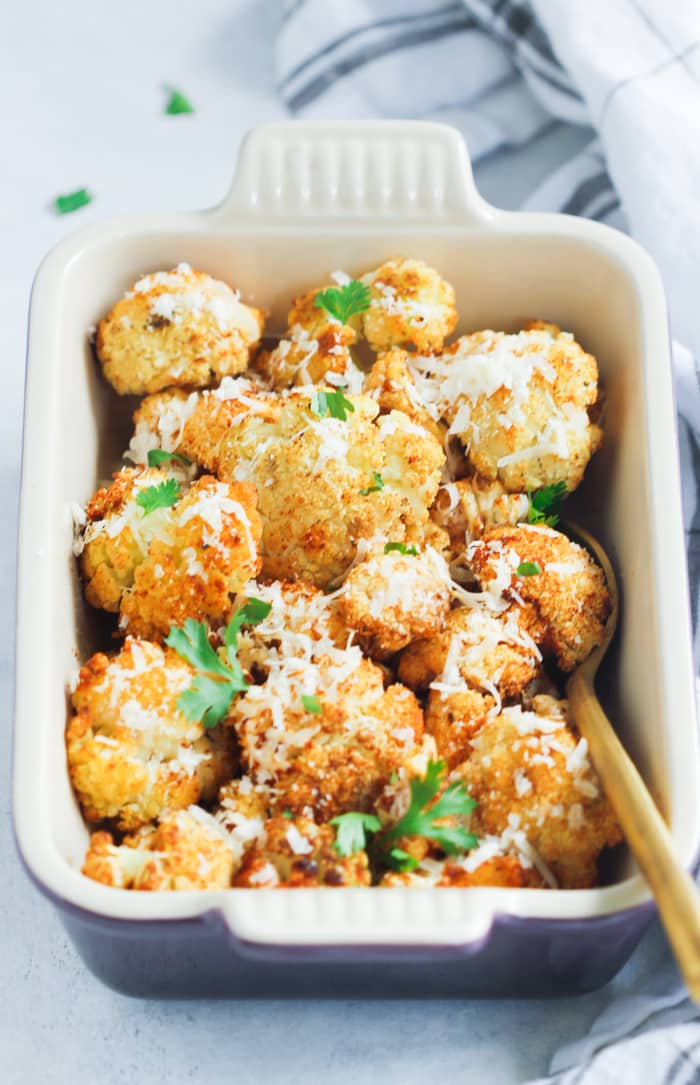 Garlic Parmesan Roasted Cauliflower – When I need a quick and easy veggie side for dinner, this is my go-to. Roasted cauliflower is really tasty and perfect on a low-carb or keto diet. Season it however you like and don't forget to add a sprinkle of parmesan cheese.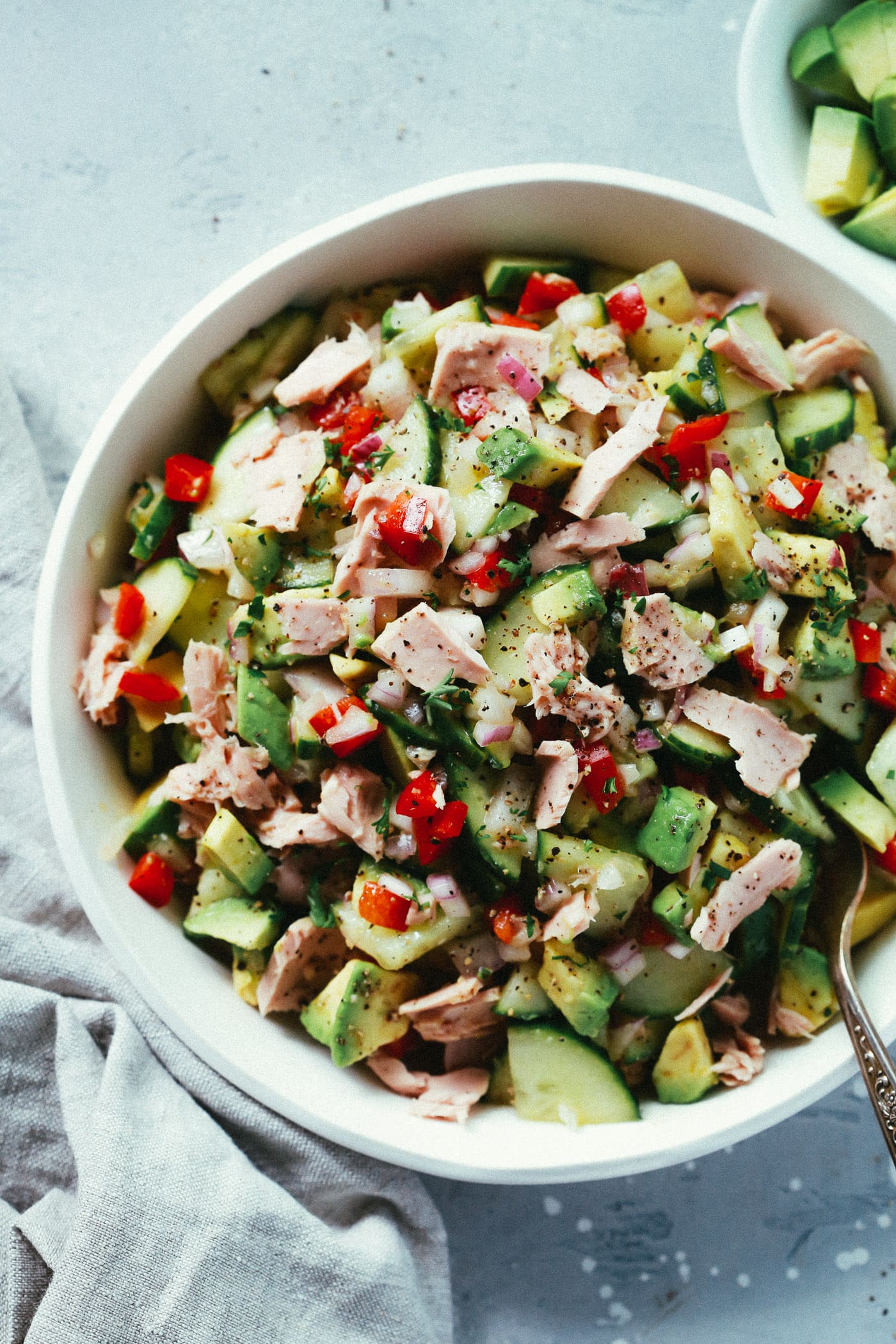 Super Easy Avocado Cucumber Tuna Salad – This easy side salad is both low-carb and high protein. It's made with crunchy veggies, creamy avocado and flaky tuna. Drizzle in lemon juice and olive oil for extra bright flavor.
Roasted Butternut Squash Mash – There are so many ways to eat butternut squash and making it into a creamy mash is one of the best options out there. This side is an excellent substitute when you're missing mashed potatoes on a low-carb diet.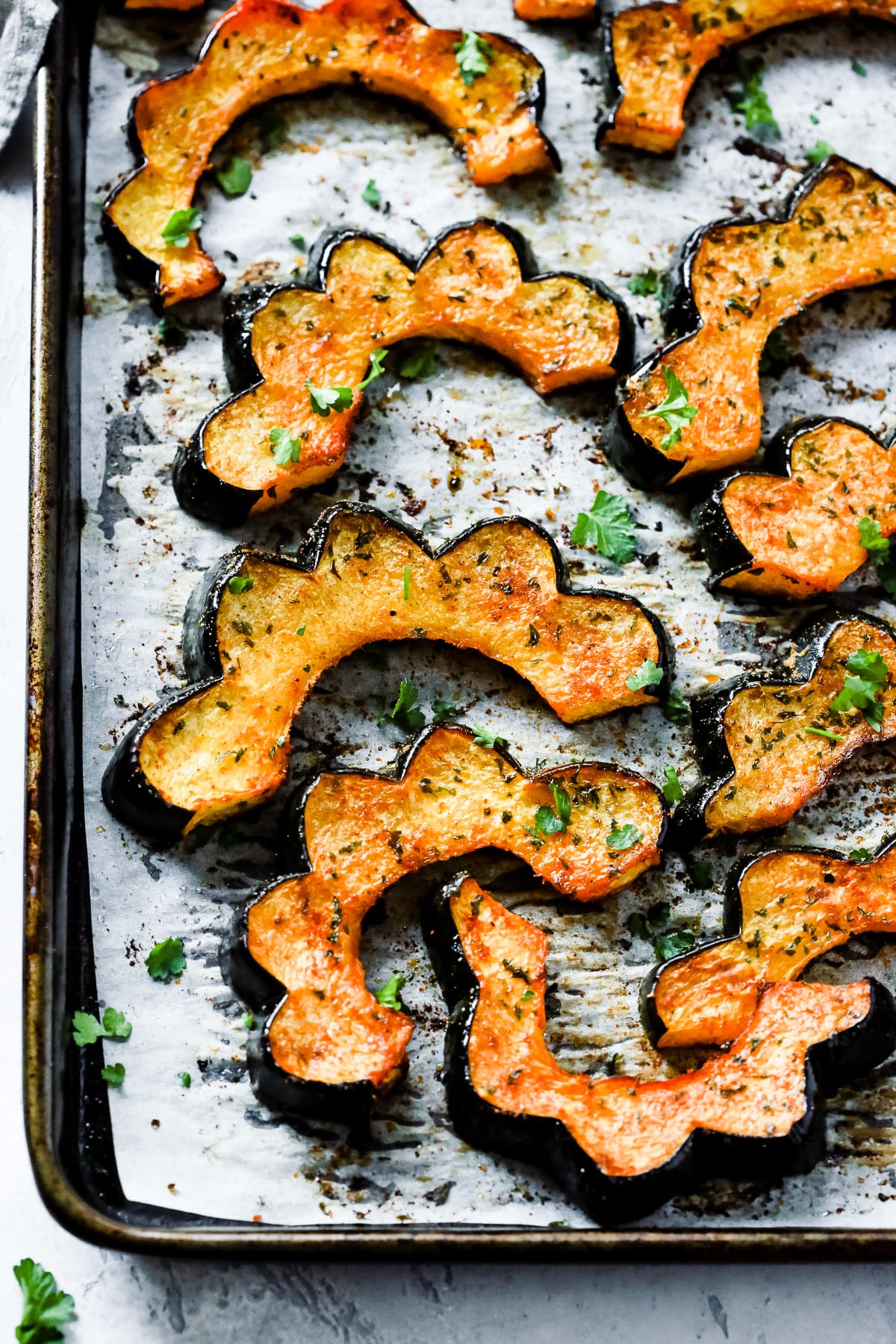 Easy Roasted Acorn Squash Recipe – This tasty vegetable side is very pretty and elegant looking. It's great for pairing with an everyday meal, but can also be dressed up for the holidays or other special occasions.
Butternut Squash Soup – Another way to eat squash?! That's right, the options are truly endless. Butternut squash soup is the ultimate, healthy comfort food. It's delicious, nutritious and will warm you up quick.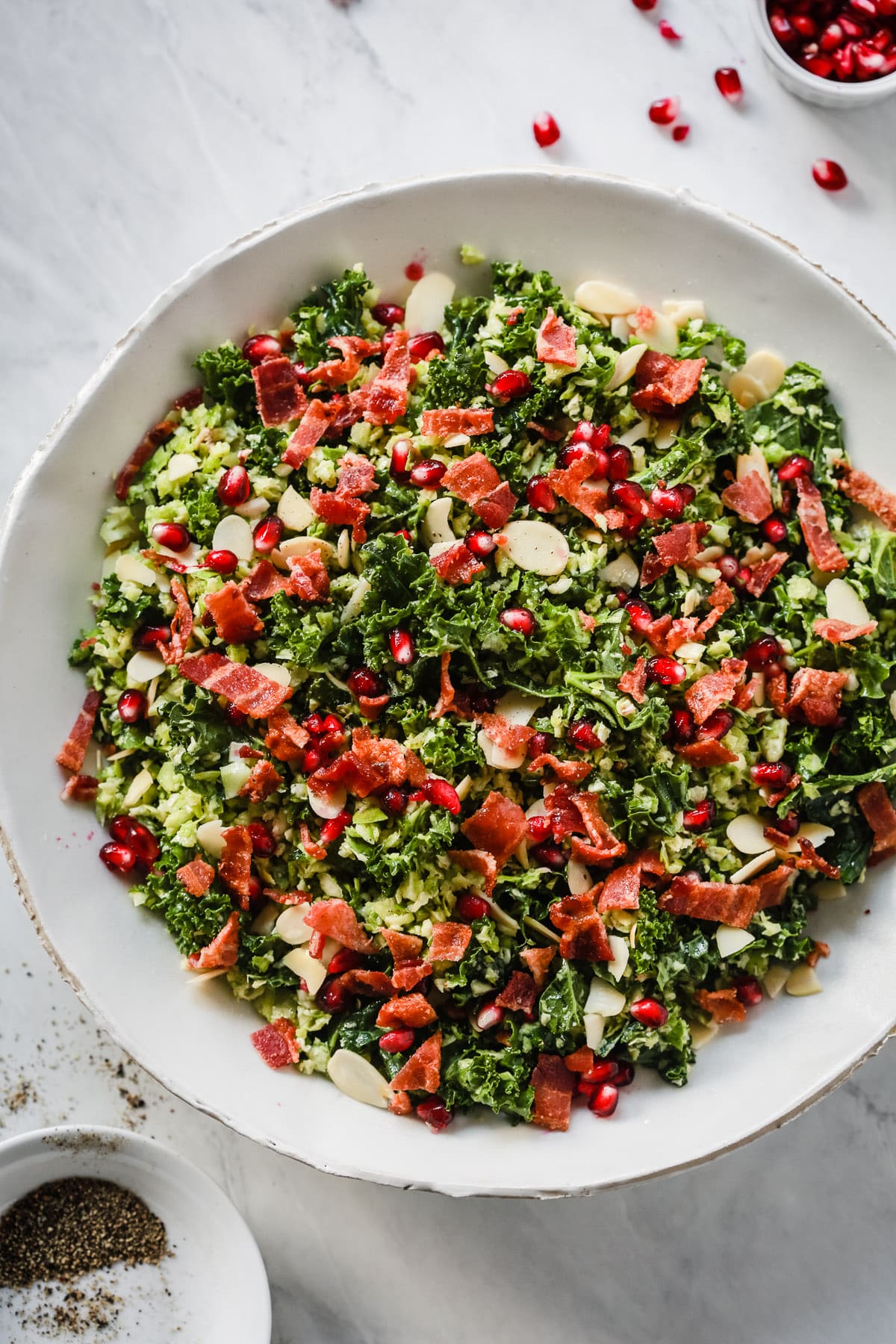 Shredded Brussels Sprout Salad – This shredded brussels sprouts salad is topped with crunchy bacon, sliced almonds and beautifully colored pomegranate seeds. Toss it up in a homemade vinaigrette to add incredible flavor.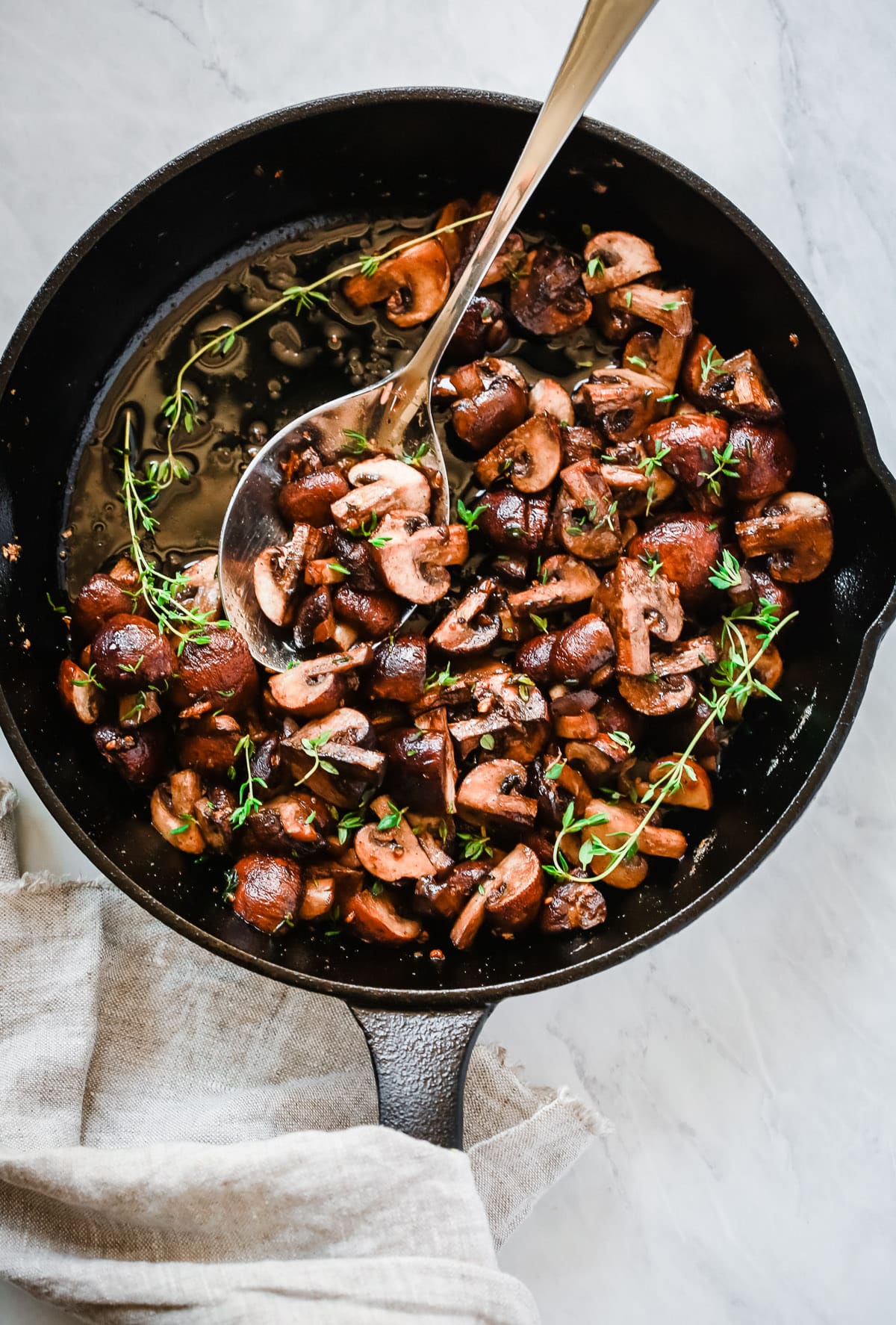 Easy Garlic Butter Mushroom Skillet – An easy 10-minute side featuring succulent mushrooms in a buttery sauce flavored with garlic, thyme, salt and pepper! Pair this scrumptious side with all of your favorite proteins.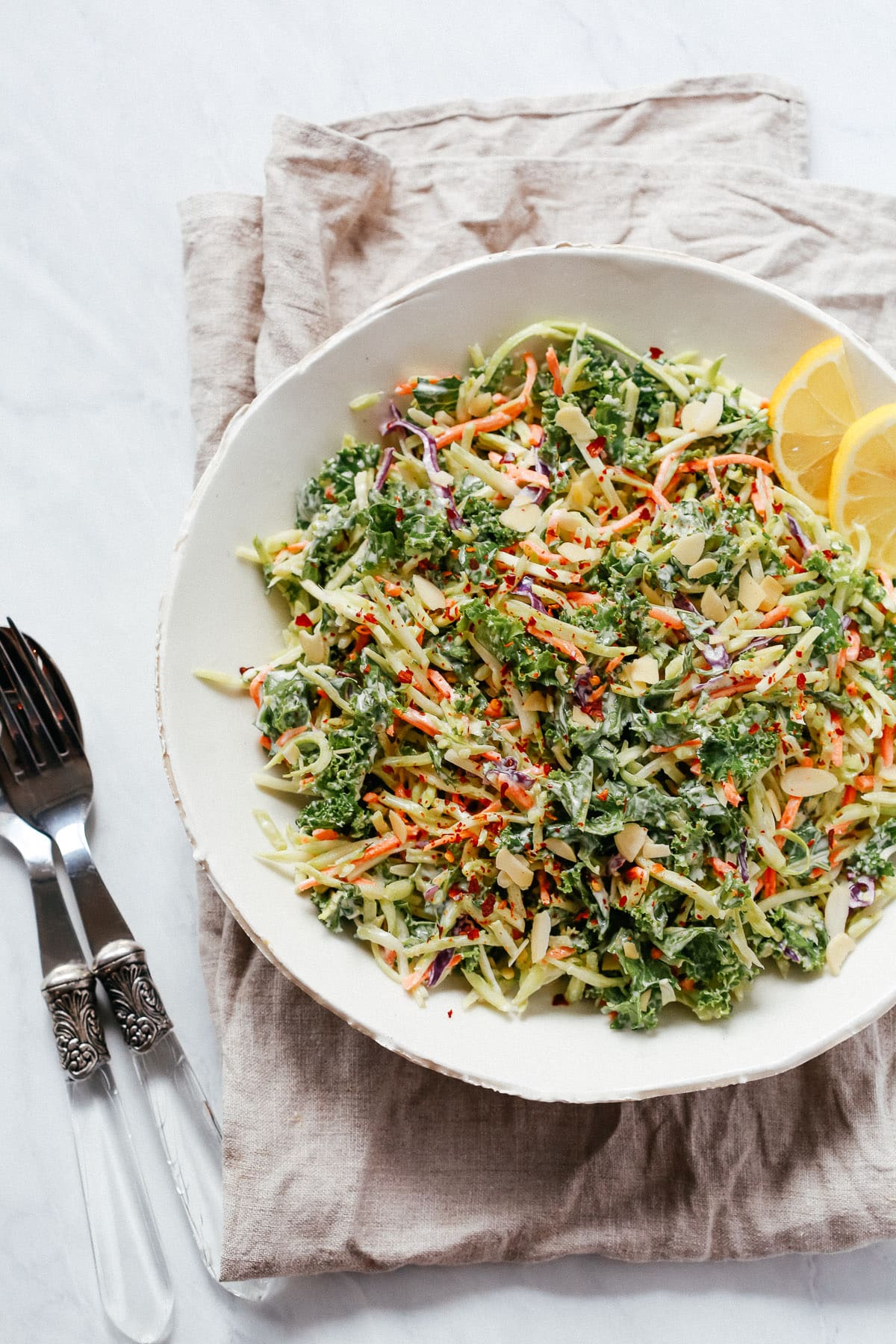 Super Easy Broccoli Kale Slaw Salad – Nutritious broccoli, kale and almonds in a homemade creamy dressing. This salad can be made ahead of time and kept in the refrigerator for later, perfect for a busy weeknight.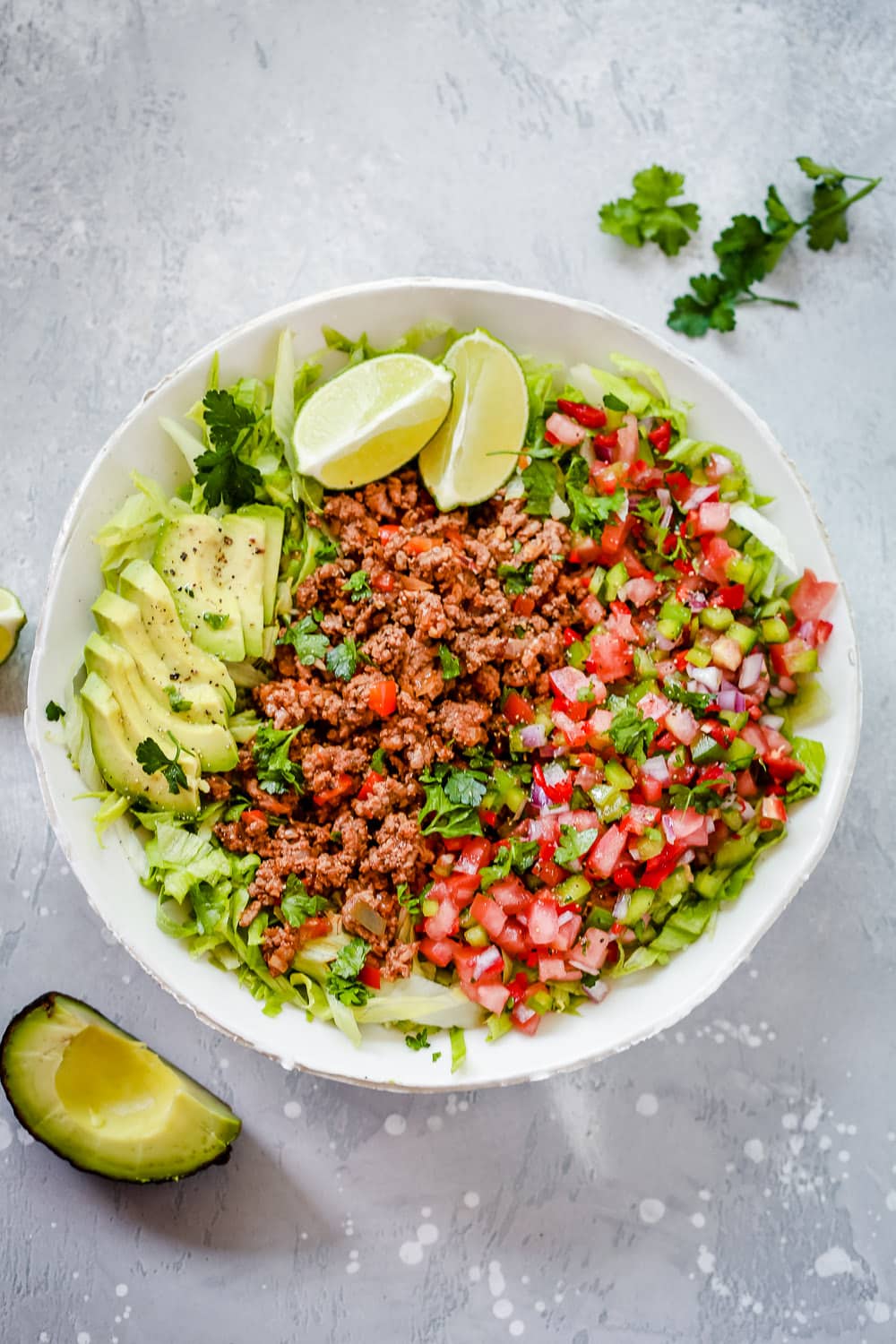 Ground Beef Taco Salad – If you're craving Mexican food, but avoiding extra carbs, this is the perfect dish for you. It's full of amazing flavor and packed with protein. We usually serve this salad as a side dish, but it can definitely work as a light main.
Easy Low-carb Dinner Rolls – These easy rolls are made with almond flour! They're the best, simple side to serve with any soup or salad. You can also cut them in half and add deli meat and mayonnaise for a tasty little lunch.
Super Fresh Shrimp Tomato Salad – This simple recipe features chopped greens, red onion, avocado, cherry tomatoes and lots of yummy shrimp. Drizzle with a light and zesty homemade dressing for the perfect, easy side.
Golden Cauliflower Rice Recipe – What gives this cauliflower it's beautiful, golden-brown color? Turmeric! This nutritious spice is all of the rage these days, and it's easy to see why.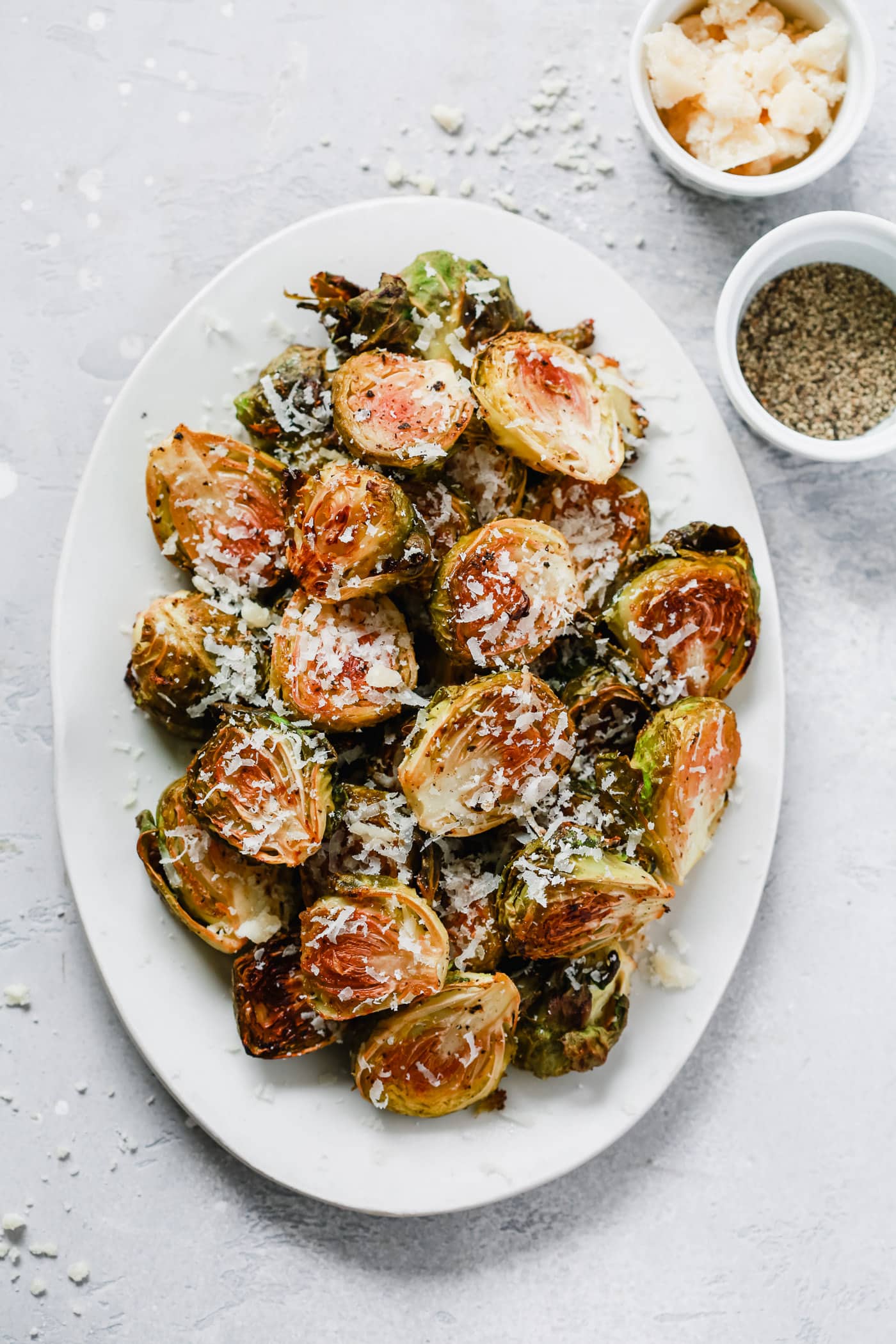 Garlic Parmesan Roasted Brussel Sprouts – Brussels sprouts are always a good idea! Take them to the next level with a drizzle of lemon juice, olive oil, lots of garlic and a generous sprinkling of parmesan cheese. Yum!
Breakfast Egg Muffins Recipe – These egg muffins make a great low-carb breakfast, but don't limit them to the morning hours. Serve them as a breakfast-for-dinner side dish with almond flour pancakes or waffles.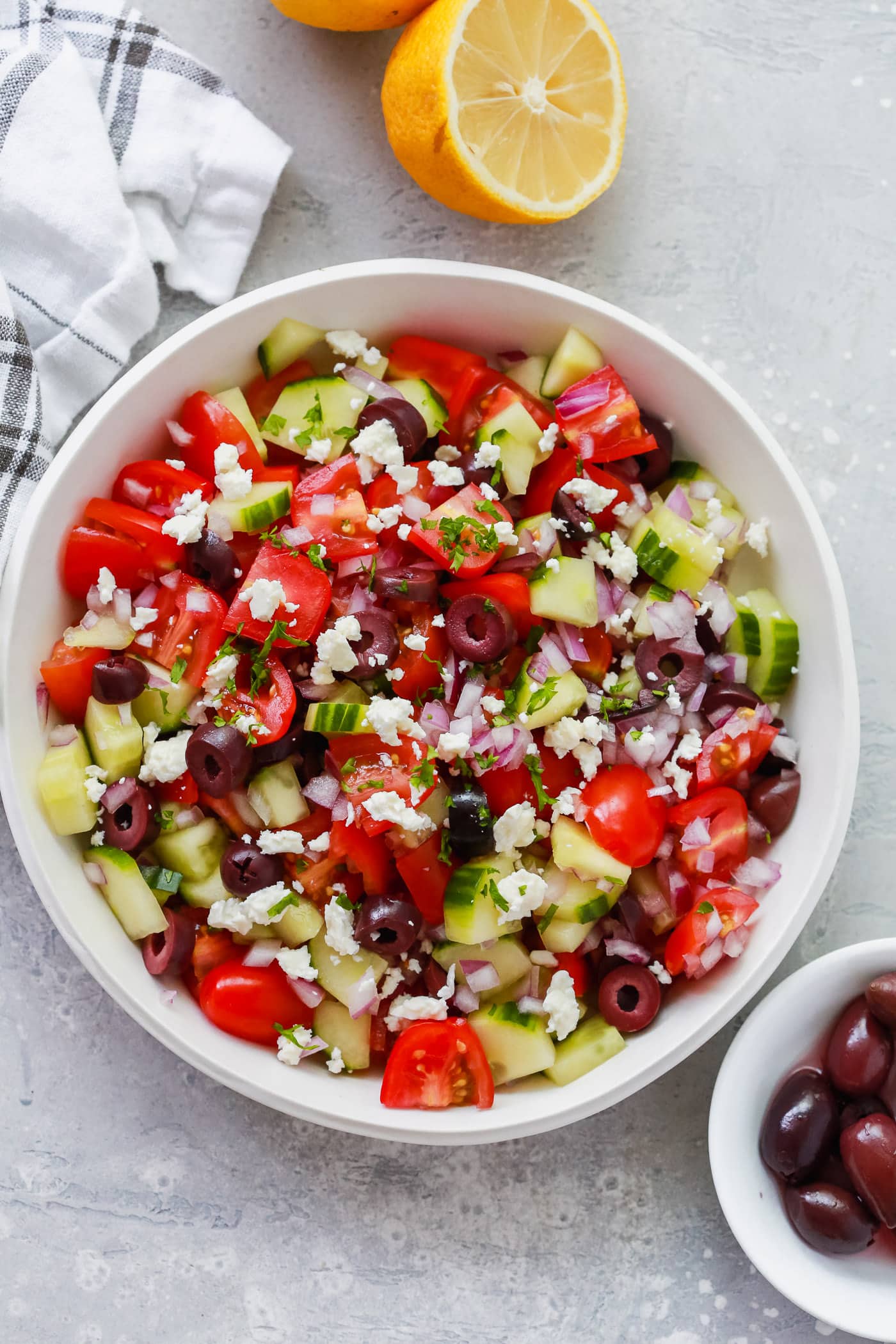 Easy Mediterranean Salad Recipe – Cucumber, tomato, red onion, black olives and bell peppers tossed together and topped with salty feta cheese. This yummy, Mediterranean salad is the perfect quick side!
Shrimp Avocado Cucumber Salad – This salad features a light, citrusy dressing! It's high protein, veggie-packed, very low-carb and can be made in just 15 minutes.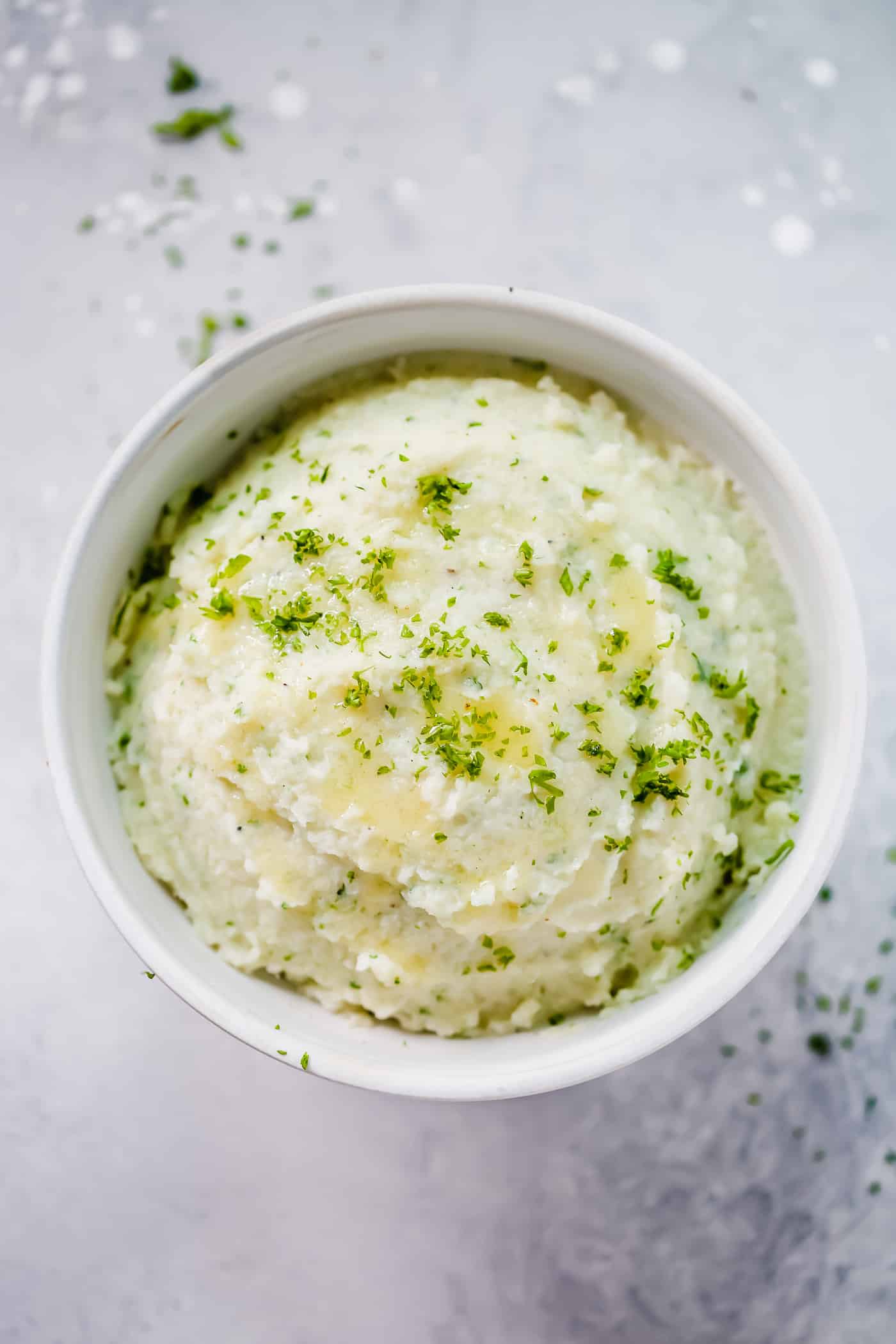 Whole30 Mashed Cauliflower Recipe – Mashed cauliflower just might be the most versatile low-carb side in existence. It's pairs perfectly with an endless number of main course meals and is really great if you're missing mashed potatoes on a keto diet.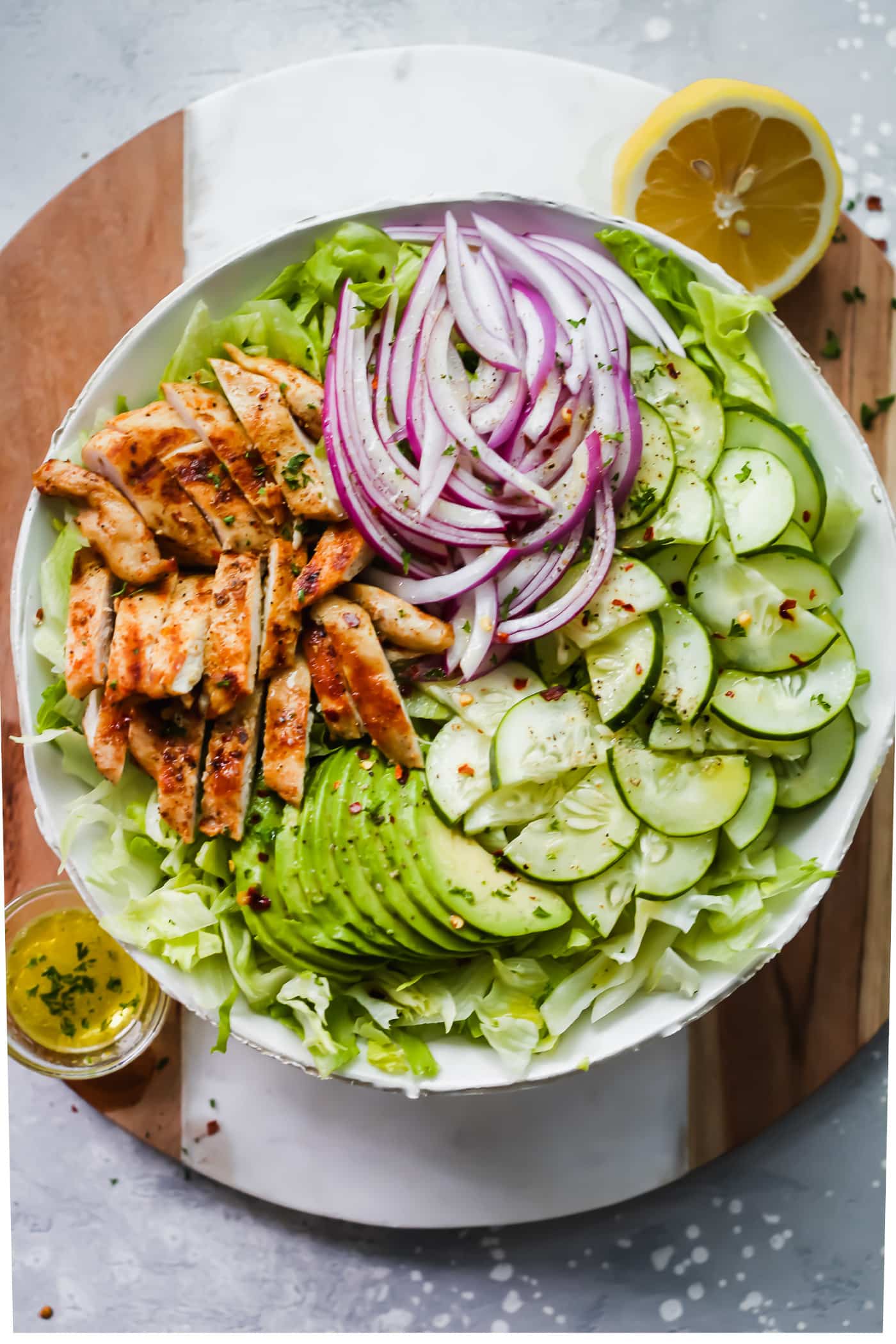 Grilled Chicken Avocado Salad – Grilled protein, creamy avocado, crunchy veggies and lots of chopped greens! This salad is the perfect summer side. Feel free to swap an alternate protein, if desired.
Roasted Green Beans with Spicy Tahini Sauce – Green beans are fabulous on their own! But you should definitely try pairing them with this amazing, flavorful tahini sauce. It really takes everything to the next level.
Creamy Avocado Cauliflower Salad (Whole30, Paleo, Low-carb) – If you're looking for a unique way to serve cauliflower, this is the recipe for you! Creamy avocado sauce and bacon bits create a delicious flavor combination that can't be beat.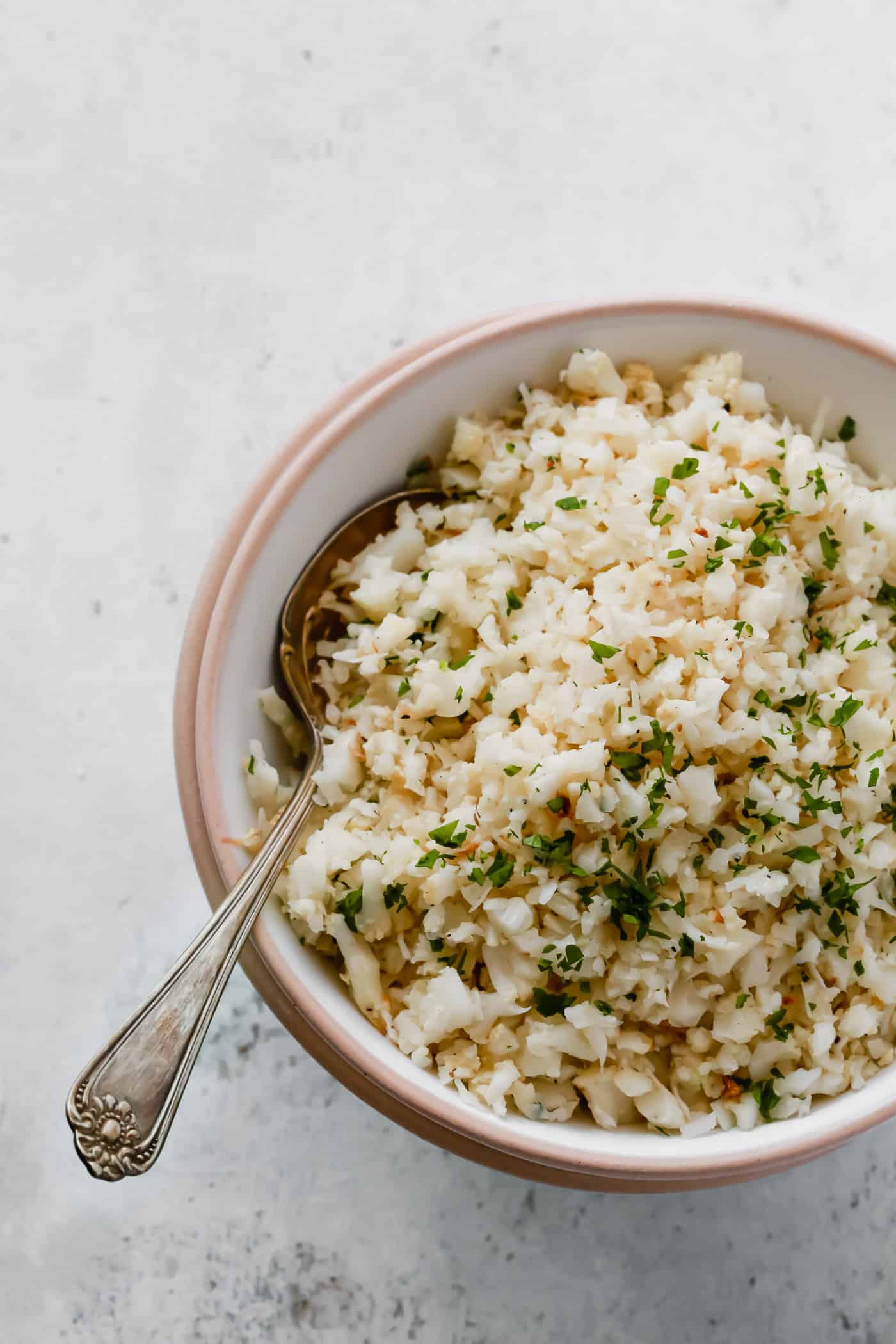 Garlic Parmesan Cauliflower Rice Recipe – You're going to love this cauliflower rice! It's nice and filling but low-carb and low-calorie. Thankfully, you can make it in bulk and freeze for up to 2 months for a side ready in seconds.
Cauliflower "Rice" Tabbouleh Salad Recipe – Tabbouleh salad is a Mediterranean dish traditionally made with bulgur wheat. Here, we're making it with all of the traditional flavors, but substituting cauliflower rice for wheat in order to reduce carbs.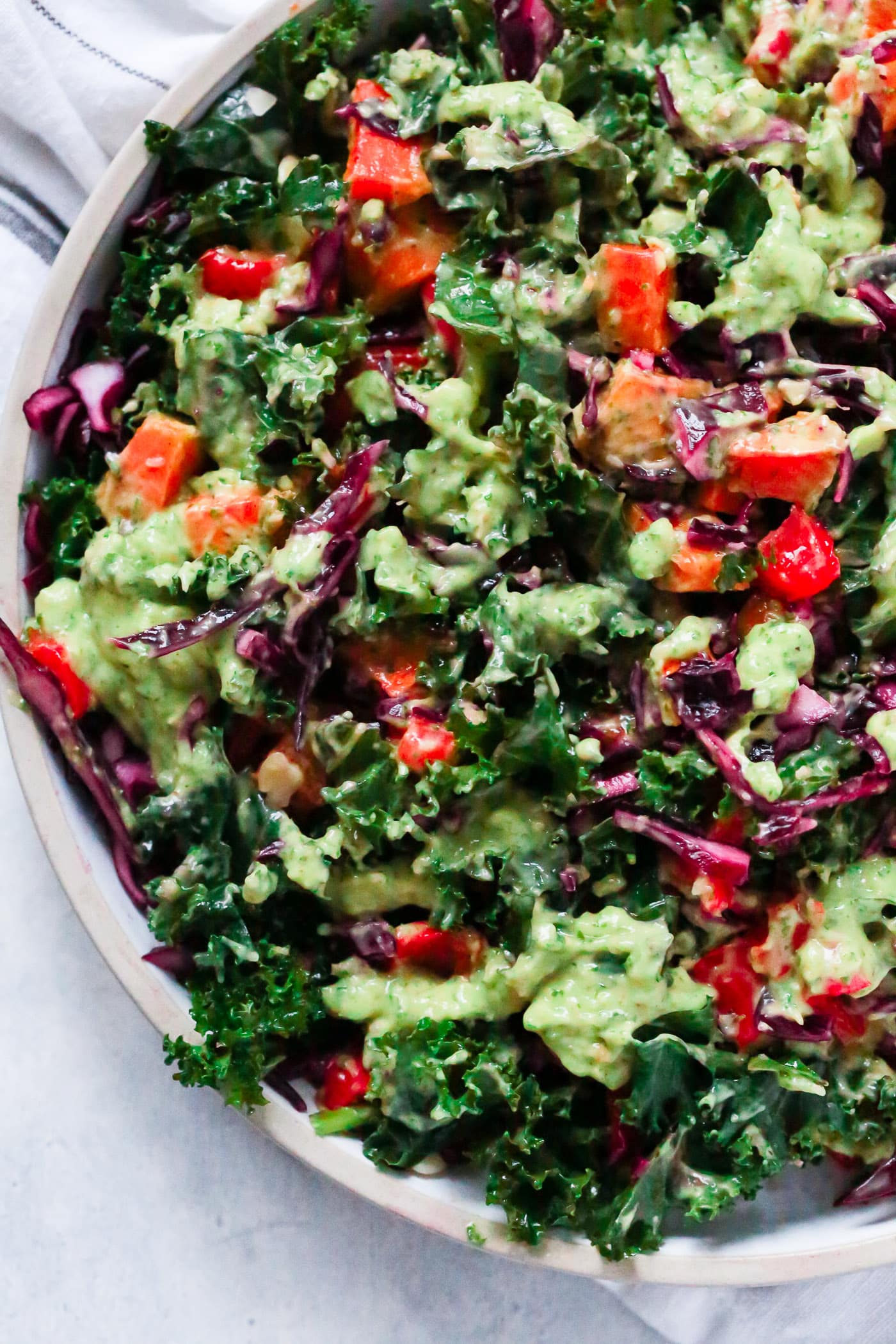 Simple Kale Salad with Avocado Dressing – Velvety, homemade avocado dressing is the star of the show in this fantastic, colorful salad. You can have this easy accompaniment on the table in just 15 minutes!
Chopped Red Cabbage Kale Salad – I especially love making this recipe during the fall and winter months, though it can be enjoyed any time of year. It features apple slices, which add a bit of sweetness and crunch.
Pomegranate Glazed Brussels Sprouts – Brussels sprouts tossed in a tart pomegranate, garlic and soy sauce glaze. Roast until fork tender for an easy, flavor-packed side dish.
Sun-dried Tomato Pesto Cauliflower Salad – Homemade tomato pesto adds tremendous flavor and very few carbs to this fabulous salad. Serve it with dinner or enjoy as a healthy lunch.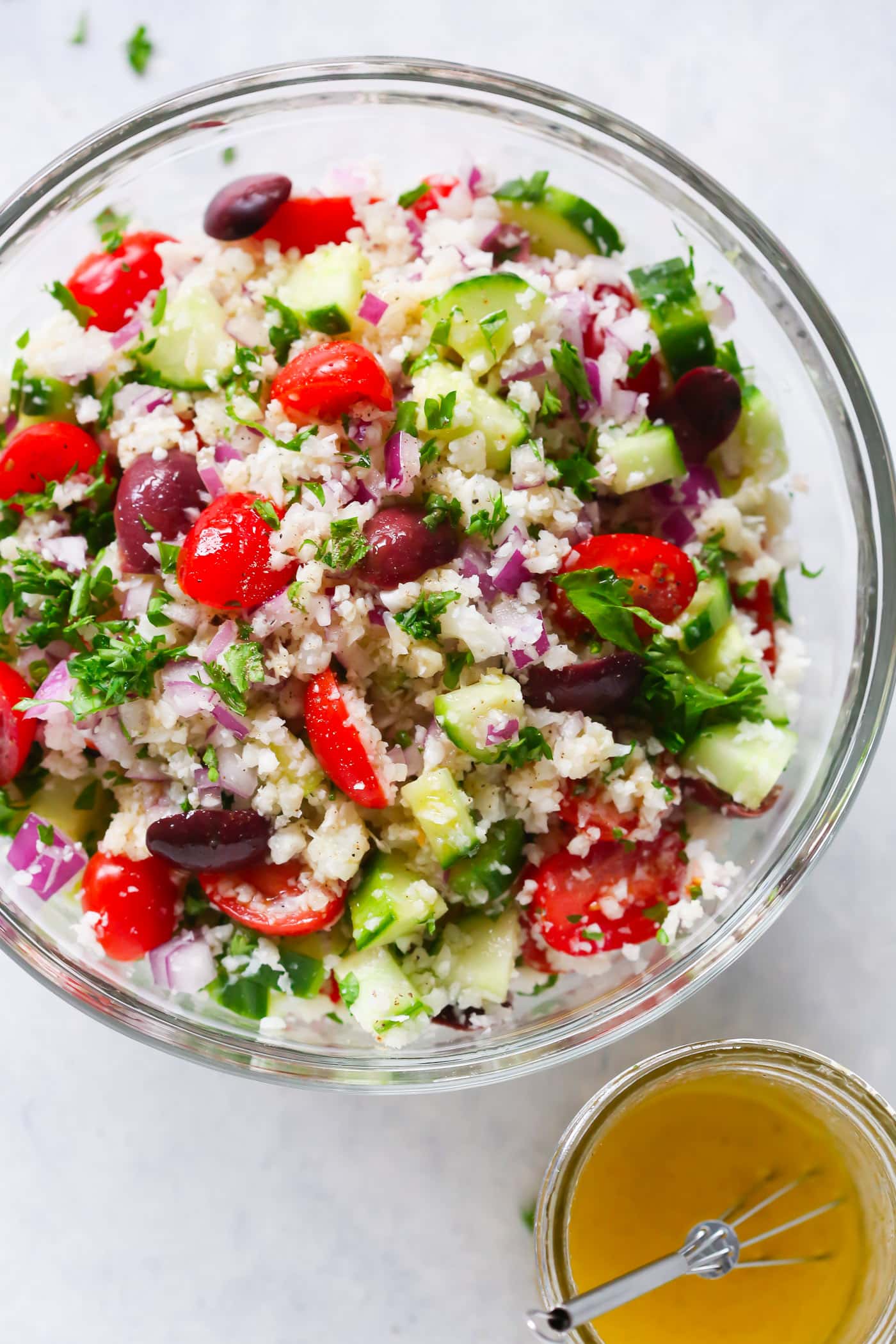 Mediterranean Cauliflower Salad – A simple Mediterranean salad made with lots of fresh vegetables and riced cauliflower. Great texture and great flavor! Pair with salmon, chicken and so much more.
Pesto Shrimp Tomato Salad Recipe – Pesto is very low carb because it's typically made with LOTS of basil, olive oil, parmesan cheese nuts and seasonings. Use it to add tons of flavor and nutrients to this easy shrimp and tomato salad recipe!
Low-Carb Almond Flour Crackers – Almond flour crackers are the perfect side for any soup, casserole or salad. They're great for dipping, or you can crunch them up and sprinkle on top for added texture.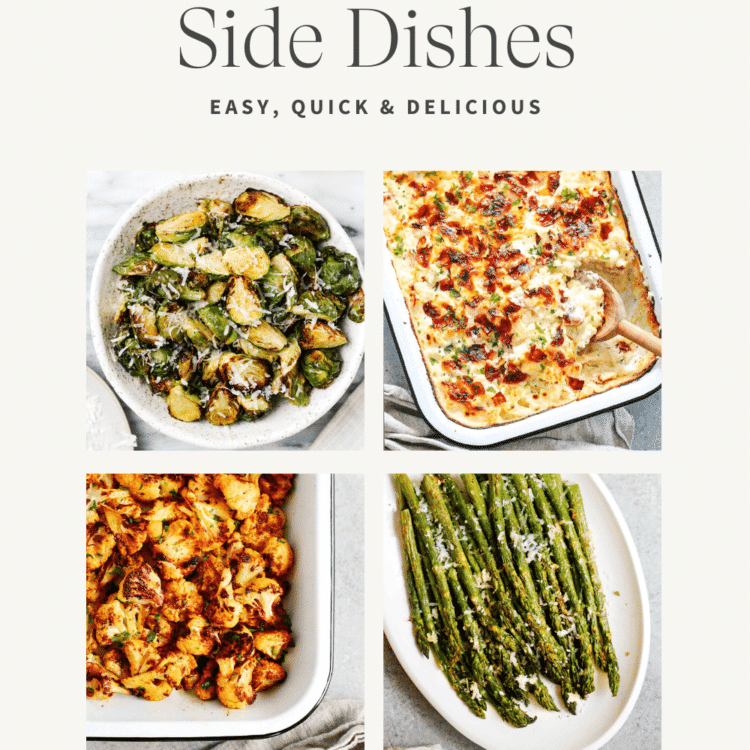 Low-Carb Side Dish Recipes
Looking for some low carb side dish recipes with this guide! You'll learn how to make delicious dishes for you and your family just like this Spicy Roasted Cauliflower Recipe.
Instructions
Adjust the oven rack to the middle position, and preheat oven to 425°F. In a small bowl, add smoked paprika, turmeric, garlic powder salt and black pepper. Mix everything very well.

Place the cauliflower florets on an aluminum foil lined baking sheet. Pour olive oil on top of the cauliflower florets and toss until everything is evenly coated. Sprinkle the spice mixture over the cauliflower, and mix well to combine.

Roast for about 25-30 minutes or until the cauliflower is tender and golden brown. Garnish with fresh parsley. Enjoy!
Tips
When buying the cauliflower, make sure the head is firm, tight, and does not have yellow patches.
You can buy pre-cut florets to save prep time.
Make sure the florets are fully dry or they will not roast but steam instead.
To store: Leftover roasted cauliflower in an airtight container for up to 4 days once they've cooled to room temperature.
To reheat: Reheat leftover cauliflower in the oven, so they stay crispy.
Nutrition Information
Serving:
1
/4
Calories:
111
kcal
(6%)
Carbohydrates:
4.4
g
(1%)
Protein:
1.5
g
(3%)
Fat:
10.6
g
(16%)
Saturated Fat:
1.5
g
(9%)
Sodium:
254
mg
(11%)
Fiber:
1.9
g
(8%)
Sugar:
1.8
g
(2%)
Nutrition information is calculated using an ingredient database and should be considered an estimate.