These 60 Incredible Whole30 Recipes are great recipe ideas to help you when you're doing Whole30. Most of the recipes are not only Whole30, but also low-carb, paleo and gluten-free. On top of that, they're ready in less than 30 minutes.

I know December didn't finish yet, but I'm already starting to think about recipes to kick start your 2019 New Year's Resolutions. That's why I've rounded up my 60 favorite Whole30 recipes from one-pan meals to easy salads, delicious soups, stews and amazing meal-prep recipes.
This collection of recipes will be very helpful for you even if you're not doing Whole30 because here you'll find recipes that are also low-carb, paleo and gluten-free. So, this list is great to any type of healthy lifestyle you follow. Or even if you are not on a healthy path, this list is so delicious that you can make them any time and you won't feel like you are eating healthy. Besides, these 60 Incredible Whole30 Recipes are so delicious that won't leave you starving.
I promise to you that these recipes will make your Whole30 lunches and dinner so much easier. Instead of having no idea what to do for lunch or dinner, these Whole30 recipes will give you inspiration to make healthy and delicious meal in your kitchen.
Before you go to check the recipes out, I just want to say that if you're having trouble to find good quality meat to make your Whole30 recipes, I've got you covered. ButcherBox offers 100% grass-fed and grass-finished beef, raised free from antibiotics and hormones and delivered right to your door.
They also offer organic chicken and pastured pork to give you some options. It is a subscription service, but you can change the frequency (once a month or every other month), and you can cancel at any time with no penalty.
No two boxes are the same. Each month you'll get a different curated experience and you'll be able to try new cuts of meat. Also, in your box you'll receive recipe cards to help you in the kitchen. I'm sure you'll love them as much as I love 😉 Click here to know more about it.
---
One-Pan Skillet Recipes 
1. Sweet Potato, Kale and Shrimp Skillet: It's made with only 4 ingredients and it's gluten-free, paleo, and super easy to make!
2. Italian Sausage Cauliflower Rice Skillet: This cauliflower rice gets all the flavour from the homemade pesto, which is perfect for the Whole30 diet because it's made without Parmesan cheese. It's also low-carb and paleo.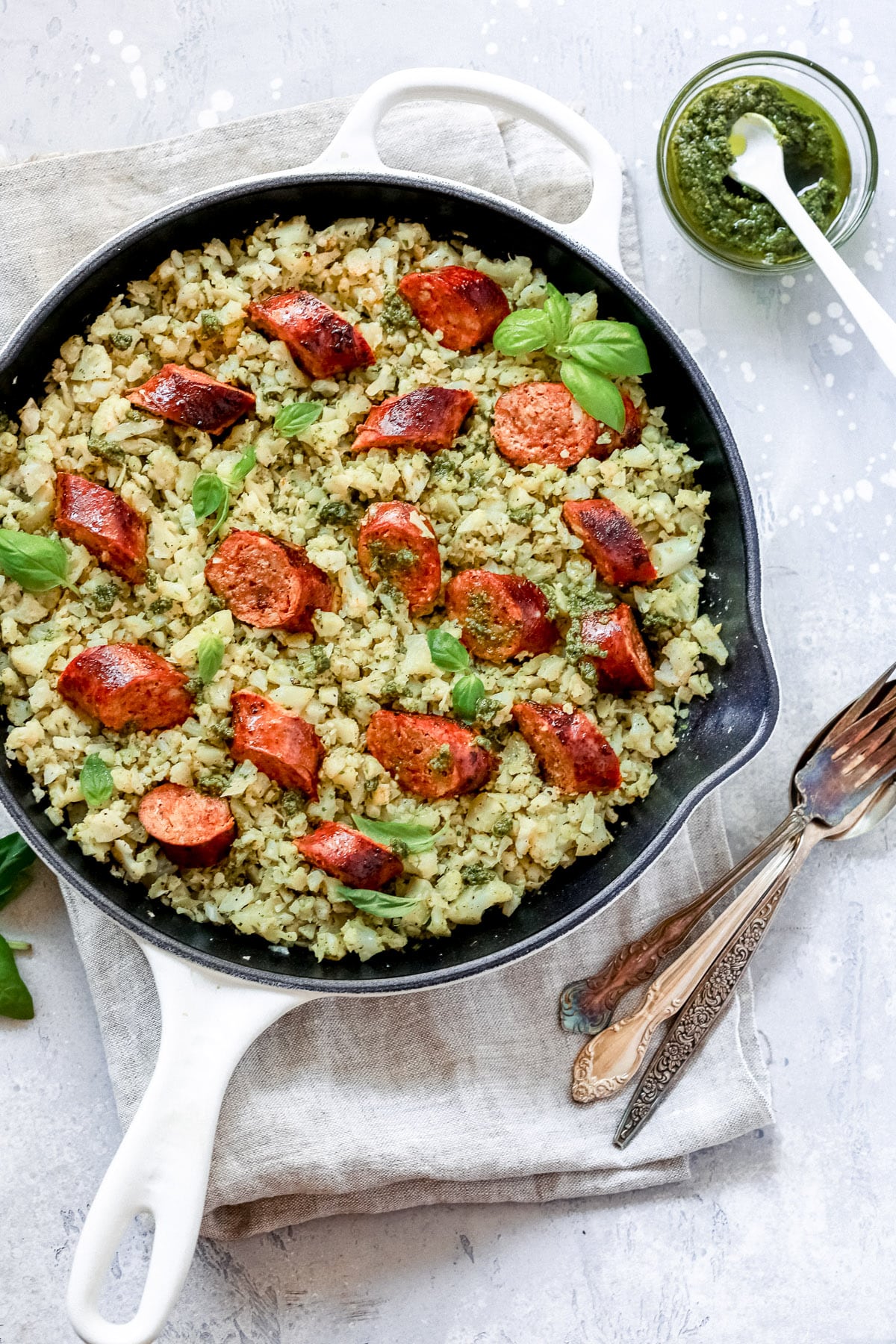 3. Italian Sausage, Onions and Peppers Skillet: So delicious! Super flavourful comfort food. It's an awesome meal for busy weeknight dinner, weekend or game day party. (Low-carb, paleo and gluten-free too).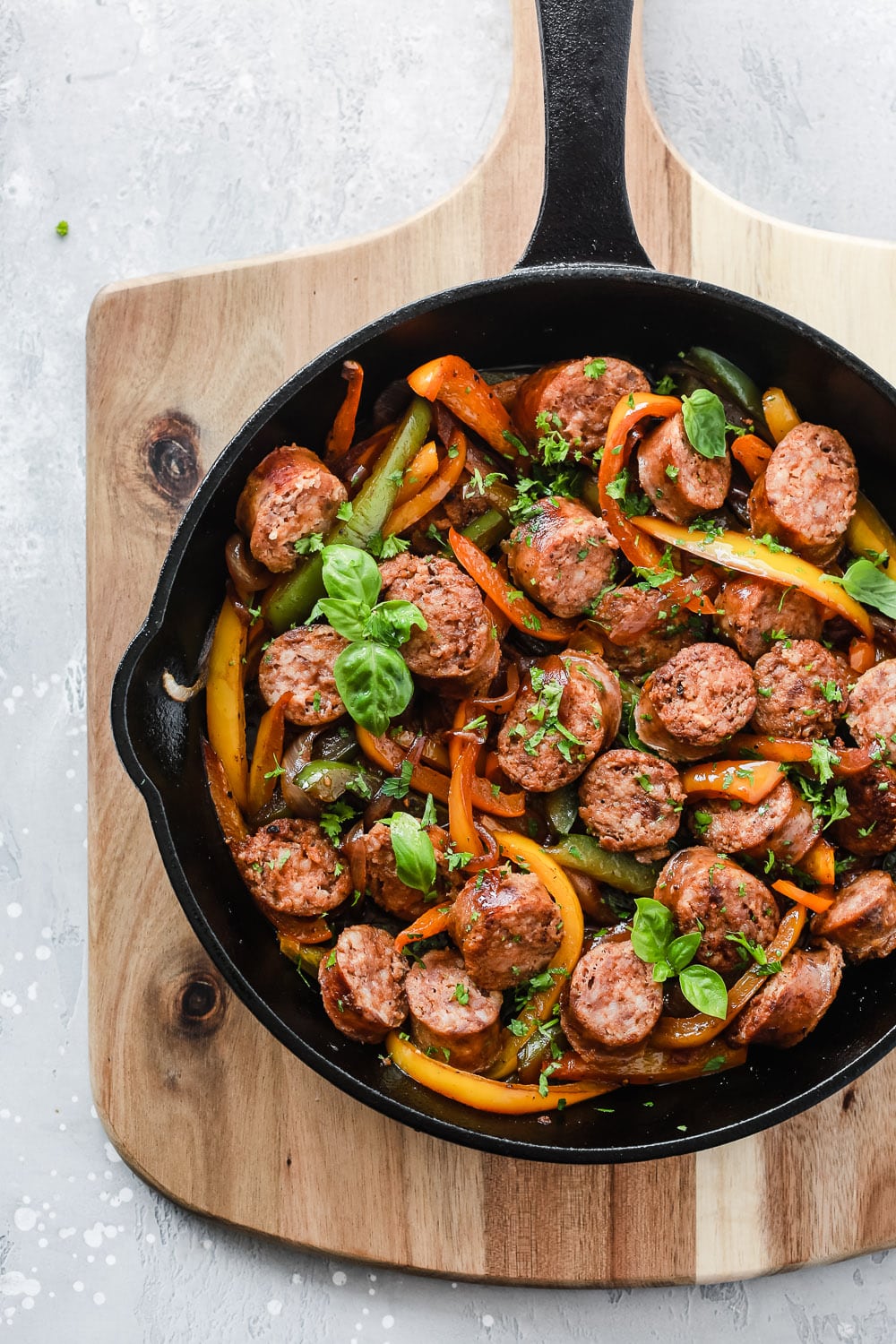 4. Spicy Green Beans Chicken Skillet: It's spiced with paprika, garlic powder and red hot pepper and of course sauté green beans is perfect for quick dinner. (Low-carb, paleo and gluten-free too)
5. Baked Chicken with Brussels Sprouts: Easy recipe that is loaded with flavor from the garlic, lemon, Dijon marinade and the crispy bacon. (Low-carb, paleo and gluten-free too)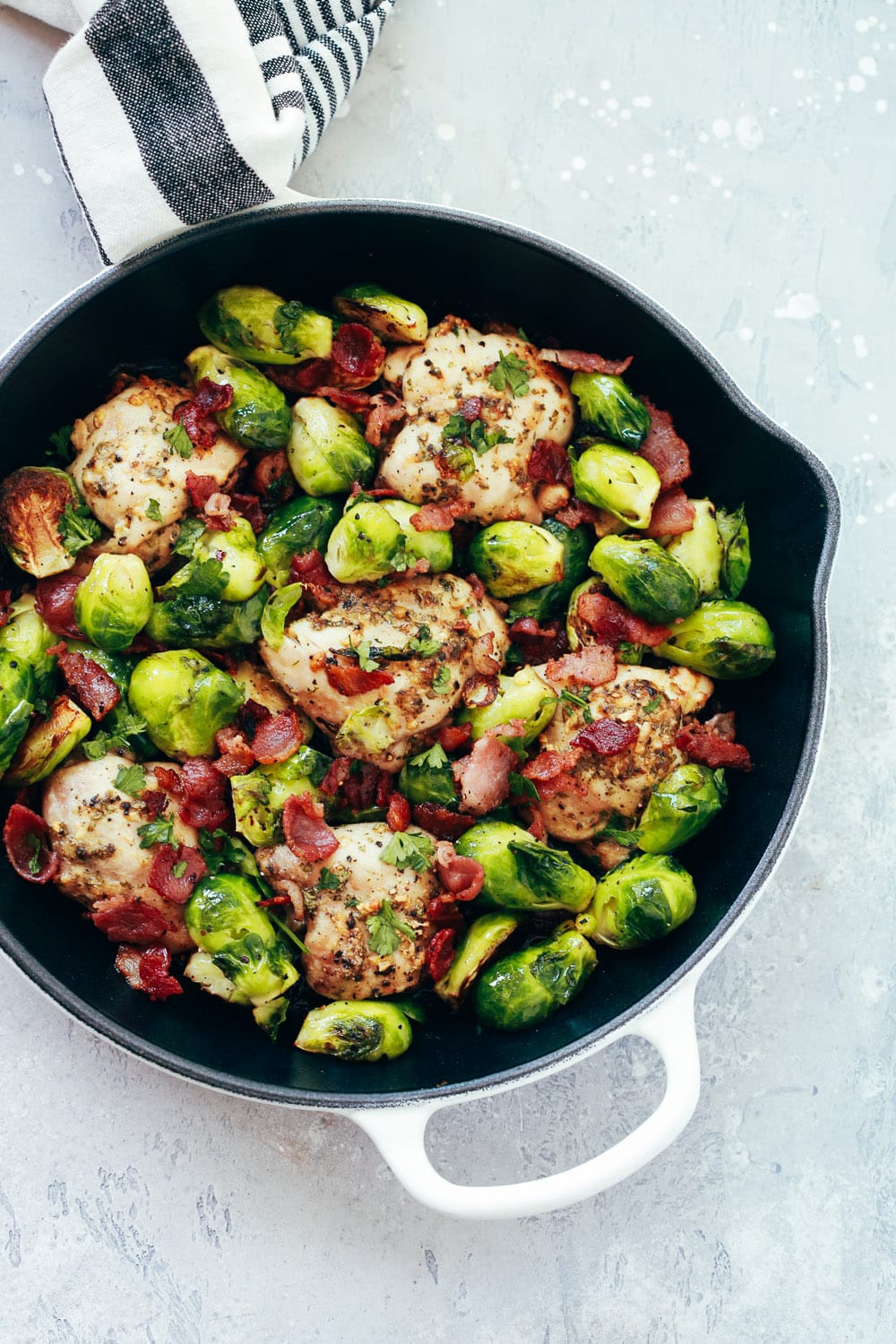 6. 3-Ingredient Tilapia Skillet: The only ingredients are: diced tomatoes, onions and tilapia (salt and pepper is optional)! It's a quick, easy, healthy, and delicious dinner for the whole family. (Low-carb, paleo, gluten-free too)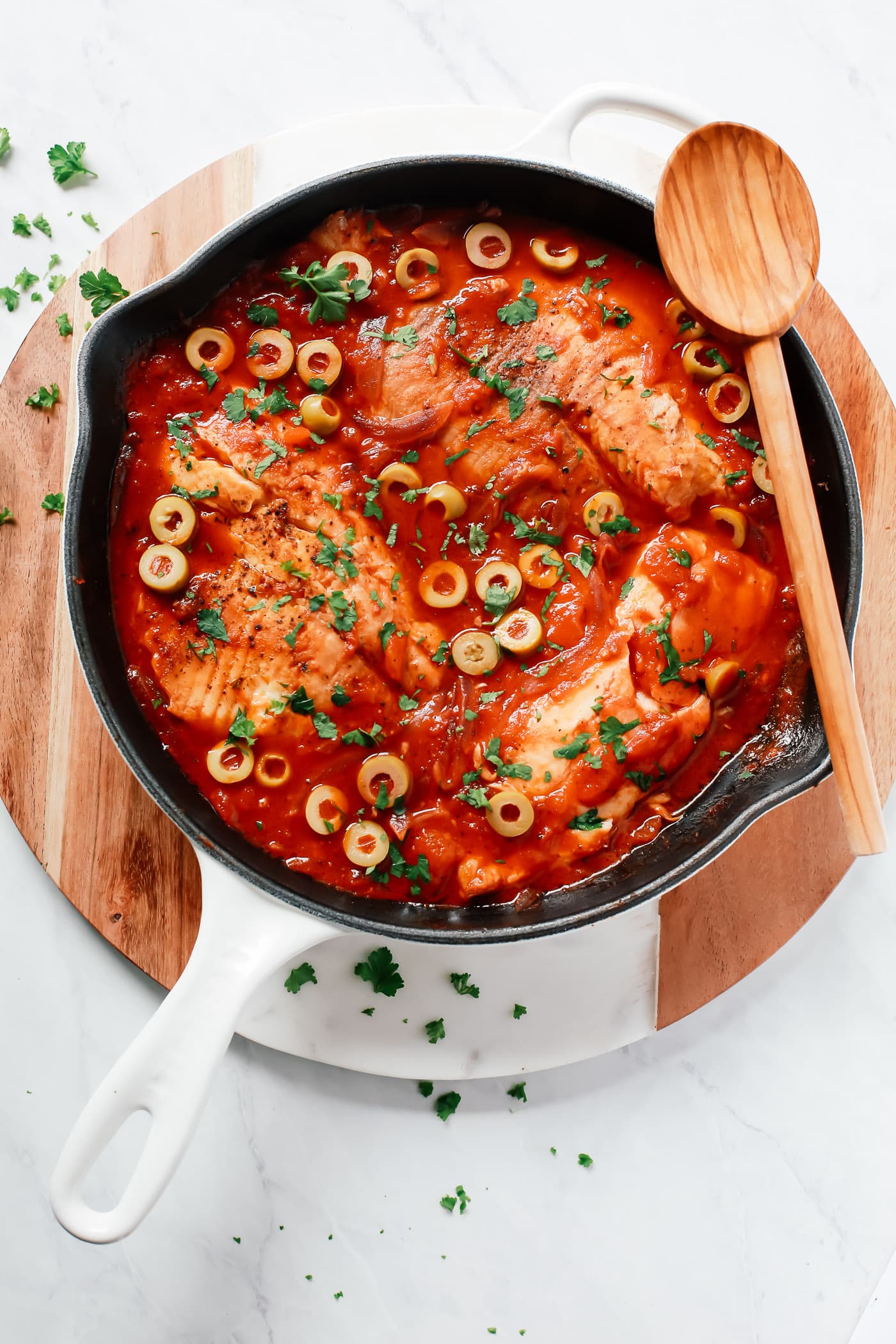 7. Sweet Potato Chicken Kale Skillet: Crispy bacon, crunchy kale and flavourful chicken! (Gluten-free and Paleo)
8. Easy Cauliflower Fried Rice: Love fried rice, but don't enjoy the carb count that comes with it? This recipe is perfect for you. Skip the peas if you're doing Whole30.
9. Ground Turkey Skillet with Green Beans: For this quick and easy recipe you'll need only extra-lean ground turkey, green beans, and a delicious, flavorful homemade tomato sauce which makes all the difference on this dish. (Low-carb and Gluten-free too)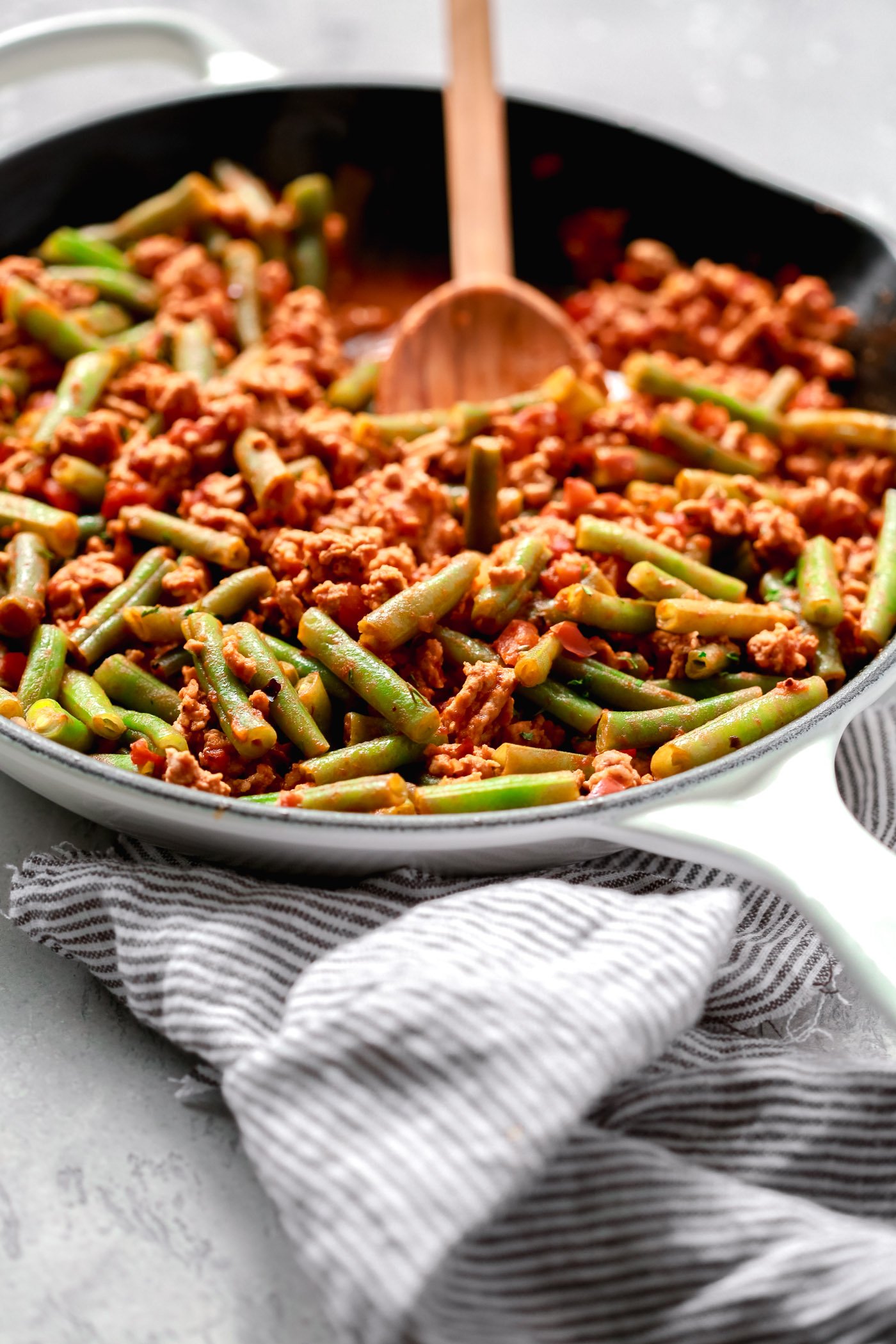 10. Asparagus Sweet Potato Chicken Skillet: Delicious, healthy, and easy-to-make! It's all you need for busy weeknight dinner.
11. Shrimp Vegetable Skillet: Super flavourful one-pan meal. It's loaded with veggies, flavorful spices, and shrimp. (Low-Carb, paleo and gluten-free too)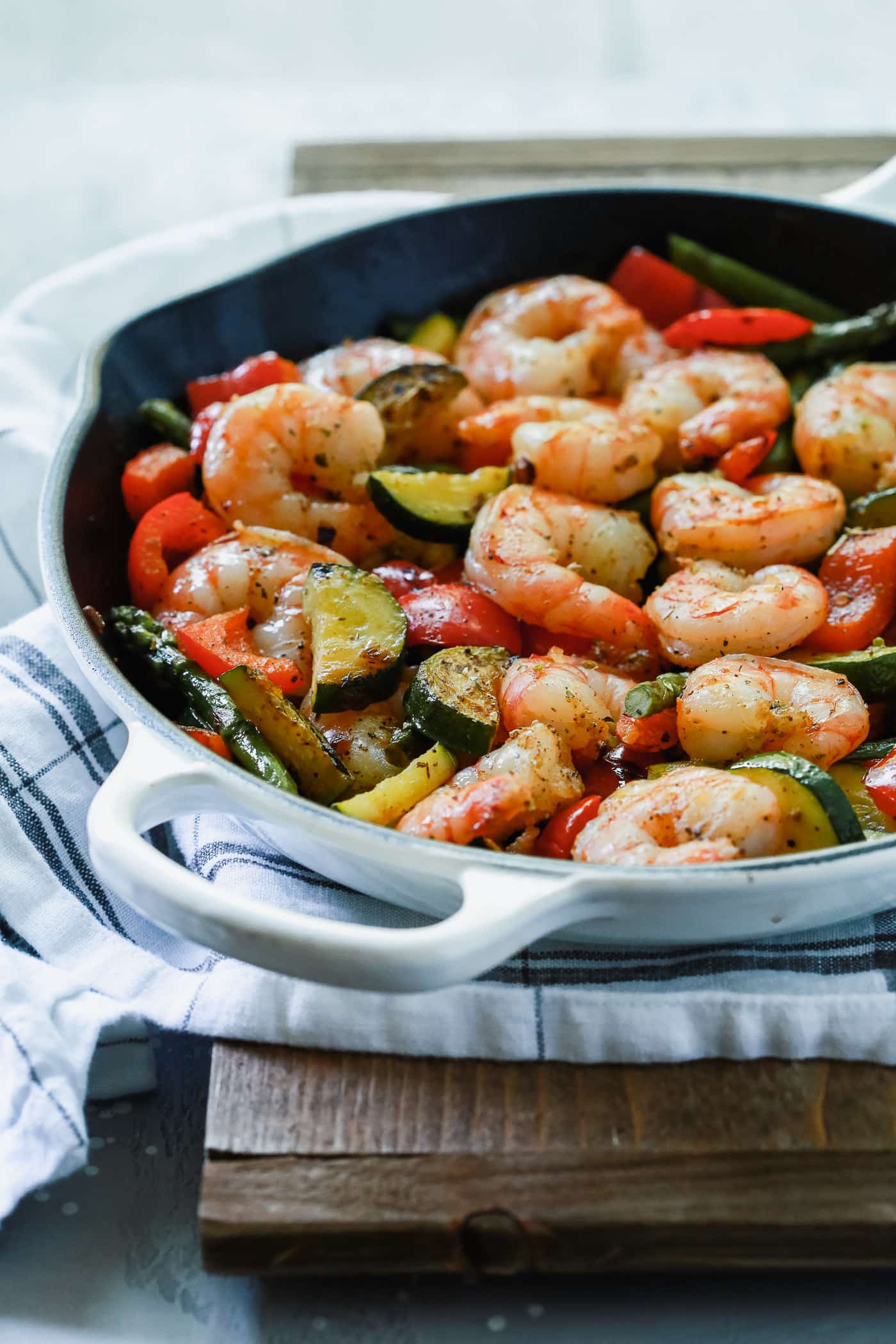 12. Mushroom Cauliflower Rice Skillet: Delicious low-carb and vegan/vegetarian main dish for dinner. And, it's done in only 20 minutes.
13. Chimichurri Shrimp Broccoli Skillet: The Chimichurri sauce brings this meal to another level and it's ready in less than 15 minutes since broccoli and shrimp cook very fast. (Low-carb, paleo and gluten-free too)
14. Chimichurri Chicken Green Beans Skillet: I cannot express with words how much my family this recipe. It's far from boring and this sauce is just heaven. (Low-carb, paleo and Gluten-free too)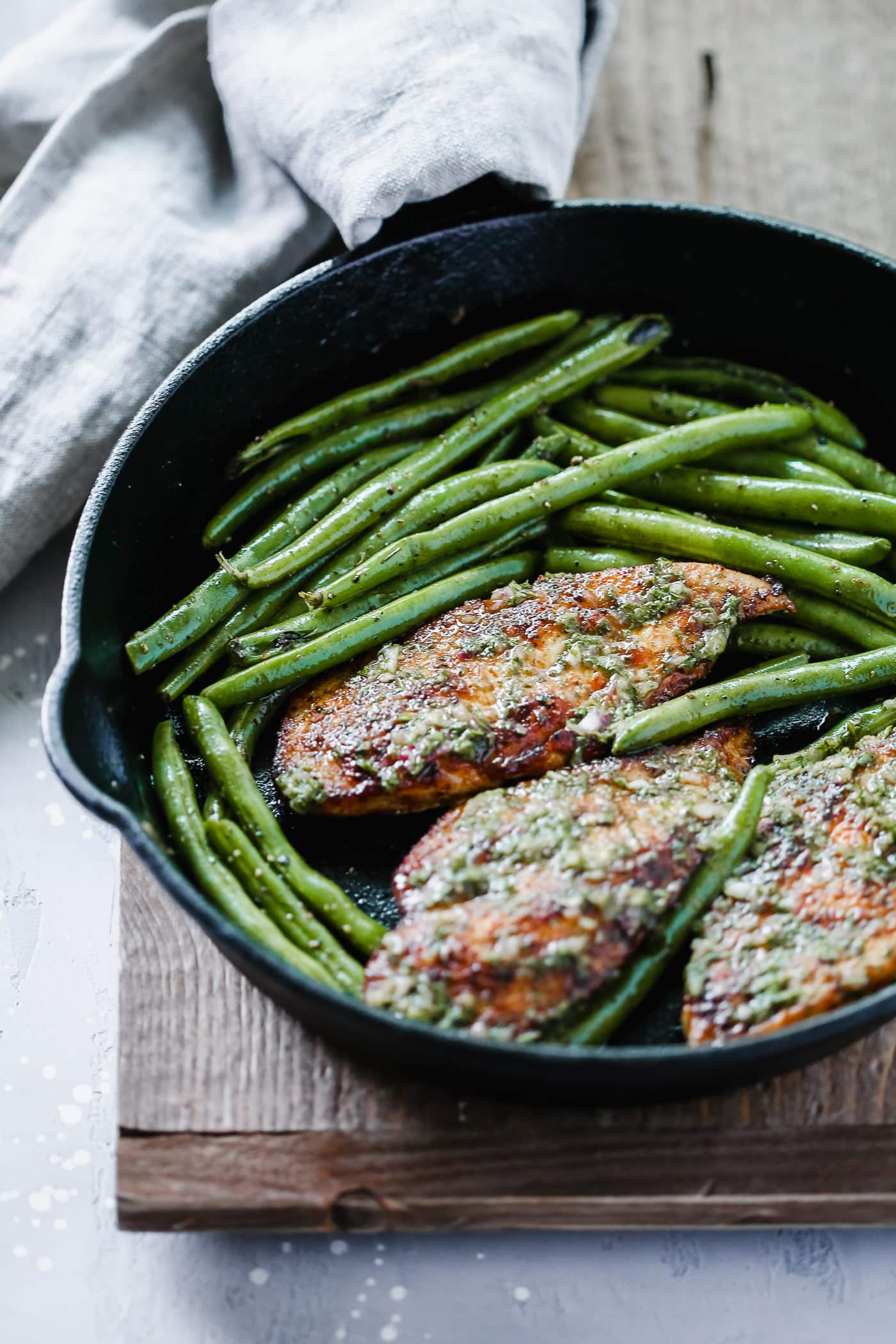 15. Garlic Shrimp Asparagus Skillet: Super easy Garlic Shrimp Asparagus Skillet recipe that is low-carb, gluten-free, Whole30 and paleo friendly!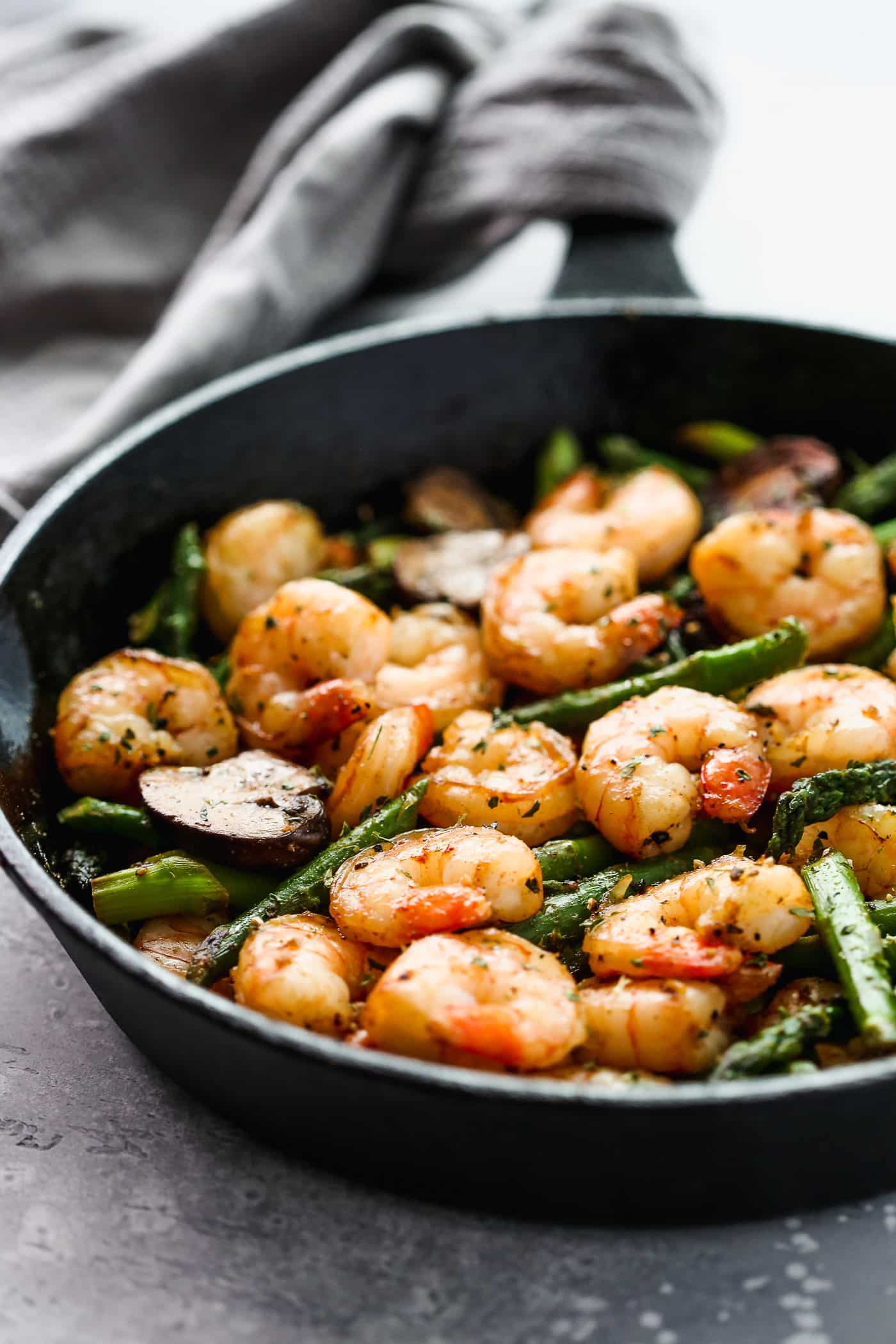 16. Shrimp, Bell Pepper and Onions Skillet: It's super quick and easy to make and it's loaded with flavour. Skip the feta cheese if you are doing Whole30.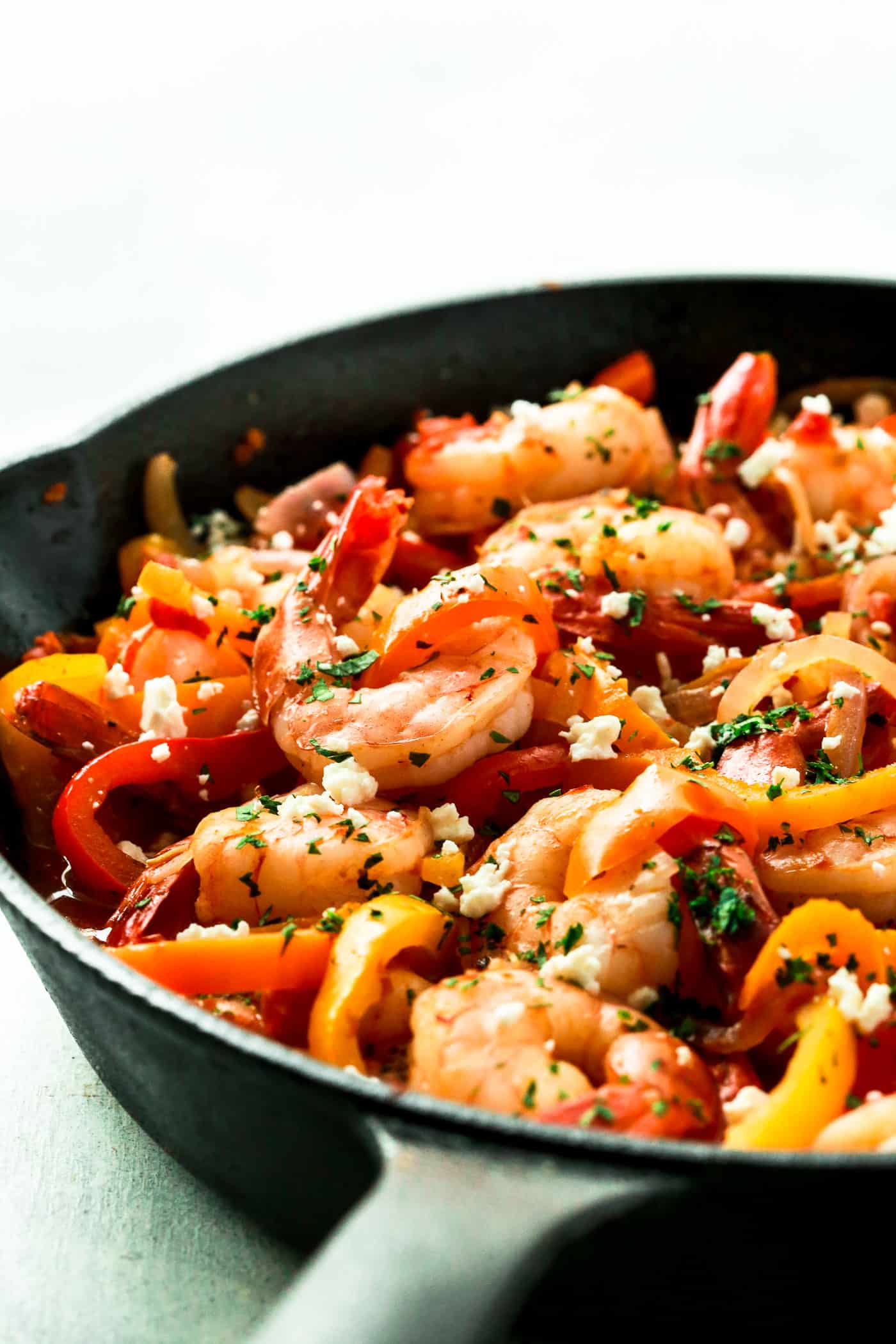 17. Mediterranean Chicken Skillet: This chicken recipe is made in less than 30 minutes. It's extremely flavourful, so it will please your whole family. Skip the feta cheese if you're doing Whole30.
18. Ground Beef Veggie Skillet Recipe: Made with onions, bell pepper, zucchini, asparagus, and, of course, ground beef is a nutritious meal for the whole family. From start to finish, it can be ready in 30 mins. Skip the Feta cheese if you're doing Whole30.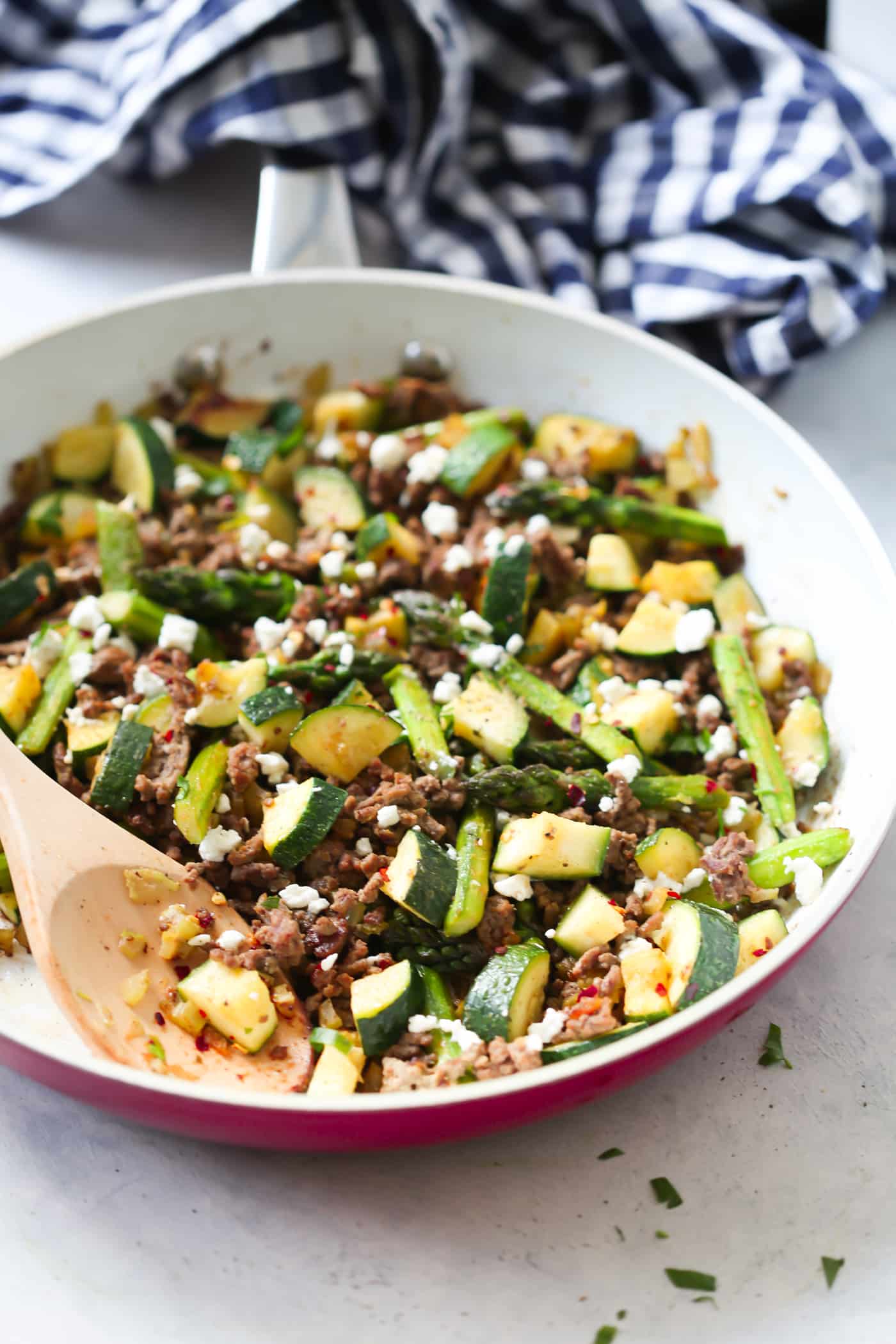 19. One-pan Sausage with Sweet Potato and Asparagus: It's great to easily cleaning up and it's ready in only 15 minutes.
20. One-Pan Mediterranean Roast Chicken: Simple to prep and it's cooked with potatoes, onions, red pepper and black olives. (Paleo and Gluten-free too)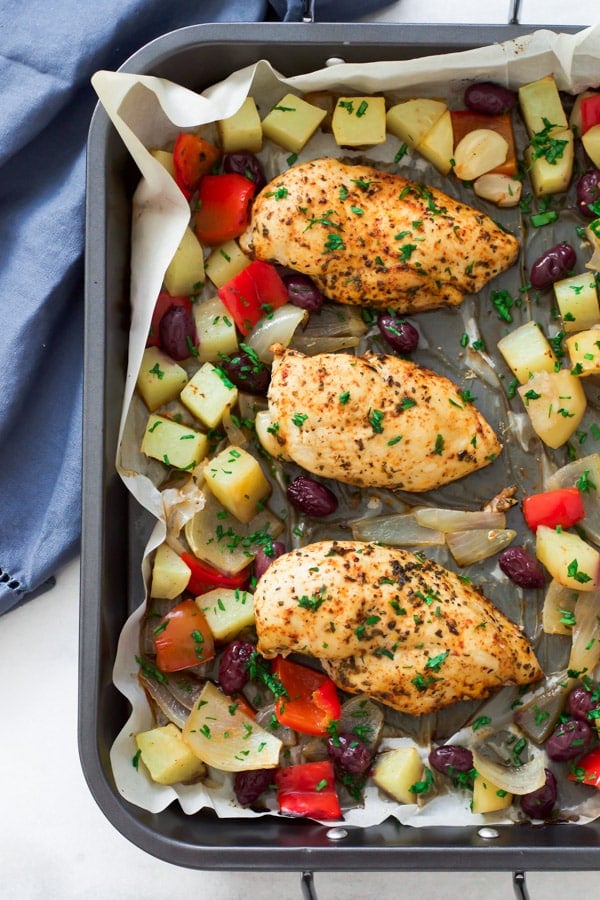 21. Paleo Lemon Roasted Breast Chicken: This recipe is made with olive oil instead of butter and it's also very juicy, tender, easy to make, and full of flavor from the lemon and rosemary.
---
Meal-prep Recipes
22. Ground Beef Zucchini Sweet Potato Skillet: The best meal-prep recipe to start well your year.
23. Ground Turkey Cauliflower Rice Veggie Bowls: It's loaded with veggies and extra-lean protein to make you feel satisfied and healthy.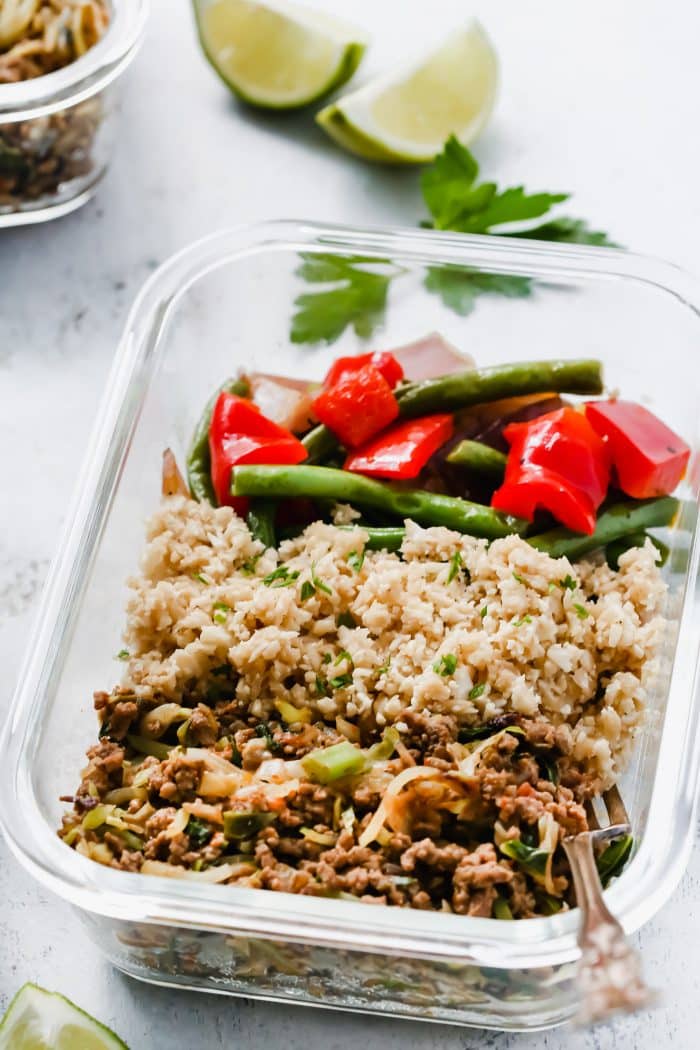 24. Spicy Salmon Vegetable Meal-Prep Bowls: Another meal-prep super healthy loaded with veggies and good quality protein from the baked spicy salmon. (Gluten-free and Paleo too)
25. Spicy Chicken Meal-Prep Bowls: Plan ahead for the week with these whole30, paleo-friendly, gluten-free, and low-carb spicy chicken, roasted green beans, broccoli, and mashed cauliflower.
26. One-Sheet Pan Shrimp with Cherry Tomatoes and Asparagus: It's delicious and super easy to make. Be amazed how only 5 ingredients can make a healthy meal-prep for your whole week.
---
Salad Recipes
27. Kale Salad with Crispy Sweet Potato: Delightful lunch for those busy days. I made this raw Kale, boiled eggs and crispy sweet potato.
28. Easy Kale Breakfast Salad: It has all the things that we love eating in the morning (eggs, sausage, bacon) but without the bread. The queen of this dish is kale. Yummy!
29. Easy Broccoli Kale Slaw Salad: It's a Whole30 healthier version of classic broccoli slaw, which is made with homemade mayo and it's sugar-free.
30. Ground Beef Taco Salad: It will become your to-go meal when you want a quick and easy meal for lunch. It is loaded with tomato salsa, avocado slices, lettuces and of course taco seasoned ground beef.
31. Super Fresh Shrimp Tomato Salad: Is there something better than a delicious Super Fresh Shrimp Tomato Salad for lunch during the hot days? Probably not
Enjoy this salad with a healthy dijon lemon dressing!
32. Easy Mediterranean Salad: Enjoy this delicious salad made with cherry tomatoes, cucumber, bell pepper, sundried tomatoes, and red onions. Skip the feta cheese if you are doing Whole30.
33. Shrimp Avocado Cucumber Salad: It's loaded with red onions, cucumber, red bell peppers, avocado and sautéd shrimp. Also, it's tossed with a very light and fresh lemon dressing. Delicious!
34. Easy Avocado Cucumber Tuna Salad: It's light, flavorful and creamy because of the avocados. And the lemon dressing is super fresh!
35. Grilled Chicken Avocado Salad: It's a great salad for all year long! It's made with chopped lettuce, cucumber, red onions, sliced avocado topped and grilled chicken and dressed with an easy lemon-olive oil dressing.
36. Simple Kale Salad with Avocado Dressing: The avocado dressing is so delicious, and it's done in 5 minutes by pulsing the dressing ingredients in a food processor. Easy, healthy, gluten-free, low-carb and paleo friendly!
37. Autumn Beet Orange Salad: It's flavorful, healthy, effortless and it's tossed with a tangy orange mustard vinaigrette. 
38. Chimichurri Chicken Chopped Salad: Love this salad just because of the amazing Chimichurri sauce. The best sauce for chicken. 
39. Mediterranean Cauliflower Salad: It's super flavourful and easy to make.
40. Shrimp Avocado Tomato Salad: Looking for a high-protein salad? This delicious salad is fresh, healthy, and load with protein from shrimp and eggs! Skip the feta cheese if you're doing Whole30. 

41. Asparagus Greek Chopped Salad: It's packed with roasted asparagus, cucumber, tomatoes, black olives, feta cheese and flavored with an easy lemon dressing. Skip the Feta cheese if you're doing Whole30.
42. Salmon Chopped Salad: This is another salad that is packed with protein, healthy fats and it's flavoured with lemon vinaigrette.
---
Squash Recipes
43. Chicken Stroganoff with Butternut Squash Mash: This stroganoff is creamy, hearty, healthy and with lots of comfort flavors.
44. Sausage and Kale Stuffed Acorn Squash: I love this meal! It's a feel-good meal that will boost your mood and warm you up during the cold fall and winter days.
45. Whole30 Low-Carb Spaghetti Squash With Meatballs: You can reduce the carbs by replacing traditional spaghetti for spaghetti squash. This is one of our favourite healthy comfort food dinners that is served with homemade tomato.
46. Pesto Spaghetti Squash with Shrimp: A delicious low-carb and Whole30 dinner meal to make during the week. It's super flavourful with dairy-free and homemade pesto and it's a great healthy alternative to regular pasta!
47. Easy Bolognese Stuffed Spaghetti Squash: Comforting food doesn't need to be full of carbs, right? I can prove what I'm saying with this super delicious recipe. Skip Mozzarella cheese if you're doing Whole30.
---
Stews, Soups and Chilis Recipes
48. 20-minutes Butternut Squash Soup: A simple, easy and delicious side dish for a holiday dinner party or a quick healthy lunch to enjoy during fall cold-weather.
49. No Bean Whole30 Butternut Squash Chili: It's a perfect recipe to indulge yourself this fall. It's thick, rich, hearty and super flavourful.
50. Whole30 Pumpkin Chili: You'll be amazed by this delicious chili with ground turkey, veggies and no beans. I guaranteed you won't even miss the beans here because this is even better than the traditional chili recipe.
51. Whole30 Sweet Potato Chili: This chili recipe is a hearty, no bean chili recipe, which is super simple to prepare ahead. It's thick, rich, healthy and slightly sweet while spicy too. So good!
52. Ground Beef Butternut Squash Kale Soup: All Right, YUMMMM soup! Comforting, healthy and very nutritious. Also, it's low-carb, gluten free and paleo friendly! ALL THE GOOD THINGS in one-pot.
53. Instant Pot Mediterranean Chicken Recipe: It's packed with flavor and is ready in less than 20 minutes with almost no work at all.
55. One-Pan Cauliflower Curry Recipe: You're dinner will be ready in 20 minutes. It's made with cauliflower, green peas, diced tomatoes, curry, and coconut milk. Skip the peas if you are doing Whole30.
56. Whole30 Carrot Parsnip Soup: It's a delicious dinner or lunch option for this cold weather and this soup only requires a short list of ingredients.
57. Turkey Sausage Vegetable Soup: Enjoy this filling soup that is packed with the flavors of turkey sausage, tomatoes, parsnip and turnip during the cold weather.
58. Turnip and Carrot Slow Cooker Beef Stew: This is the perfect time of the year to load yourself up on hearty comfort foods like this delicious and healthy.
59. Spinach Sweet Potato Soup: It's a hearty and comforting meal that is packed with ground turkey, sweet potato, and spinach!
60. Healthier Slow Cooker Beef Stew: It's a very simple, Whole30, low-carb, and gluten-free slow cooker stew with potatoes, carrots, turnips, parsnip, and herbs.